Of this newly diversified music scene in NOLA, vocalist/guitarist/songwriter James Marler told the Gambit Weekly, "It seems like people are not as locked into their respective scenes as they were, because there's less music and also less people."
In the fall of 2006, Rotary Downs independently released Chained To The Chariot and has received much acclaim for their great work. But prior to this weekend, their live performances had been concentrated in clubs around New Orleans. 
Rotary Downs embarked on their maiden voyage to New York City, where the band played the Knitting Factory Tap Room on Friday, January 19, and Magnetic Fields Lounge in Brooklyn Heights on Saturday, January 20 — and in a show of support for the NOLA boys, both shows were well-attended by the NYC faithful.
Those who came were presented with music from New Orleans like they'd never heard before: indie-rock riffs, pop hooks, thoughtful and twisty lyrics with an interesting mix in their otherwise standard rock instrumentation including a trumpet, a pedal steel guitar and…a bellydancer?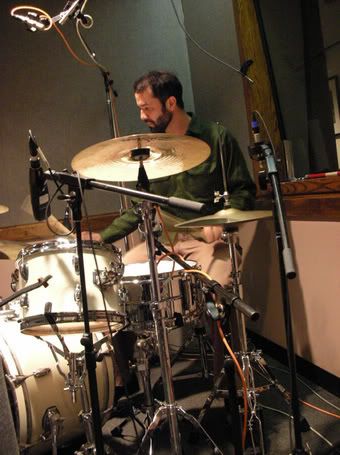 But here's the important part of this post: While in the Big Apple, Rotary Downs was invited to record a show for New York Public Radio's esteemed show, Studio 360, "the place where a Freudian shrink can analyze a videogame about bunnies." 
Tune in to hear some of the stories behind the songs that paint a very honest picture of The Big Easy, from drug dealers to marching bands. Praise whichever deity you enjoy when you hear how the band saved their brilliant half-recorded album from near extinction after The Storm. Listen to live in-studio performances of favorites from the album, Big Parade and False Protection, as well as a special acoustic version of Sing Like The Sun.
This segment of Studio 360 will air this weekend, as early as last night in some cities, but mostly on Saturday or Sunday. Broadcasting times are varied nationwide, so check your local station listings here. There will also be a podcast available for download here.
Help Rotary Downs help bring the New Orleans spirit back. Listen up.
More on Rotary Downs: The band's MySpace page; SuperDee's more in-depth review of Rotary Downs' weekend in NYC; RD on Rhapsody
SuperDee's Other NYC Videos:
[youtube]ik6jp6vi2cI[/youtube]
[youtube]AWNgim5KsNA[/youtube]
[youtube]CAHG_44YpBc[/youtube]