Any blogger — music or otherwise — worth his weight in inflated ego checks the site's stats about as often as, say, inhaling oxygen. And every single day, I've noticed, Hidden Track gets multiple search engine referrals from people seeking information on The Roots' universally acclaimed performance of Masters of War at the Bob Dylan Avery Fisher Hall Tribute earlier this month.
It took a while to track down, but my buddy Cantor loves The Roots more than, say, inhaling oxygen, and he's been monitoring the Okayplayer boards for the last two weeks waiting for this song to appear. I got an excited e-mail from him today, and now you can all listen to the performance that inspired a predominantly aging white crowd to Google "Who the heck are The Roots?" after this show.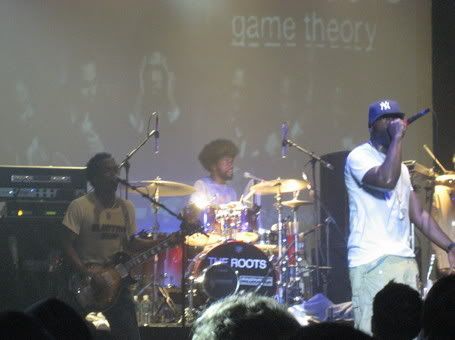 To be completely accurate, this really isn't the full Roots ensemble you'd see at a show (like when I caught them at Webster Hall in August). But in the absence of Black Thought, guitarist Kirk Douglas showcases his vocals, and drummer ?uestlove and Damon Bryson of the Jeff Bradshaw Band on the tuba provide an excellent musical backdrop. It's a brave and amazing performance, and when they open it up about seven minutes into it, it's nothing short of spine-tingling.
Previously on HT: Bob Dylan Tribute: Great Tunes, Less Mumbling