Our friend and unofficial photographer/videographer Hal Hansen went down to the Beacon Theater last night for the first of two Scorsese-filmed Rolling Stones shows, and he'll weigh in with an update soon. As a preview, here's what he's got:
"That Loving Cup was far and away the musical highlight. Other highlights included high-fiving Keith Olberman, shaking Elvis Costello's hand and being about 10 feet away from Bill & Hillary Clinton as they walked in. Just a totally absurd scene that I had no business being a part of." Hal also sent me a text message after walking past Angelica Huston, with whom I love dearly.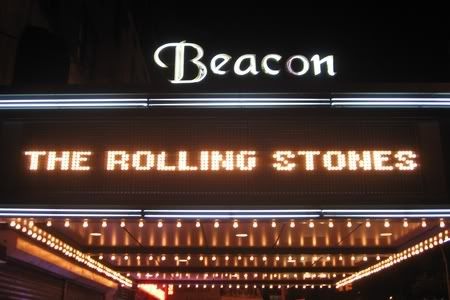 Last Night's Setlist: Start Me Up, Shattered, She Was Hot, All Down The Line, Loving Cup with Jack White, As Tears Go By, I'm Free (last played in Dec 21, 1969 according to Gazza), Undercover, Just My Imagination, Shine A Light, Champagne and Reefer with Buddy Guy (live debut), Tumbling Dice, Band Intros, You Got The Silver, T & A, Sympathy For The Devil, Live With Me with Christina Aguilera, Paint It Black, Jumping Jack Flash, encore: Satisfaction.