Pardon my thinly veiled East Coast bias here, but there's no better arena in the country that matches up to Madison Square Garden. The stench of history, the sheer electricity, the kinetic energy, the $23 personal pizza…the life.
Good news: the friendly programming executives at the MSG Nework have brilliantly green-lighted a 10-episode series that will reveal "The 50 Greatest Moments at Madison Square Garden," five at a time (each one-hour special airs every Tuesday night for those folks in the New York-New Jersey-Connecticut tri-state area; check your local listings). Yes, I failed miserably in my duty to notify youse about the premiere last night — where were ya on that one, dipshit? — but an encore presentation'll precede next Tuesday's second episode.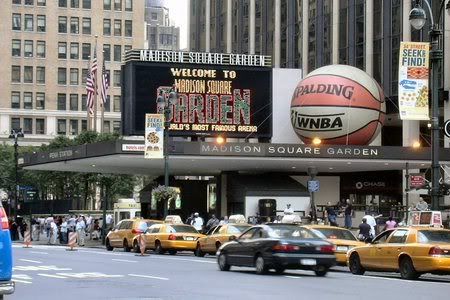 With the midterm elections less than a week away, I should announce here that you can still swing by their surprisingly stellar website and cast your own online ballot. Save the old tour war stories for another series, though, for the Grateful Dead's 52 sold-out shows at MSG have already hit the countdown, sliding in at 48th position. And maybe this is just nitpicking douchebaggery on my part, but I find it hard to comprehend how 52 concerts over a 15-year period can classify as a "moment" by definition. I, however, do appreciate the spirit of MSG's gesture.
(By the way, check out the lede paragraph of the Dead article to which I just linked: "IF Madison Square Garden is the cathedral of rock, then the Grateful Dead are its high priests – and you might want to put an emphasis on high." Genius! Dan Aquilante of the New York Post, you are a wordsmith and a scholar, a journalistic marvel with his finger on the pulse of fresh, hip comedy – and you might want to put an emphasis on overpaid hack. Oh, I didn't say that in the original clause of that sentence? Shit. Sorry, Dan, I'm in an All Hacks Off The Stage kind of mood.)
I've been fortunate enough to have seen some incredible sights and lived some memorable moments at Madison Square Garden: Stephane Matteau's overtime goal against the Devils to advance to the Cup finals, the popular rock band Phish's first post-hiatus notes being drowned out by an truly insane crowd, King Kong Bundy defeating Special Delivery Jones in nine seconds and the Hulkster/Mr. T vs. Rowdy Roddy Piper/Paul Orndorff main event at the original Wrestlemania.
But it's a moment I wasn't in attendance to experience that still gets my vote for Greatest Moment at MSG. While I was out of the country on New Year's 1997, many of my friends and some of you caught one of Phish's finer shows in the venue. What happened immediately following that show is something that will forever be etched in the minds of many: Crazynakedchick's Swan Dive.
I'm sure a handful of you have seen that story somewhere before, either on Gadiel's original message board, a random Phantasy Tour thread or the Slack LaLane post above. But if you've never read the gymnastic tale of Crazynakedchick @ MSG, that link is guaranteed to be something you'll enjoy thoroughly.
Now that's a fuckin' glorious moment in the history of The Garden. What about you? What's your favorite MSG Moment? Share some thoughts below…