It's become moderately fashionable to over-appreciate and impersonate the genius of Michael McDonald. After living in the wayback of the public consciousness for the better part of two decades, the former Doobie's legacy and career were resurrected by two important events: First came the Ain't No Mountain High/Ain't Nuthin' Like the Real Thing MCI commercials pegged to his 2003 Motown album, then the 40-Year-Old Virgin brilliantly canonized that ol' Yacht Rock image.
I've been a Michael McDonald fan forever. Well, more accurately, I've been an ardent supporter of giving him the business for as long as I can remember. I don't think there's a better '80s tune than his Sweet Freedom, the theme song to the Billy Crystal/Gergory Hines vehicle Running Scared. His back-up vocals on Steely Dan's Peg get my juices flowing. Takin' It To the Streets gives me a semi-erection. Minute By Minute gets it up all the way. And don't even get me started on the personification of greatness that is his duet with James Ingram on Yah Mo B There…
So when my buddy Curly Bamboo told me he'd just returned from a Rita Hayworth Award fundraiser for the Alzheimer's Association where Mikey serenaded the lucky audience, I glazed right over the "They raised $3 million" crap and begged for a full description of the setlist, the atmosphere, the crowd reaction and the shape of his beard. Instead, I got this picture and word that he sang all his Motown stuff: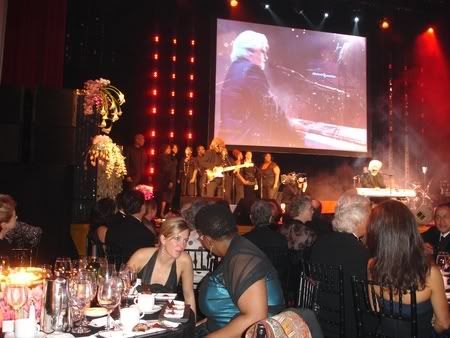 Bamboo added that McDonald was introduced by Dan Akroyd and Donna Dixon Akroyd, and attendees included Ivana Trump, Bryant Gumbel and Ahmad Rashad (no word if Michael Jordan's cock was seated next to Rashad). Oh lord, I wish I could've been in the same room with such a blue-eyed soul brother, but I guess that's for people richer and more charitable than me. Who's got my Alzheimer's miracle?
Related audio: For sticking with this post, let's reward you with The Doobie Brothers at the Philadelphia Spectrum on 11/16/76. It's fucking incredible.