Midnight passed, and my only truly hip co-worker turned to me and said, "Where are we going tonight after the holiday party ends?"
I'd been planning on returning to the loving embrace of my couch, the combination of mild drunkenness and all-out exhaustion settling in this Friday evening. But this co-worker and JazzFest veteran was in from out of town, and I knew I should show her a good time around the city — ya know, offer her a taste of what Manhattan had to share on a nightly basis. "I've got a present for you," I said. "Big Sam's Funky Nation is playing two sets tonight." Her face lit up immediately.
Until that day I'd actually never even heard of Big Sam Williams, the former trombone player for Dirty Dozen Brass Band. But after his kickassingly raucous two-set show at the Knitting Factory on Friday night, I'll see him and whatever citizens of his nation he brings along every time he comes to town. It's kinda late to be throwing your name into the Favorite Show of the Year category, but Big Sam made a serious dark-horse bid for that title this weekend.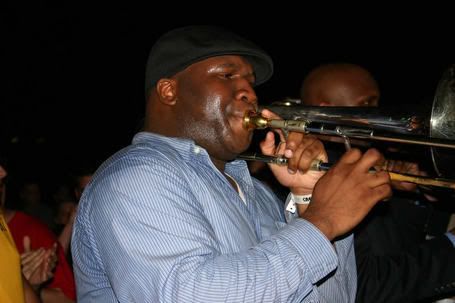 If you ever feel like having fun — not move-around-and-smile fun, but full-on-dance-party-dripping-with-sweat fun — then make it a point to see Big Sam's Funky Nation whenever you can. Between his oft-comedic emcee stylings, his incredibly talented band of players and his penchant for cool teases (he smoothly segued from a New Orleans standard > a No Diggity tease and a Big Sam tune > Gnarls Barkley's Crazy), the night was full of hilarious and well-played surprises. I mean, give me a Hey Pocky Way and a Shake Everything You Got after 2 am and you've got a fan for life…
Big Sam's obviously got some admirers within the music community too, inspiring some great musicians to come out and play with him that night. In addition to some regulars (like his sax-man and number two Calvin Johnson), Big Sam trotted out his Dirty Dozen brother Jamie McLean on guitar, free agent drummer Adam Deitch, Nori Narioka on bass, Cochemea "Cheme" Gastelum on sax and some other accomplished folks I can't name. And I'm not sure if it's a band rule that everyone has to smile the entire time or whether it's just that fucking fun to play in his band, but I was staring at Cheshire grins and pearly white teeth all night.
Shit, I may have to head down to JazzFest just for a return engagement. 
Related audio: Check out this link for the Big Sam Funky Nation Jukebox (stream samples of the BSFN album Birth of A Nation); and click here to download Big Sam's set from The Funkbox in Baltimore on 7/16/05 from etree.