This week we finally learned the answer to that age-old lot question "Who's got my pharmies?" Apparently they're in a black 2004 Audi sedan piloted by a bearded redhead all hopped up on goofballs. Driving is no time for improvisation, Trey.
But there was a far more underreported story this week. It's with my humble sadness to note that the world lost another legend this week: Atlantic Records founder Ahmet Ertegun died Thursday after spending his last few months in a coma. Ertegun had fallen while backstage at the October 29th Rolling Stones show at the Beacon Theater, suffering a brain injury as a result.
Ertegun was much more than That Guy From Ray. "As Atlantic Records grew from a small independent label into a major national music company, it became a stronghold both of soul, with Aretha Franklin and Otis Redding, and of rock, with the [Rolling] Stones, Led Zeppelin and Yes," the New York Times wrote on Friday.
I must admit, I think one of his cooler contributions to Americana is often overlooked: Ertegun and his brother Nesuhi founded the New York Cosmos juggernaut that captured this country's attention, albeit briefly, with Pele, Giorgio, Beckenbauer and a host of international superstars. That all seemed cool.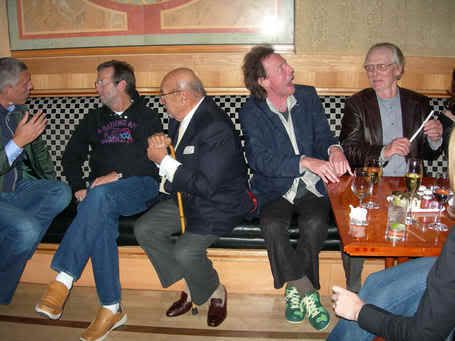 Ertegun and Cream, some time during the band's MSG reunion shows (no word on whether Jack Bruce is alive or not in this shot)

I've often said, if Booger from Revenge of the Nerds plays you in a movie about a blind piano player, you're really doing something right. RIP Mr. Ertegun.
Now let's take a look at what else went down on your girlfriend this week:
On the run from Johnny Law…ain't no trip to Cleveland. Nor Whitehall.