Metzger opened the evening with an hour-plus of acoustic material, mostly new character-inspired tracks he's penned over the last few months. Mixed brilliantly with a batch of clever covers — including the high-degree-of-difficulty 1952 Vincent Black Lightning by Richard Thompson — the 29-year-old former RANA and Particle guitarist played with both an incredible confidence and a sheepish vulnerability that worked to sheer perfection. How the room isn't packed every time he takes the stage is one of life's great mysteries.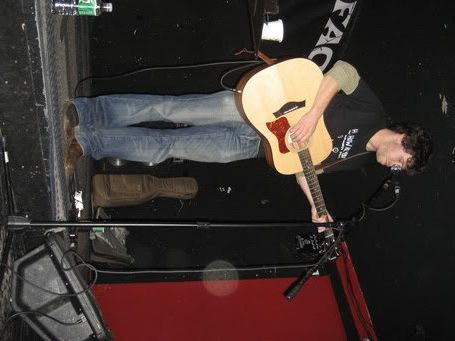 Metzger also broke out a solo acoustic version of The Kinks' I'm Not Like Everybody Else for the second time this month, rockin' me like the women in that popular Steve Miller tune. It was dark in there, but the audio came through (I think):
[youtube]W82GRp43bTk[/youtube]
And here's a poorly lit Part II of I'm Not Like Everybody Else:
[youtube]x-BQzUbzbqs[/youtube]
Sir Joe Russo hopped on stage after a quick break and Danjaboots followed the solo set, hitting its stride immediately with Cracker's It Ain't Gonna Suck Itself (An Open Letter to Virgin Records) off the top. And once Danjaboots gets going, you know it's a fun night in the making with the usual roster of Burn For This, Go Home Hippie, Flaco Dominguez, Carbombed Again, Drunk By Noon, Zimmerman's The Man In Me and Ween's Piss Up a Rope.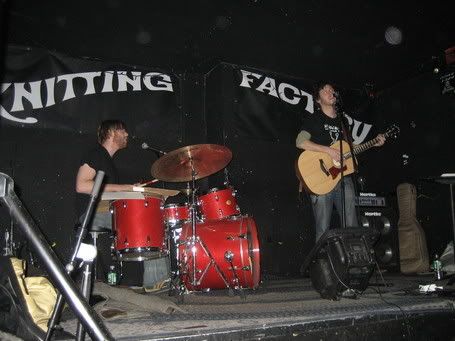 Danjaboots debuted a new tune to the crowd of regulars, a real think piece called Fat, Drunk and Lazy. The duo didn't manage to nail the song on the first try, but considering the lyrics were written on a cardboard box and broken out just before its beginning, they didn't do so poorly. And, hey, this'll be an instant classic with a soon-to-be-familiar refrain that goes "I might be fat, drunk and lazy…but I made you come." Oh yeah, that's gonna be a hit.
[youtube]_OsEe0xhOUY[/youtube]
And the perennial crowd favorite, Go Home Hippie:
[youtube]CNGYKup9Yhw[/youtube]
Quality evening at the Knit…all for the low, low price of nothing.