Here is a handy timeline to illustrate the events of the past 10 weeks…
December 15th, 2006: Anastasio was stopped for keeping the tires off the line in Whitehall, New York, which led to his arrest for Driving While Drugging:
"Subject was observed to be under the Influence of a Narcotic Substance after failing Field Testing. Anastasio was also found to have a Suspended Driver's License in the State of New York. Anastasio was also found to be in possession of an assorted amount of Prescription Medications, Hydrocodone, Percocet, and Xanax, being prescribed to another person. Anastasio was charged with Aggravated Unlicensed Operation 3rd, Criminal Possession of a Controlled Substance 7th, and DWI – Drugs."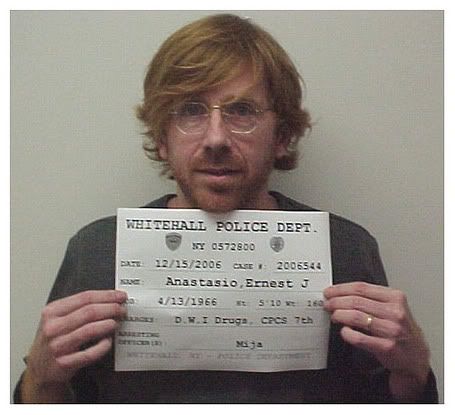 Trey apologized later that day: "I feel terrible about what happened last night, and I am deeply sorry for any embarrassment I have caused my friends, family and fans"
December 16th, 2006: Trey finally gets the national media recognition he has been lusting after for so long. Rock star staus, baby…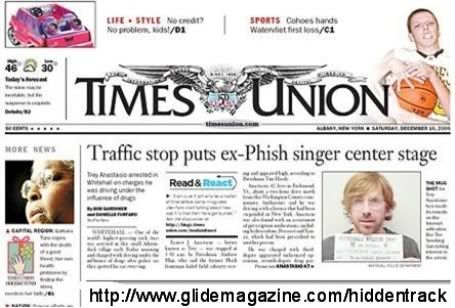 December 31st, 2006: Big Red references his arrest by playing an acoustic version of Makisupa Policeman during the encore of his NYE show in Atlantic City. In the aftermath, a patently stupid debate breaks out on Phish message boards about whether Trey was making light of a serious situation.

January 3rd, 2007: Reports surface that heroin was one of the substances found in Trey's car on 12/15/06. The whole Anastasio family makes an appearance at the Whitehall Municipal Court, where Trey is arraigned and enters a plea of not guilty. Ernest reportedly goes to rehab soon thereafter this appearance.
January 13th, 2007: The case was postponed indefinitely when Trey decided he may want to testify in person.
February 7th, 2007: Speaking at the 92nd Street Y in New York City, Trey addresses the issues that led to his arrest.
February 9th, 2007: Trey indicted on seven counts stemming from his arrest, including three felony charges of illegally possessing prescription painkillers and driving while impaired. Bad boy.
February 27th, 2007: Trey pleads not guilty in Whitehall court, and a date of March 27th is scheduled for his next appearance.