10. Addison Groove Project: 4/3/2004 Higher Ground, Burlington VT Higher Ground, Burlington VT 
The closest anyone has ever seen Trey in a straight-ahead funk set-up would be this sit-in with the now-retired AGP. Trey's sit-in included People Say (The Meters), Making Flippy Floppy (The Talking Heads) and an encore of Boogie On Reggae Woman (Stevie Wonder). Something about hearing Trey sing BACK-UP on People Say has always made me chuckle.
9. Jennifer Hartswick Band: 11/7/2003, Lion's Den, New York NY
Unlike last night's hijinix in the Village, thankfully there was no gunfire when Trey took the stage for a second-set opening Night Speaks to a Woman with the Jennifer Hartswick Band. After they ran through that one, you can actually hear Trey teaching the rest of the band the groove to Mr. Completely. A picture of this performance resides on the homepage for the Lion's Den.
8. Seth Yacovone: 2/7/2002, Tribeca Blues, New York NY
Seth Yacovone was kind enough to lend his guitar skills to Phish's Layla in 1998, and it was only fair Trey returned the favor (yeah, right) and sat in for almost a complete set of dual blues-guitar riff shredding action. Fans in attendance saw some of the most raw guitar riffs played from Trey in recent years.
7. Medeski Martin & Wood: 12/1/2000, Palace Theater, Albany NY
Trey's first appearance post-hiatus (the first hiatus?) was with MMW in Albany, where Billy Martin introduced him as "Trey 'The Family Man' Anastasio." Cyro Baptista was playing the whole show with MMW, and Friend of HT "Rambo D" shares this: "Yes, this was also the show that Trey was introduced to Cyro and asked him if he wanted to 'help out' on a future project (TAB). I was a few feet away from them backstage and overheard the conversation." And so it began…
6. Gov't Mule: 4/23/2005, Higher Ground, South Burlington VT
Trey's command of the Allman Brothers Band instrumental classic Dreams leads me to believe he may have done some actual practicing for this sit-in; well, either that or he got very lucky because he did not miss a note. Trey also played on a Mule staple Sco-Mule, and this performance is available for purchase. A sidenote: Earlier in the night, Page McConnell leant keyboards and vocals to All Along the Watchtower and Jesus Left Chicago.
5. Dave Matthews Band: 2/24/1995, Roseland Ballroom, New York NY
Much to the dismay of Phish fans that harbor a hatred for either Dave Matthews or just all things pop music, Trey has been a guest onstage with Dave Matthews many times. Trey first appeared during a DMB set in January of '95 at the Flynn Theater, and this sit-in featured Trey on the last three songs of the set: Jimi Thing, Recently, and pop-hit Ants Marching. The following month in New York City saw Trey and Blues Traveler's John Popper take the stage for a well-circulated rendition of Bob Dylan's All Along the Watchtower. In the days of Napster, this was a top search result when searching for the phrase "Trey Anastasio."
4. Leftover Salmon: 9/20/1999, The Rialto Theatre, Tucson AZ
In a simpler time, not as much notice would have been paid to the song titles Trey sat in on: I'm Just Here to Get My Baby Out of Jail and Shape I'm In. Phish was in town a night early for their own show in Tucson the following day. This one features lots of bluegrass licks, so check out the torrent — it currently has some seeders, and I am one of them!
3. Les Claypool: 9/30/2000, HOB Mandalay Bay, Las Vegas NV
The guys mentioned in post-breakup interviews that nobody really slept from Las Vegas until Shoreline, and this was the start of it. After clarifying to curious fans at the Thomas & Mack earlier that night that it was indeed hard to eat an apple with one giant tooth, Trey headed over to Mandalay Bay for a special birthday encore Oysterhead appearance. You may be thinking: "Wait, I thought Trey didn't show up?" No, you are thinking of a show two years later, when Les actually referenced in the lyrics that Trey was not where he was supposed to be.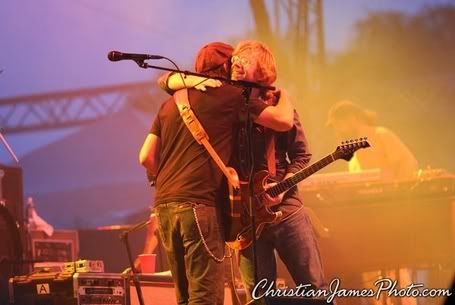 2. Widespread Panic: 11/11/1993, The Roxy, Los Angeles CA
Talk about unexpected; Phish did not play any shows in 1993 between August 28th and the first show of their New Year's Eve Run on December 28th. During this four-month gap, the boys were busy recording Hoist at the American Recording Company in Woodland Hills, CA. Likely itching to play in front of an audience, Trey and Page showed up at The Roxy in LA for a massive encore that includes a take on Traffic's Low Spark of High-Heeled Boys. Some Panic fans are bigger fans of Trey's guitar work on 10/16/2001 sit-in that featured Fixin' To Die and a monster jam out of Wish You Were Here.
1. Easter Jam: 4/11/2004, Higher Ground, Winooski VT
Trey played with three different bands during the closing month of the old Higher Ground (AGP made this list, and he also performed with Orchestra Baobob). But perhaps the largest event was the so-called Easter Jam. Though the Dave Grippo Funk Band was the largest name on the bill, it was a night where everyone knew huge things were going to go down. Indeed, late into the night, after sets by other local bands, Trey took the stage with The Octet, a lineup that had not been seen since Summer 2001.
After playing an hour's worth of music, Trey started Sand and the rest of Phish took the stage for the ensuing jam and a brief, but high-energy, Chalkdust Torture. Page, Jon and Mike then returned to the stage at the end of Plasma to play Stevie Wonder's, yep, Higher Ground. This performance actually saw two different bands Trey performed with segue into each other, using a song that both bands played frequently. Pretty heady shit.
Agree or disagree with Dave? Let him know below in the comments…