The second song of the evening was, in my opinion, the band's signature tune, Space Wrangler. I'll tell you it doesn't get much better than watching the sun go down on a beautiful Sunday evening in South Florida as John Bell sings Space Wrangler. All of the hot chicks that flock to Panic didn't hurt either. Wrangler isn't usually known for its jams, but add Jimmy Herring and all of the sudden a six-minute rip fest developed out of nowhere. In September, Herring was following his bandmates lead; six months later his bandmates were now following him.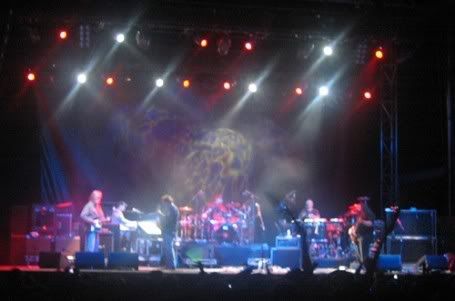 The set continued and the band kept on playing their most recognizable and greatest hits with a few songs from last year's Earth to America mixed in. As someone who doesn't catch every show it was pretty damn cool to see all of these classic songs, especially since Herring's presence has changed the sound of those tunes. Makes Sense To Me and Radio Child got everyone dancing as the sun finally disappeared. One of the few complaints I had about the show was the tame light show. My Morning Jacket the previous night had provided quite the rock spectacle, unlike the bare-bones Panic light show. Nevertheless, this show was about the music, and the band delivered on that end.
Pilgrims slowed things down for a bit, giving my friends Boyanna, George, and I some time to catch our breath. We all had huge smiles — none of us are huge Spreadheads but we were all really enjoying the set. Wondering kept the greatest hits vibe going, as did the Diner that followed. Diner is when Herring took his rapid-fire delivery to the next level, dropping some machine gun-like licks. The crowd, which was the biggest of the festival, ate up every minute of it.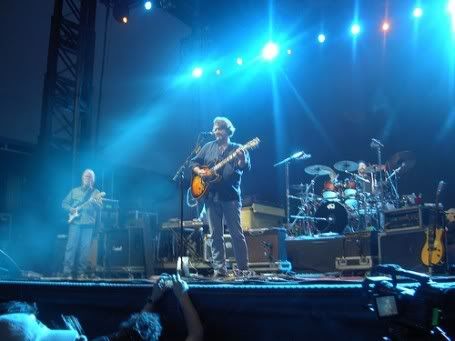 As the clock approached 9:30, the band showed no sign of relenting. George and I kept on thinking they were playing their last song and then all of the sudden they would start a new tune. One hundred-fifty minutes after they began the set, the Panic boys finally called it a night without playing a traditional encore. As I mentioned in a previous column, people were complaining about the lack of the encore, which is fucking retarded. I'd rather get five extra minutes of music instead of watching a band leave the stage and come right back. But I guess people will complain about anything and everything.
Panic delivered the goods to end an incredible weekend at Langerado. Widespread played a typical festival set, mixing up a few new songs amongst their greatest hits. Festivals are all about exposure for bands, and in the case of Widespread Panic it worked — I'm now chomping at the bit to see my next show. Jimmy Herring adds extreme guitar to a band that was in desperate need of a guitar hero.
Even if you didn't like the previous formations of the band, be sure to check out Panic 3.0 to see what it's all about.