I walked into the Beacon Theater with only two wishes: Back To Memphis and The W.S. Wolcott Medicine Show. Not only did Levon provide me with both in his triumphant return to public consciousness this weekend, he delivered much more of the goods on a truly emotional night for everyone in the house.
A frail-but-confident Levon emerged shortly after 9 pm with a bright smile and a hearty wave, taking his rightful place at the drumkit, joined by Larry Campbell and Jimmy Vivino on guitars, four horns (including former collaborator Howard Johnson) and a handful of other musicians. Immediately they launched into three favorites, starting the show off without any nonsense whatsoever — they were going for it. I couldn't ask for a better triumvirate opener than Levon's choice of (I Don't Want to Hang Up My) Rock 'n Roll Shoes, Back To Memphis and Ophelia.
From the get-go, I had the perma-grin working overdrive.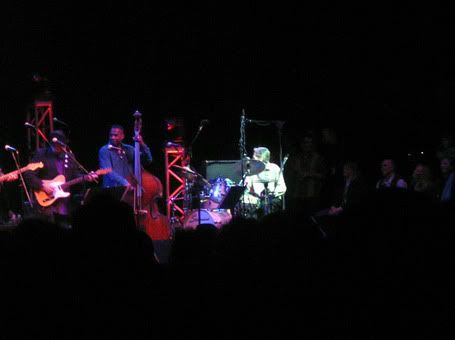 Photo by veedub2001
After a couple of pleasant numbers led by Little Sammy Davis and Mr. Music Allen Toussaint, Levon then introduced Dr. John (without Robbie Robertson's Last Waltzian intro "Y'all know the Doctor? Dr. John? Mac Rebennack?"). Strutting out with his voodoo cane and a bright red suit, Dr. John took his spot at the grand piano and broke right into the song everyone knew he'd just have to play: Such A Night. If I don't do it…
Photo by veedub2001
Oh, man, my face is gonna hurt tomorrow morning from smiling so wide. What I didn't capture here, by the way, is the absolutely incredible piano solo Mac took at the end of the tune. I was too far back in the orchestra to take any good video, but the 30-something seconds of audio are somewhat decent:
[youtube]WuEGvd6C9tg[/youtube]
Dr. John stayed for a few more songs before the big band broke up in favor of a more acoustic setting. Levon switched from the kit to center stage, picking up his mandolin and bringing out his daughter Amy and Teresa Williams. The smaller group ran through some amazing numbers from The Band and elsewhere, nailing bluegrassy versions of Rag Mama Rag, Man of Constant Sorrow, Evangeline and Bruce Springsteen's Atlantic City. The crowd ate this up, and rightfully so.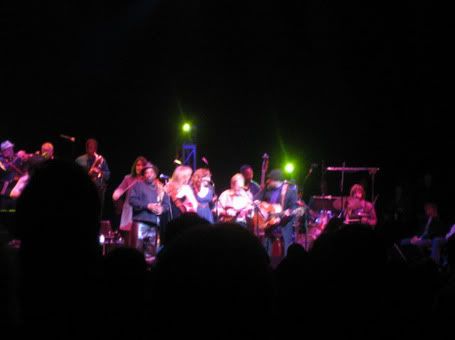 Photo by veedub2001
At one point during the mini-set — I forget which tune — Howard Johnson broke out a slide whistle. I only mention this because it was awesome.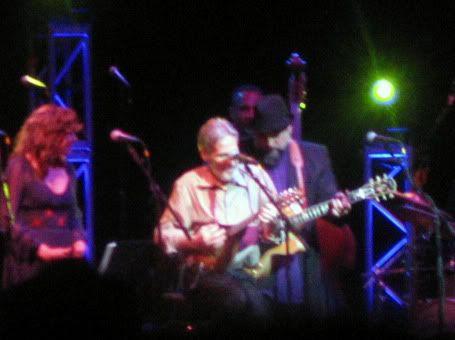 Photo by veedub2001
Eventually Levon returned to the drumkit and the band breezed through another handful of songs that left me borderline speechless. I kept looking around for all the friends I'd ever listened to Rock of Ages with or watched The Last Waltz with or discussed the brilliance that was The Band, but most weren't in attendance. I was the lucky one on Saturday.
Levon then called out Warren Haynes, in town for the Allman Brothers' annual 39-night run at the Beacon. As he did the night before, Warren led the group in a beautiful, soulful version of I Shall Be Released, and if we couldn't have Richard Manuel up there with Levon, I'll take a little Warren. He certainly did it justice, both vocally and musically.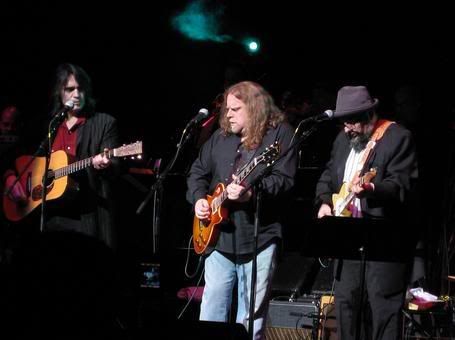 Photo by Josh Wallach
Here are a couple of clips I snatched from the performance of I Shall Be Released:
[youtube]CAFLZcJc_B8[/youtube]
[youtube]Lsgn7shOozk[/youtube]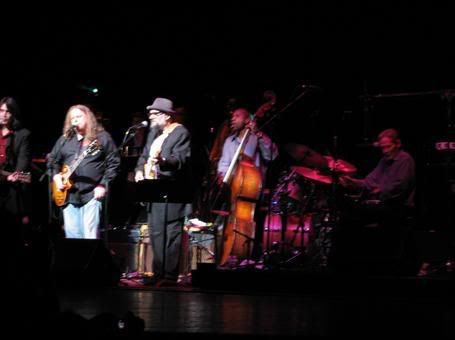 Photo by Josh Wallach
The end of the show floored me just as much as the beginning, as Levon and his growing band returned to The Band's catalogue in full force. Peter Gallagher lookalike Larry Campbell took the lead on a uniquely amazing Chest Fever, adeptly playing Garth Hudson's organ lines on his guitar (interestingly, there were three keyboardists up there and Campbell played Garth's part). Shortly thereafter, Jimmy Vivino stepped up and took the lead on Tears of Rage, nearly bringing a tear to this cat's eye — is there a prettier song? The two weren't especially spectacular outside of those tunes, but they really did Levon a service that night.
Where was my Wolcott hiding? Right behind the awesome, upbeat Down in the Flood that ended the show, apparently. The band segued masterfully from Flood into Wolcott, and I nearly hit the ceiling in excitement (I can't remember the last time I actually leapt for joy at a show like that). An encore of The Weight was all that remained, and while nobody could truly deliver Rick Danko's "Wait a minute, Chester" line as much as I'd enjoy, the full-stage and full-crowd singalong of the chorus was an apropos ending if I ever did see one.
Cue house lights, everyone go home, goodnight. But something else happened. We grateful fuckers gave the band a legitimate encore call at the end. The house lights were up and the band had gone all the way up to the 6th floor, only nobody would leave, so they came back down and turned down the lights.
And then Jimmy teased us that another keyboardist was in the house, only he was late getting to the stage. The band kicked into Take Me To the River without our special guest, but lo and behold, out came a seemingly Amish man with a grey beard as big as the stage. Garth was there! He had been backstage but not planning to sit in apparently. Now he had to. We had him.
Garth emerged, first on the accordian and then moving on over to the B3. I wanted them to re-do Chest Fever with an epic Genetic Method beforehand, which possibly would have made my life, but I guess they felt my heart, and the hearts of everyone in the crowd, couldn't take the abuse. We'd settle for a solo. I mean, when's the last time two members of The Band (not to mention Howard Johnson, who appeared on Rock of Ages) shared the same stage? We're blessed!
[youtube]sqJv9YQts-s[/youtube]
Along the way, Levon acknowledged some people on stage from Memorial Sloan-Kettering Cancer Center, where he was treated for cancer. I enjoyed knowing that a portion of the ticket sales from this weekend's concerts went to the facility. And I'd really like to take this time and thank the doctors and researchers there for keeping that man alive so I could selfishly enjoy an evening with one of my musical heroes playing some of my favorite songs. I'm still floored today…