See that speck of light down there, like 10 football fields away? That's legendary Brazilian songwriting guitarist Gilberto Gil. In 1969, the military government arrested Gil and a singer compatriot for anti-state activities and subsequently exiled them from their native country. Today, Gil's the nation's Minister of Culture.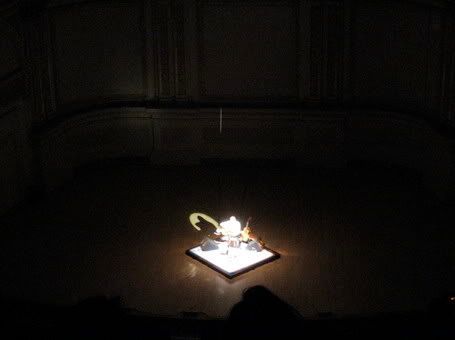 Gilberto Gil is a series of hiccups, yelps and whistles. The Minister uses his mouth better than any fat chick with low self-esteem I've ever seen. The Tropacalia movement leader played Carnegie Hall on Tuesday night and brought the entire Brazilian community out to see him play and sing and skat (I'd estimate that 80 percent of the audience spoke that cute style of broken English). And while we couldn't see his face clearly from our seats, Gil put on quite an entertaining show.
As for a setlist, covers included When I'm Sixty-Four, Three Little Birds, No Woman No Cry, and Can't Find My Way Home in the encore, while originals included a whole bunch of shit in Portuguese. Here's a snippet of his Beatles tribute:
[youtube]Hazo3JiqKd8[/youtube]
I strenuously recommend you all pick up his 1971 album that kicks off with Nega (Photograph Blues). Here's an iPod-ready download of that tune as a bonus for seeing this lazy, bare bones recap to completion.