moe. 03/09/07 DAUD (FLAC, MP3, STREAM):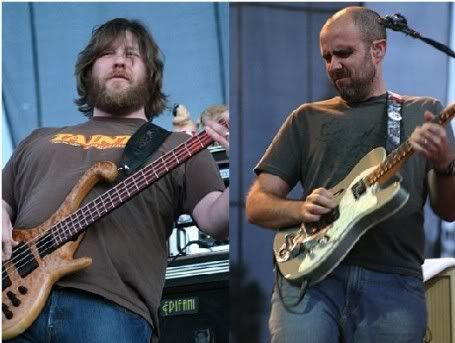 Photo by George Weiss
Speaking of Langerado, I saw moe. for the first time in a while at the Little Festival That Could. For the most part I really enjoyed moe.'s set, and of the newer songs moe. plays, Wind It Up and Good Trip could be my favorites (check out this crispy audience recording for great versions of both).
Over the years I've realized that I'm not the biggest Al Schnier fan. Good Trip though renews my faith in Schnier as a songwriter. Here he has written a tongue-in-cheek song that both in lyrics and music represents the sense of humor that plays a huge part in moe.'s music. "Have a good trip, don't die."
Among the best sit-ins of the festival took place during Blue Jeans and Pizza, when keyboard whiz Nate Wilson added lush tones to the mix. Wilson has been playing with moe. bass player Rob Derhak for years in his Swampdonkey side project, and I guess that explains how he fit in so effortlessly. I missed the Buster encore live, so it's nice to be able to hear what is a typically stellar version of the song about a pig that could fly. The jamming during this set was few and far between, but that's not unusual for a festival set.
Gene Ween 03/23/07 DAUD (FLAC, MP3, STREAM):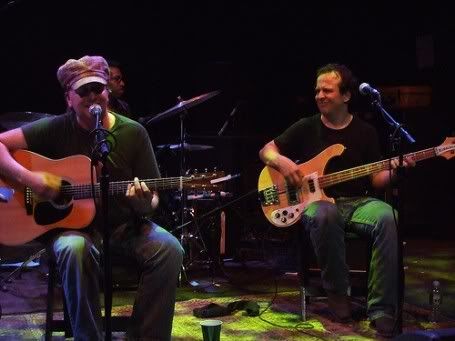 Photo by DanFun
After seeing Gener on Friday night at the Gramercy Theater, many of the songs he played became stuck in my head. Tunes such as She Wanted To Leave, Birthday Boy, and Gener's Gone have been playing on repeat in my brain, so it's nice to get an audio copy to see how good my memory was.
As I mentioned in my review of the show, one of the highlights of the evening was Freeman's exquisite cover of David Bowie's Space Oddity. Also of note is the ode to Jerry Garcia simply titled "So Long Jerry." This show should be added to your collection for it's unique versions of those tunes and much, much more.
Assembly of Dust 03/24/07 DAUD (FLAC, MP3, STREAM):
Reid Genauer and the Assembly of Dust have been a roll since the recent release of Recollection. I had my first AOD experience at Langerado, where the country-fied jamband left me extremely impressed and wanting to hear more. Yesterday I downloaded the band's show from this past weekend at the World Cafe Live in Philly.
The hearty musicianship of the band members is really what makes Reid's songs stand out so strongly. You can hear each player give it their all throughout this performance. It's no wonder the crowd seems to be full of energy, they are just returning what Reid and the boys are putting out. Westerly, Honest Hour, and Rachel are the standout tracks from this performance. Also of note is Reid forgetting the lyrics to Sinner. He recovers nicely with some improv'd lyrics. Good stuff all around on this recording from AOD.
What have you been listening to this week? Post it, people.