SB: Living in San Francisco is there a big rivalry with Giants fans that you've met?
SR: When I first moved out there I was really into the rivalry. What it comes down to is that the Giants fans can't really say anything. They haven't won a championship since moving out west, and they have always been second to the Dodgers.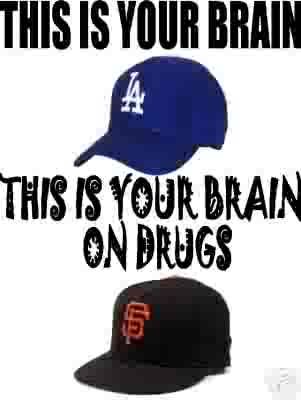 SB: Are you a Barry Bonds fan?
SR: I've always hated the guy. Now I just hate him more.
SB: Is it weird seeing former Giant Jason Schmidt pitch for the Dodgers?
SR: It's not as bad as it was when Jeff Kent became a Dodger. Now THAT was weird.
SB: What do you think of the Dodgers closer situation?
SR: I'm kinda glad they got rid of Gagne, because he's always hurt. I think that guy blew his arm up. I don't know about Saito, but we'll see. Broxton could be good and take over the role [if Saito struggles].
SB: Who do you see as the biggest threat to the Dodgers?
SR: The Padres are really good. I think The Cubs have approved tremendously, Soriano is good. But I think The Cardinals could be the best.
Photo by Adam Kaufman
SB: Are any of your band mates into baseball?
SR: Josh is, we go to games every once in a while. We both have these PSPs with an MLB game that has updated rosters and everything. A few months ago I finished a 162 game season, it took me like four months. I was pretty into it.
SB: Did you enjoy your experience performing on ESPN's Cold Pizza?
SR: Eh….. it was alright. First of all: it was like 5 in the morning, which was rough. Those guys were kinda lame. It was frustrating because it was so staged.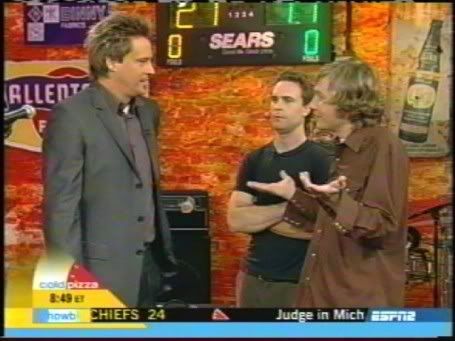 SB: The light show and the sound has gotten so much better over the past few months.What kind of effect has that had on your interaction with the audience?
SR: When Alan, our lighting guy, has a nice room like this [The Fillmore New York at Irving Plaza] it totally adds to the show. The lights are almost a show in themselves. I think the new rig is a big step for us, it gives us a much more professional look.
SB: What was your first show with light rig like?
SR: The first show we played with Alan at the helm was amazing. It was the first time that anyone who knew our music was working the lights. If you have someone who doesn't know what they're doing working the lights, it just doesn't work. Alan has always been a fan, and there came a point where we could finally afford to hire him.
SB: Is it hard to juggle all of the songs in your repertoire?
SR: A year ago we made a conscious effort to try and play all of our songs that we've written over the years. We started bringing back songs we haven't played in two or three years. Just because we're touring so much, that we are starting to have a fanbase that will follow us. Our fans don't want to see the same songs every night. Sometimes we want to play the same songs every night, but that's not the kind of band we are.
SB: Do some songs fall through the cracks?
SR: There's a lot of songs that have fallen through the cracks. If one member doesn't like a certain song, we tend to not play it. Over the years we've gotten better at compromising. For me, I've realized that if I don't like a song it doesn't neccesarily mean the audience doesn't like a song.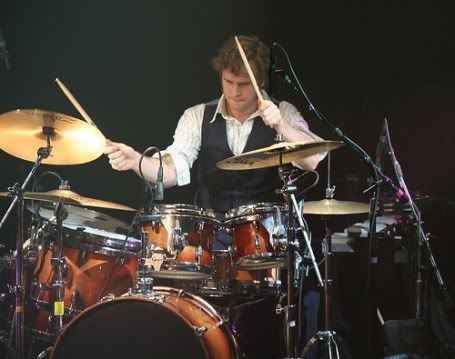 Photo by Adam Kaufman
SB: How do you come up with the setlist every night?
SR: Usually whoever cares about what they are playing that particular night writes the setlist. If someone's girlfriend is in town, then they want to write the setlist. Of late it's been Trevor. Usually we'll do it the night of the show, but for the big shows we write it weeks in advance.
Much love to Scotty for taking the time to speak with us about the season. We will check in with him at the All-Star Break and again at the end of the season to discuss how things turned out.
Tea Leaf Green returns to the stage on Friday for a show at the Olympic Village Lodge in Olympic Valley, California. The boys have a number of festival dates and other assorted tourdates on their calendar, so be sure to check them out.