With renewed rhythm in place, Phil newb Larry McCray looked as if he were much more comfortable on stage, and with the songbook in general (and presumably playing in front of a crowd of stinkin' hippies). He still missed some changes here and there, but every time he took a solo — even in Friend of the Devil — he turned more and more heads. I don't want to get all Larry Brown to the band's collective Iverson, but if these guys actually practiced for a fortnight or two and allowed McCray to grip a tighter handle on the Dead's material, he could be as valuable a friendly guitarist as anyone that came before him. That's a bold statement, for sure, but after seeing his chops, I truly believe my own blather.
The band started off pretty hot, hitting the well-received triumvirate of Franklin's Tower, Friend of the Devil and The Weight (someone correct me if I'm wrong, but I'm pretty sure they missed Danko's "Wait a minute, Chester" verse, which is fairly blasphemous if true). At that point, Phil called out a special guest, and Warren Haynes and his nearly identical guitar tech Brian Farmer began to set shit up. I use the word "began" because it took about 10 minutes off my life.
Song selection surprised the hell out of most showgoers last night, but I'm glad it worked out the way it did: Warren sang an insanely beautiful version of Ship of Fools, which was followed by a Blow Away that really got the crowd going (great work by Steve Molitz on Brent's fabulous cheese) and a Cold Rain and Snow set closer that begged an obvious question. With Warren and McCray both on stage for the song, why the fuck was Phil singing lead?! Yahtzee.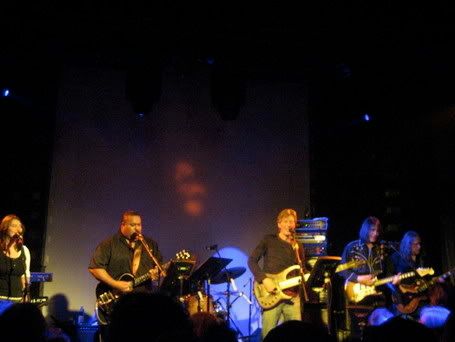 I found it a bit strange that Warren never really took the lead at all in his time on stage. He sat back and played very subdued, perhaps a little tired from the recently concluded 75-night Allmans run at the Beacon (I always thought Warren went into a six-week hibernation after the ABB run, but as it turned out, he's available). I'd much rather see Warren step to the front and melt some faces, but I found no real fault with either Larry McCray's or Larry Campbell's playing last night.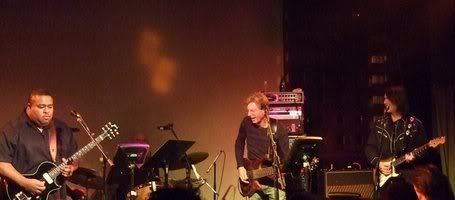 Let's get real for a second: Cancer or no cancer, liver or no liver, food poisoned drummers or no food-poisoned drummers, a 50-minute setbreak for a bar-type showcase can only be categorized as wrong and ridiculous. It didn't serve to pique my interest for the second set, it only made me want to go backstage and deliver a few well-orchestrated top-rope maneuvers ala Jimmy Snuka. Let this be a warning to all you lazy-ass musicians…top-rope shit awaits.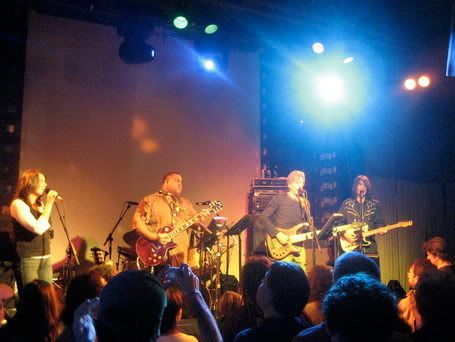 Warren re-emerged with the band for the beginning of the second set, which was only fair given the wait. Needless to say, they more than made up for it with the epic, 30-minute Viola Lee Blues I called for last Friday when I found out the bluesman McCray would be sitting in on the homestand. When they broke into it, the judge decreed I broke into my own huge permagrin, and a semi-erection as well. You can butcher Viola Lee and I'll still eat it up — thankfully, they jammed it out incredibly, Low Spark teases abound, the highlight of the evening by far. I need this version on my iPod, post-haste.
Despite Warren's subdued sit-in, the night belonged to Mister McCray. For a guy that probably heard one and a half Dead tunes during the course of his life, he looked remarkably comfortable on stage for most of the night and just ripped up everything he could find. Plus, that man can sing. And if you've never seen Candyman sung by a 300-pound blues guitarist, you've never even heard it at all. Da-yum. He then proceded to belt out All Along the Watchtower as if he wrote the opus himself. Powerful man. Here's a small taste of the Candyman:
[youtube]Ly2PExZIud8[/youtube]
A fantastic stretch followed the Watchtower, with the band seguing through Cryptical, The Other One and a Particle-type jam that picked up the dwindling energy in the room immensely. I've never seen Molo and Lesh get their untz untz on, but I guess there's a first time for everything, and both seemed pretty stoked by the jam. Particle keyboardist and three-time American Taliban John Walker Lindh Lookalike Champion Steve Molitz put on his best ever performance with me in attendance. It was kinda weird to see him sitting down and not boppin' around his set-up like an epileptic, but he definitely impressed the hell out of me last night.
At that point it was getting real late, and the set was already about 90 minutes. Now let's check in on the running commentary in my head: "What do we think, a quick GDTRFB hit it and quit it? Breeze through Morning Dew and call it a night? Wait, wait, wait…is that? Could it be? Holy shit! They're about to try Terrapin Station? This is gonna get ugly. Okay, shit, it is ugly. Getitng uglier. Okay, now they've stopped. They've aborted Terrapin. This is a Terrabortion. I guess Jerry just passed down word from above that this needed to stop. Allright, let's move onto the next tune. And where are my Forget-Me-Now pills?"
Some guitar tuning ensued, and wouldn't ya know it, they tried it again. Only this time it actually sounded pretty damn good. To be sure, this was no Grateful Dead Terrapin — this was a Phil & Friends version, not holding true to the album or any live performance I've ever heard. Still, it had a quality about it that I loved, up-tempo, sounding almost as if someone like Los Lobos were playing it. Not bad at all. Finally, after teasing it all night, the band segued into I Know You Rider and wrapped up a monumentally long second set and a helluva show.
Phil let McCray break into Next Time You See Me when they came back out for the encore, and I departed about halfway through the song. I left tired and hungry, and frankly a little confused as to how this band could be so off the previous night and so on tonight. Familiarity breeds betterness?
Then I contemplated hitting this giant homemade public-works bong parked conveniently right outside the venue. Instead I went home and nursed my achin' feet, the very fitting encore running through my head as I hit the pillow: Next time we see you, things definitely won't be the same.
Set I: Franklins Tower > Friend of the Devil, The Weight, Ship Of Fools*&, Blow Away*% Cold Rain and Snow*
Set II: Jam* > Viola Lee Blues* > Jam* > Viola*, Candyman%, Watchtower, Cryptical Envelopment > Other One > Particle Jam > Terrapin [um, break] Station$ > I Know You Rider
Enc: Next Time You See Me
*With Warren Haynes
&Warren Haynes Vocals
%Larry McCray vocal
$aborted early and restarted for guitars being retuned