Scott Bernstein: How do you feel your show at the Gramercy Theater went?
Page McConnell: I thought it went okay. To be completely candid, I thought the sound was a little better for me at the Philly show. That's such an important part of what we do. When we improvise we need to hear each other. It was just a little muddy on stage. It was partially the way it was setup. I don't know…I thought it was okay. It was acceptable, how about that? But I'm my own worst critic. What did you think of the show?
SB: Honestly, I thought it was terrific. I really enjoyed it, and I liked how you stretched out the songs from the album version. I liked the improvisation, but one thing that stood out was Jared Slomoff's playing and singing. From his vocals to his Rhodes playing to his guitar work, I'm just wondering how has this guy flown under the radar for so long?
PM: I would tend to agree with you. He constantly surprises me. He's very talented. To have someone like that who's not only an accomplished musician, but he's also such an accomplished engineer as well and to be able to use both parts of your ability is rare. A lot of times you find people that are really into one or the other that they're really proficient at, but he seems to be able to do quite a bit. I haven't found much that he can't do yet, but there's still time.
SB: You were an Elektra recording artist for 12 years. How did you find Legacy, and how has your experience been so far?
PM: I'm so happy to be at Legacy, and I liked Elektra. I had a good time there, I didn't have any issues or horror stories or anything like that. I think that perhaps they didn't understand us at Elektra as well as I feel Legacy does. Legacy is really working with my team here in Vermont to try and work with the fan base and just sort get a good sense of what it is. Elektra had a lot of acts going on at the same time, and I think generally we left them scratching their heads saying "Why are they selling all these tickets and not selling as many albums as, say, someone else who is playing in clubs?" I guess a lot of people scratched their heads at that.
With Legacy I just could not be happier there. Jeff Jones, the president, found me. He had actually been at Elektra during the first three years we were there. I think he was in marketing at Elektra, so that's how the relationship developed. As is the case in the music industry everybody bounces around from job to job and he ended up the president of Legacy.
It wasn't even neccessarily a label that I was considering. I wasn't really considering any of the majors when I did the album, I just thought it would be something that would just come out on a smaller label. Legacy seems to have the best of both. It really has the small label feel, but it's right there at Sony.
SB: How did you know you had enough material to go from recording tracks in your basement to recording a cohesive album?
PM: After writing about seven songs I thought I outta try to finish the project, because it felt like there was some cohesion among the tracks and that they held together. [At that point] I began to look towards the end game. This is after working on it for a year, and it took me another six months to finish it. After [recording the tracks in my basement], we went down to Brooklyn and recorded all of the newer tracks and re-recorded some of the stuff I had done in Vermont. Heavy Rotation was a song I recorded in my basement, but I could never get exactly what I wanted with it. So when we re-tracked it with Jim Keltner, that was a big bonus.
Photo by Rob Shanahan
SB: What did you think of working with Jim Keltner?
PM: I cannot say enough good things about working with Jim Keltner. I was honored and thrilled to be working with him. He not only lived up to all of my expectations, but as exhibited in his improvisation on Heavy Rotation and Back In the Basement, he blew me away. He far exceeded anything I had expected. I didn't know he played in that kind of way, so it was great.
SB: Did you get to talk with him about his experiences at all?
PM: Oh yeah. The guy has got a few stories, obviously. It was great to be able to ask him questions or to have him talk about "Oh, when I was doing a session with George or John…" But in such a casual way, not dropping names. He's just a good storyteller and really had some funny, funny stories. He's originally from Oklahoma and I learned a lot about him. He got his start working with Leon Russell, but one of his first big gigs was with Joe Cocker on Mad Dogs and Englishmen. He was one of the Mad Dogs as he told me.
The stories just go on and on. I didn't realize he had played on Dreamweaver! Everything that came out of his mouth was amazing. We only played together for two days, but the whole experience was really, really fun.
SB: Was there ever a point after Coventry where you were thinking about doing something other than being a musician?
PM: I don't know that there was ever a point where I was seriously considering it, but I certainly realized that I was in a unique point in my life. If I ever wanted to consider doing something else that would certainly be a good time to roll into it. I was free. After having done Phish for so many years day in and day out it was tough to think about starting over again.
The music industry isn't all that great a business to be in. It's not neccessarily the most pleasant place to be all the time. Whether it's the clubs you gotta play or the promoters you have to deal with sometimes…and I generally have great relationships with these people. Having said that there can be seedy elements within the business.
People want you, and they want to have a part of you and all that sort of a thing. I've surrounded myself with great people so I don't really have that experience, but I was starting off on my own again now. It wasn't like I'm starting back on the top again. So I at least rolled it around for a while and thought: "Is there anything else I feel like doing?," and I guess the answer was no.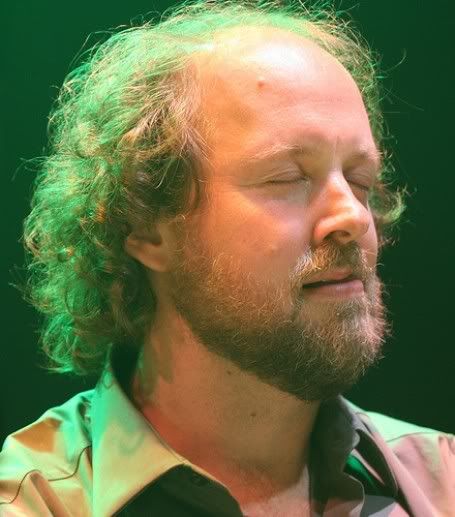 SB: Since Phish broke up, have the fans treated you well?
PM: Oh yeah. Everybody's just been very appreciative of what we've done — in my experience anyway. Fans are excited to meet me and want to tell me about how much the music has meant to them. I appreciate that. I take it to heart and it means a lot to me. Phish was just an amazing ride that we were able to take with the fans. It's hard to imagine it happening again in that way. I'm loving what I'm doing now, but it's a little bit different. That was such a magical journey, and so innocent too. It started off so small with such good intentions and a lot of hard work, and then a lot of luck. It was good timing that let us do all the things that we did.
SB: Do you still see and talk to the your former bandmates?
PM: I do. I talk to the guys in the band. I see Mike more than I see the rest of the guys. We try to get together about once a week to play chess. We're all talkin' these days.
SB: I've noticed on this upcoming tour that there aren't any festival gigs. Do you enjoy playing festivals? Is it something that you would be open to in the future?
PM: Oh, I'd absolutely be open to it in the future, but at the same time I played the greatest festivals ever. It was just one band, and it was a lot of fun. So there is a little bit of the experience I've had going to other festivals where there are multiple bands with multiple stages, and sometimes I miss the singularity and the focus that we were able to give the fans with our festivals. We really made it fan-oriented. I know that a lot of other festivals try to do that.
When I played moe.down last summer with the band that I put together, I thought those guys had a really good vibe going. I really enjoyed the fan-friendly atmosphere that they created, I really respect what those guys have been. There are other festivals I've been to that I thought were a little too big and sort of tried to be fan friendly but kinda missing the mark and ending up just being too big.
I'll be doing more shows in the summer, and there's certainly the possibility that a festival date will be in there somewhere. But more than likely it will probably be similar to what this upcoming tour looks like just in a different part of the country. I'm not opposed to it; it's just makes sense for me is to be hitting all the cities that I can and trying to let people know about the album and to some degree you think you can reach lots of people at a festival but you don't reach many people in Cleveland neccessarily or Minneapolis. It depends. So that's where I am right now, and I actually enjoy playing…I enjoy the continuity of doing this sort of a tour where it's your show and you're working every night and can fine tune it whereas at a festival the circumstances are different on every single stage you step onto, and it's nice to play in front of lots of people, but I'm looking forward to developing some continuity with this band.
SB: The tourdates that have been announced are just the beginning?
PM: There will be more.
SB: What kind of music do you listen to?
PM: I listen to a lot of Legacy recording artists [laughs]. Many boxsets. I've really been enjoying the Fats Waller and Count Basie sets that I got from those guys. I don't listen to tons of music.
SB: What has your experience been playing with Gabe Jarrett?
PM: I love Gabe's playing. He's fantastic. His personality just fits right in with the rest of us. When I played the moe.down show, it was the same lineup except I had Fish playing drums. With Gabe in there it just feels great, I'm so excited. He's the only guy I even considered asking. He was excited for the call, and every single time we've played at the practices it has been amazing. We've only had about five practices, so it's a relatively young band. At the Gramercy show, the five of us had only been together in the same room for the first time eight days prior.
This is a very, very young band: a fledgling ensemble. It's gone really well and we have only good places to go from here I hope.
Thanks to Page for taking the time to talk to Hidden Track. Page McConnell and his band will hit the road in June for their first tour.