The afternoon began with an extended set from Zero, a band unapologetic about (or oblivious to) its lingering Grateful Dead overtones. Scotty caught Zero on Friday and left fairly unimpressed — I think he'll get to that later — but these guys sounded fairly inspired outside Grand Central yesterday. On the first real gorgeous day of the spring, I found it difficult to dislike a band with Steve Kimock and three strong connections to Jerry Garcia: Legion of Mary sax-man Martin Fierro, JGB keyboardist Melvin Seals, and the queen of dancing like a white woman, Donna Jean Godchaux.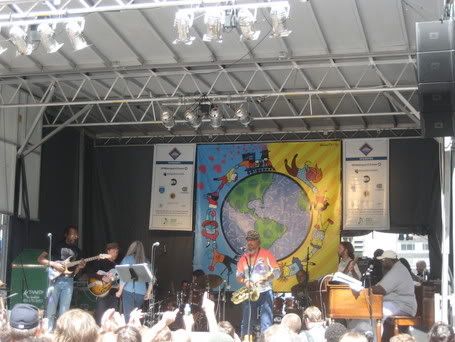 Donna Jean didn't sing much, though it's always nice to hear her fantastic brand of song, and I mean that as a compliment. Anyway, judging by the picture below, this lineup may just be the new poster-band for Diversity in the Jam Workplace. Throw in Kimock's teenage son John Morgan on drums behind Fierro and you've got racial, gender and age gold:
My shadow looks cool in widescreen mode, I'll tell you that much:
Kimock played incredibly today, but office linebacker Melvin Seals really stole the show for me. That guy can do it all:
As evidence, check out this short video I shot of Seals leading the proceedings:
[youtube]-KS23kmPJOQ[/youtube]
For the second time in 12 hours, Zero played Franklin's Tower, although I'm told they played it quite different this time around. Here's a quick clip of an early section, minutes before a killer jam:
[youtube]bllubOV54uE[/youtube]
Hey, balloon animals! From a clown in full regalia! On 42nd Street! In front of a cop car! Is that Brendan Bayliss? Kinda looks like'm.
We bailed on State Radio when a large group of 14- and 15-year-olds made it clear they were here to party, and our crew of eight made our way over to Bryant Park for a fancypants lunch. Aside from planning a few benefits and the 2012 Apocalypse Now Festival, I watched a few hot girls fake deepthroat the breadsticks. Awesome. Eventually we all left satisfied and satiated, and we headed back to catch the wholly underrated Assembly of Dust:
Twice in a month I've been super-impressed by AoD, thoroughly enjoying both this set and Langerado's pleasant Floridian daytime show. In addition to be talented musicians, Reid Genuaer's collective really writes great songs. Songwriting will be the ultimate key to success in the post-Phish, post-Dead jam world, and these guys have a clear leg up:
Photo by Adam Kaufman
Hangin' further back: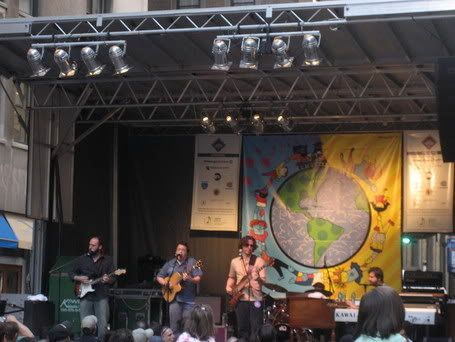 Here's a clip of AoD and the scene surrounding the stage:
[youtube]u07OfpodTxg[/youtube]
You can't underestimate Nate Wilson's contribution to AoD:
Photo by Adam Kaufman
More Pics About Buildings & Food: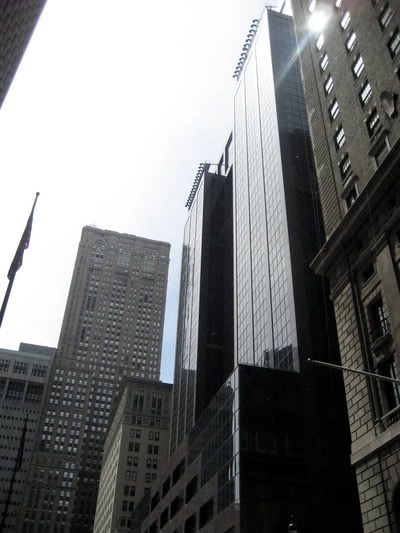 Earth Day street fairs look just like Shakedowns. Don't forget that: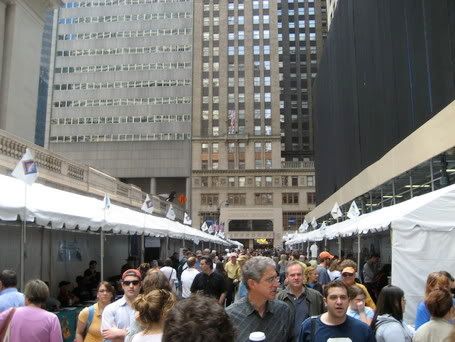 From the other side: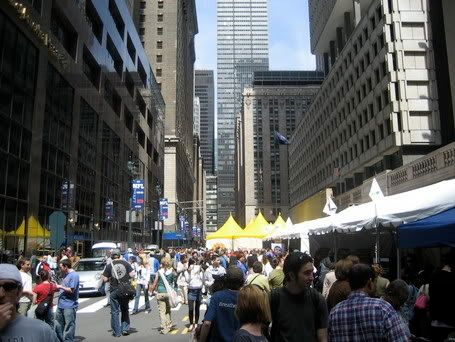 SuperDee was there taking pics for herself…I think I can win a Pulitzer with this one: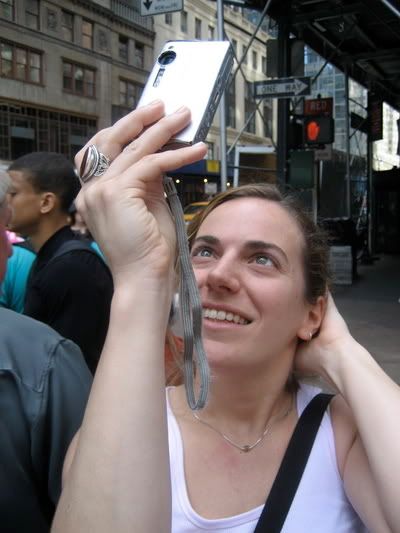 The Coach caught this picture somewhere on Vanderbilt Ave: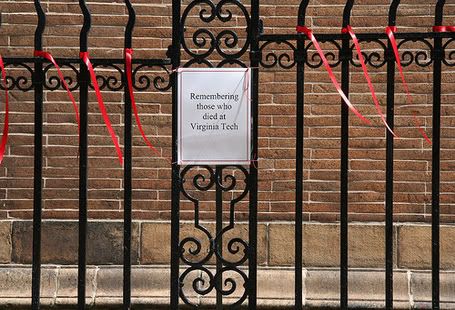 Photo by Adam Kaufman
It is a Shakedown…I knew it! Hey, youse got my hoagies?
A few hours of solid music, solid sunshine, solid friends and a solid taste of spring — that's what I call a Saturday in April. Happy Earf Day.