After some high-energy improvisation, keyboard player Joel Cummins worked the synth'd out opening chords of Atmosfarag into the mix. The rest of the band complied and embarked on a tasty version of the tune. I'm taking it you can guess what happened after the band finished the song. Yes, they jammed some more, this time playing the final segments of JaJunk. Over a 30-minute stretch after starting JaJunk, the band finished one hell of a sequence that featured more improvisation than an episode of Curb Your Enthusiasm. Heyooo!
Hangover, one of the first songs Umphrey's ever played, kept the energy up with the crowd chanting along — "All night long." A cover of Ozzy Osbourne's No More Tears was next, followed by an 18-minute epic version of All In Time that closed the set. You just never know what kind of Umphrey's show you are going to get. This night featured a bunch of improvisation, while another show I attended a few days later at Penn's Peak relied on the power of the songs themselves.
The Triple Wide, a song that is equal parts prog-rock and disco, started the second set. Umphrey's BFF Marc Brownstein swapped in for Ryan Stasik as the jam in The Triple Wide started heating up. The Disco Biscuits bass player had a giddy look of joy on his face as the band morphed a dance jam into a stab at the end of In The Kitchen. Last year in Chicago the Biscuits covered In The Kitchen, and Brownie has remarked in the past that it was his favorite Umphrey's song. It was really weird to see another bassist playing a song that was so unique to Umphrey's, but Brownie did a "heck of a job."
After some hugs, Brownstein announced that Umphrey's and the Biscuits were going to be playing a show together at McCarren Pool in Williamsburg before Camp Bisco in August. I'm not heavy into Bisco, but I can't deny the fun these guys are having playing with each other. I wonder if their girlfriends/wives are starting to get jealous…
Stasik returned on bass and Umphrey's continued where it left off, showing incredible chops and songwriting abilities. One song that combines the best of those two aspects of their music is Divisions, another song from early in Umphrey's career that remains a fan favorite. The song combines a rockin' riff with the full power and range of Brendan Bayliss's lyrics and voice. If it weren't for Jake Cinninger ripping face-melting licks every 30 seconds, all the emo kids on MySpace would flip for this shit.
After a tasty jam the boys showed off a new version of an old song, Padgett's Profile. I've seen more than 30 UM shows and this was my first time seeing Padgett's. I like the Nine Inch Nails sound they've added to what was already a stellar composition. For added pleasure, the guys played the Bill Frisell version of I Heard It Through The Grapevine in the middle of Padgett's. This show was turning into an all-killer/no-filler affair.
Alex's House, the newest song in Umphrey's bag of tricks, followed. About a year ago my friend DaveO [Happy Birthday buddy!!!] pointed out a section in one of the band's jams that sounded similiar to Phish's Punch You In The Eye. We both agreed that it was just a coincidence, and wasn't a full out "tease." When Umphrey's released their latest album, The Bottom Half, Dave and I were shocked to see that what we had originally thought was a take on PYITE was indeed the beginning of an original tune named Alex's House. With all the improvisation the band does, it's sometimes hard to figure out what is a random jam and what is a future section of a new song. I guess that's the fun part. But I digress…I was stoked to see Alex's House had come along ways from the album version with some interesting segments tacked onto the end of the tune.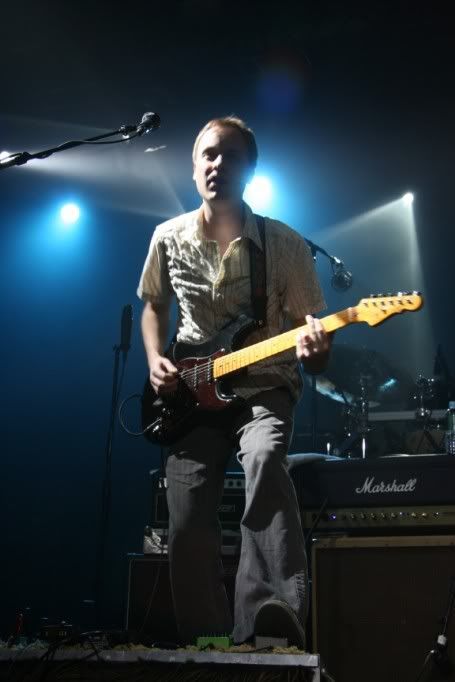 After a long night of jamming, the band got heavy for the encore, performing Words, a tune that speaks about complex relationships. Sometimes everything isn't sunshine and lollipops, and I thought the Words encore showed that this band is about more than jamming. For me, the bands that really get me off mix intelligent songwriting (both lyrically and compositionally) with an ability to improvise at the highest level. Without a doubt, Umphrey's McGee is the band that presently hits both of those marks consistently.
Umphrey's McGee
April 13th, 2007
Nokia Theatre
New York, NY

Set One: [email protected] > In the [email protected] > Jazz Odyssey^ > Atmosfarag > JaJunk, Hangover, No More Tears, All In Time
Set Two:The Triple Wide^^ > In the Kitchen^^, Prowler > Divisions > Padgett's Profile > Heard It Through the Grapevine > Padgett's Profile, Alex's House -> Divisions, Mulche's Odyssey*
Encore: Words

Notes:
@ with Jake and Brendan on acoustics for partial
^ with Jake on percussion and drums
^^ with Marc Brownstein on bass replacing Ryan
* with Moby Dick ending