ZZ Top headed down to JazzFest this year — can't say I'd put Billy Gibbons in the same category as the Marsalis family or Dr. John, but I guess his insatiable quest for Tush took him down to the Louisiana Bayou this year. Hey, doesn't the beard ever get caught in the guitar strings? That'd be embarrassing.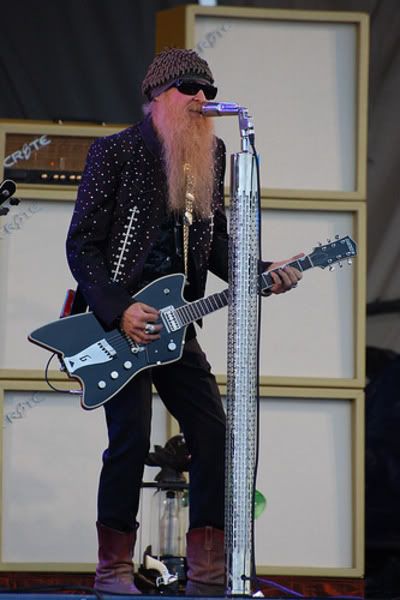 Dusty Hill basses it up…man, ZZ Top can still shred. I wish I were down there.
Speaking of the Family Marsalis, here's a shot of Branford from the 5/7 Jazz Jam:
These guys have one of the more ridiculous band names, but at least this Louisiana ensemble had the balls to leave out "Brass Band" from their moniker — check out this sweet shot of Why Are We Building Such a Big Ship? on the street:
Here's another great shot of the Big Ship? band:
I like the description of the Soul Rebels Brass Band: "Imagine blending the sounds of Mardi Gras funk, soft rock, and reggae so seemingly it defies category. Now shrink that idea into a seven-piece ensemble, add a hip hop sensibility plus a hundred years of New Orleans jazz tradition, and youll get the Louisiana sound known as the Soul Rebels." Allright, I'll check 'em out, then:
I love this shot of a trumpeter from the Treme Brass Band, a NOLA group led by snare drummer Benny Jones, Sr. I also love the fact that this band has released two albums, and both sound more like blaxploitation than music: Gimme My Money Back and I Got a Big, Fat Woman. Awesome stuff.
It's always a bit disheartening to see a sudden build-up of water in New Orleans: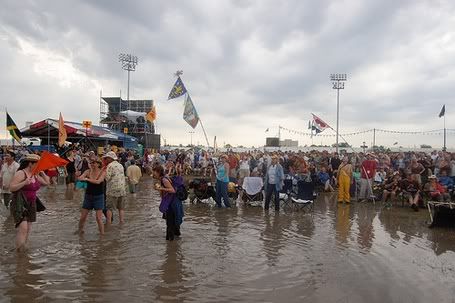 Can anyone identify this woman? She seems like she's belting out some sweet sorrow, and I'd like to find out what she's singing. Danke.
It don't get much cooler than this photo of Nathan & The Zydeco Cha Chas, another band name that gets me tickled. I think I need to do JazzFest for the names alone. And, seriously, who wouldn't want to get down and funky to "fast and furious accordion-driven dance music of the Creole people of South Louisiana." I'm totally down for that, and I'm takin' you with me: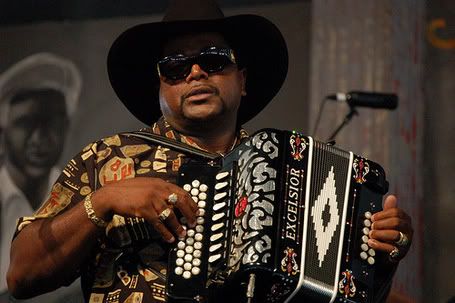 The first of two great shots of legendary New Orleans guitarist Walter "Wolfman" Washington (with the Roadmasters) in the Blues Tent:
And here's a fucking fantastic shot of the Wolfman howlin':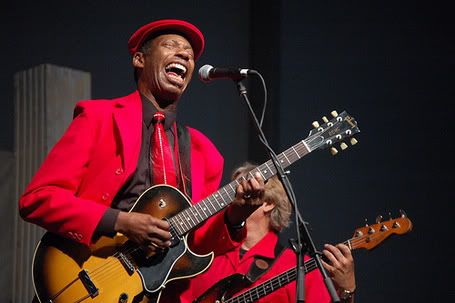 Another random shot for which I have no clever caption — got one for me?
"Look at her…she's old. You can't just take her stuff, she's too old." Actually, this fine young lady looks like she's cuttin' a serious rug. Allright!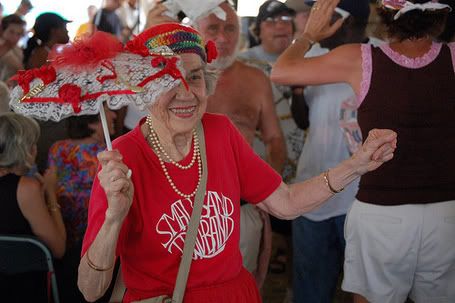 The West African Gangbe Brass Band is a 10-piece band from the Republic of Benin. Here are two things I learned today: first, the word "gangbe" means "sound of metal" in the Fon language; and second, there is actually a Republic of Benin. I'm a geography newb.
I wonder if Rizzo is the leader of these Pink Ladies, too:
A random brass band plays outside the festival grounds: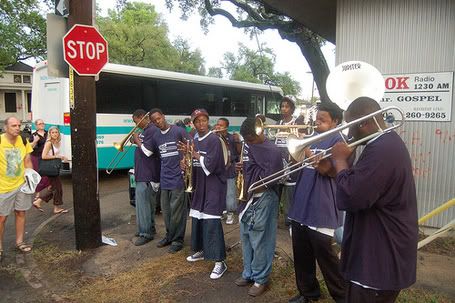 A wide-eyed shot of the sea of humanity down at JazzFest this year:
These are probably not your real-deal Injuns…but the parade of Mardi Gras Indians looked pretty sweet from our vantage point:
Now, this looks more like it actually…