As the set continued I had a good chance to check out my surroundings. The Highline Ballroom is gorgeous, with amazing sightlines taboot. You enter through a set of stairs into a large rectangular space with a small balcony lining most of the sides. The venue is a great-looking room that someone spent A LOT of money to build. One nice touch was the…what would you call her? A roving bartender? A vendor of brew-dogs? A cute chick selling beer? Nice touch. On this night the venue was cramped, but not packed to the gills. The moe.rons were loving this setting where they could fully interact with their heroes.
The show continued and I found myself impressed with moe.'s command of the audience. Shoot First and She Sends Me were both well received, particularly by me, who was down with a couple of five-minute songs after that stretched-out Timmy Tucker. Each time the band finished a segment the crowd would roar with delight; you have to respect a band/audience relationship like that. Everybody there wanted to be moe.'s BFF (AEAE).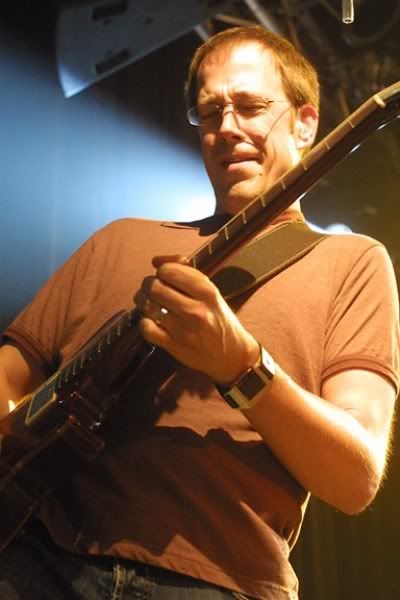 32 Things was the highlight of the first set. After some funky verses and choruses, the song dissolved into a sicky sicky call-and-response segment that had each guitarist pushing each other. One thing that was clear over the past few shows I've seen is how far Al's guitar playing has progressed. Al did a great job keeping up with Chuck, when in the past, 32 Things would turn into the Chuck show.
I really dug the jam out of 32 Things as well. At first I thought we would get a Buster, but out of some nicely focused improv came New York City. Sure it sounds cliché, but seeing moe. play New York City in New York City wins the Goosebumps Award. You can't help but smile as everyone around you dances their ass off and sings along with the band. "I'm coming home again" indeed, moe.
Come second set, moe. busted out The Who's version of Summertime Blues after a solid Crab Eyes (best chorus lyrics of any song in history?). It was hard to tell this was only the second time moe. played the song, and Al and Chuck even pulled off some nice twin windmill strumming of their guitars throughout the tune.
Yet another long jam ensued that had some memorable moments, but for the most part I'd call it a wankfest. I enjoyed most of the set, but when Recreational Chemistry started I knew I was in for a really long set closer. I found myself bored pretty quickly once the jam began. The people around me were really digging it though. Even the cute chick selling beer was bouncing along to the beat.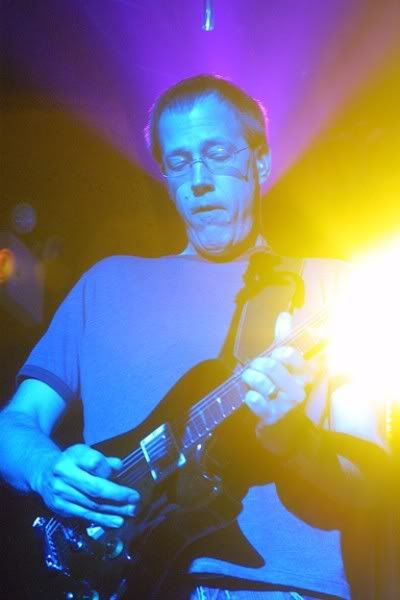 The show ended with a Time Ed encore that led to a full band switch with Fishbone. Why Fishbone? Good question. Fishbone was one of the main influences on moe.'s sound when they were starting out. Al Schnier explained moe.'s early sound to Michael McKinley in October: "Well, when we got together, we all came from pretty different, varied musical backgrounds, but at that point in time we all kind of agreed on Fishbone, the Chili Peppers, Jane's Addiction, fIREHOSE… trying to think what else… Primus for sure, and Frank Zappa. And those where the things that we were all really into at the same time. Rob, Chuck and I were all just huge fans of all this stuff right at the same time. So, so much of that influenced what we were doing."
The moe. boys were clearly psyched, though I'm not so sure most of their young audience knew who Fishbone was. moe. has never done anything by the book, and bringing out a guest their crowd didn't know is a typical brilliant moe. maneuver. You just gotta educate the youth about the great bands of the late '80s and early '90s.
I've had a few days to look back at the show, and while moe. did a great job of keeping their fans entertained, I found myself bored to tears with some of their jams. If these guys really want to call themselves "indie rockers" and leave the "jamband" label behind altogether, they should go back to their roots and actually concentrate more on their songs than the jams that flow from them. I'm sure the brilliance-to-boredom ratio would drastically improve.
Set 1: McBain > Y.O.Y. > McBain > Lost Along the Way, Down Boy, Seat of My Pants > Akimbo

Set 2: Interstellar Overdrive > Brent Black > Y.O.Y. > McBain, Tailspin > Brent Black
Encore: Sensory Deprivation Bank

Set 1: Timmy Tucker > Livin' Again, Shoot First, She Sends Me, 32 Things > New York City

Set 2: Crab Eyes, Summertime Blues > George, Lazarus, Captain America > Recreational Chemistry
Encore: Time Ed > moe./Fishbone Jam > Everyday Sunshine**, Alcoholic**

** – w/ Fishbone

Set 1: Understand, Stranger Than Fiction, It, Not Coming Down > Wormwood > 32 [email protected], Happy Hour Hero# > Punchline reprise# > Waiting for the Punchline#

Set 2: Rebubula% > Yodelittle*% > Moth, Four > The Road

Encore: Bearsong

@ completes 5/3/07 version
# w/ Gordon Stone
% unfinished
* w/ Brain Tuba tease

Set 1: Okayalright, Can't Seem To Find, Wind It Up, Blue Jeans Pizza, Rise > Mexico

Set 2: Spaz Medicine, Where Does the Time Go?, Can't You Hear Me Knockin', Meat > Don't Fuck With Flo > Meat
Encore: Spine of a Dog, Rebubula*

Set 1: Head, Tambourine, Threw It All Away, Paranoid Android, She > St. Augustine

Set 2: Buster > Letter Home, Bullet > The Pit > Bullet
Encore: Gone, Plane Crash