The Smashing Pumpkins announced today they'll be playing two separate residencies this summer. The newly reformed band will play eight shows at San Francisco's Fillmore, which we think totally makes sense. Then, more oddly, Corgan & Co. will also play nine gigs at the Orange Peel in Asheville, North Carolina.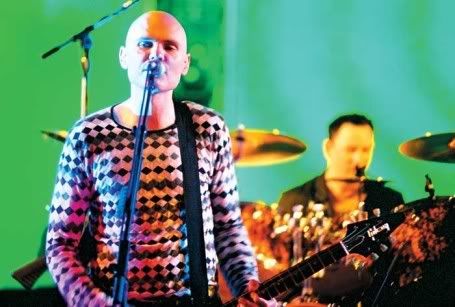 We know Asheville's a heady town, but why there? Perhaps Asheville Councilman "Hot" Carl Mumpower likes the music Smashing Pumpkins?
The Pumpkins plan to switch up the setlist every evening, mixing in new songs from Zeitgeist with their extensive back catalogue. I can't wait to see what "Hot" Carl has to say about Pumpkins fans invading his city. If those fuckers are willing to break into the band's rehearsal space to steal shit, I can only imagine that thousands of fans will be traveling to AsheVega$ to see the return of their heroes.
The Orange Peel only holds less than 1,000 people, making tickets near impossible. Tickets are a quite reasonable $20 and go on sale Sunday at 1PM EDT on both ticketweb.com and theorangepeel.net. Kudos to the Pumpkins for allowing both video and audio taping of the residencies. For more details on the Pumpkins residencies and other summer tour plans see smashingpumpkins.com.