Richard Thompson Band (Friday 2 pm, The Other Tent)
I'll admit, I'm an RT newb. The first time I ever listened to the man's music came shortly after I interviewed the aforementioned Metzger back in November. I was instantly hooked, drawn to his brilliance like a good girl to a bad boy. (Wait, did I just compare myself to a good girl? Awesome.) Anyway, I'm taking the easy way out, and I submit this video as all the evidence you need:
[youtube]AxKTzwaEa2o[/youtube]
It's hard to imagine putting an accomplished guitar afficianado like Richard Thompson on an under-the-radar list, but shit, did you honestly have this act circled as a can't-miss? You can't miss it. –AC
Aziz Ansari (see graf below for one of four showtimes)
The comedy tent at Bonnaroo has an incredible roster of comedians lined up for the weekend. Aziz Ansari can beat any of them up with his slapstick brand of humor that will have you telling all of his jokes to your friends the next day. I first saw Aziz on VH-1's Best Week Ever and have been a fan ever since. Most recently Aziz has found fame as a member of Human Giant, a sketch comedy group that's produced a show of the same name for MTV, which has just been renewed for a second season. Watch this video for a taste:
[youtube]zp_wIZ1kVVg[/youtube]
You can catch Aziz Ansari with David Cross and Nick Kroll in the Yet Another (Comedy) Tent on Thursday from 10:00 pm to 11:15 pm and 11:45 pm to 1:00 am; as well as Friday from 7:00 pm to 8:15 pm and 11:45 pm to 1:00 am. –SB
The Philadelphia Experiment (Saturday 1:30, Jazz Tent)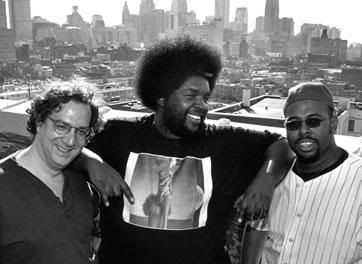 ?uestlove is the Randall "Pink" Floyd of this year's Bonnaroo: He's that equal opportunity Cool Guy who adapts to any crew and gets along with everyone. This weekend he'll run with at least three different bands playing at least three different styles of music: The Roots, SuperJam with Ben Harper and John Paul Jones, and The Philadelphia Experiment. Those first two shows will be heavily trafficked, but that third one may turn out the best. ?uestlove teams up with bassist Christian McBride and classical keyboardist Uri Caine for one of the most unique takes on funk/jazz out there. Tough time slot, but make it happen. –AC
Fiction Plane (Saturday 7:30 pm, Blue Room Cafe — just before Dad's set!)
Fiction Plane is an alternative quartet started in the U.K. during the early '00s. Joe Sumner, a product of Sting's balls, writes most of the material and switches between bass and guitar for the trio. After years of playing down Joe's heady pedigree, Fiction Plane has finally embraced their roots, and they'll open all of the shows on The Police's reunion tour. The band has a grungy rock sound that is more Badmotorfinger than Synchronicity. Here's a video sample. –SB
Sam Champion (Friday 1 pm, Troo Music Lounge)
I hate to be an overzealous exaggerator, but I mean it when I say Sam Champion is the greatest band in the history of music named possibly after a New York weatherman once romantically linked in the tabloids to Mike Piazza (The Storm Fields are a distant, distant second). Call it indie, call it folk rock, call it post-punk, call it Pavement-esque, call it Shirley…just call it music that doesn't suck. These guys are young, driven, talented and primed to catch your attention, but you've got to see 'em first. Make it your beeswax to show up on Friday. –AC
Alexa Ray Joel (Friday 2:20 pm, Troo Music Lounge; Saturday 12:45 pm, Sonic)
Last summer I saw one of Alexa Ray Joel's first gigs, when she opened for Bruce Hornsby at the magnificent Planting Fields Arboretum in Oyster Bay, New York. Sure she looks a little too much like her father Billy, but once I got over that and listened to her music, I was truly impressed. This girl has pipes and can put a song together taboot. Alexa's songs hit many different styles and phrasings, a trick her dad must have taught her. She recently put out a six-song EP by herself called Sketches, which shows off her impressive vocal range and piano playing skills.
Plus there is always the chance Alexa's mom, Christie Brinkley, will be in the audience watching. Alexa is wisely taking a hands-on approach to her career and is trying to build a fan base in the grassroots style favored typically by jambands. She not only has the name, but she has the talent, so expect big things from her in the future. Here's a clip of Alexa from the Today Show. –SB
The Black Angels (Thursday 8:30 pm, This Tent)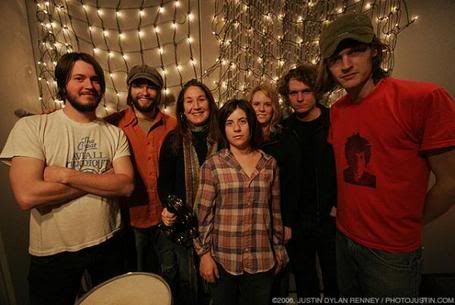 I don't know much about Austin-based The Black Angels. What I do know is that this coed rock 'n roll outfit blends the '60s throwback and the '00s hard edge better than just about any band I've heard recently. But since I really can't claim to speak with any true knowledge, I'll let you decide for yourself — here's a single off their debut album Passover called The First Vietnamese War. Passover, good call. Who doesn't love the Jews? –AC
David Bromberg and Angel Band (Sun. 2:45, That Tent; Sun. 4:45, Sonic)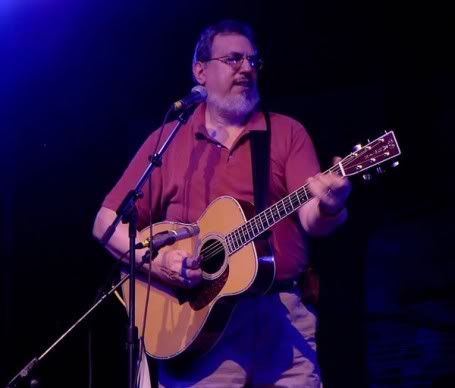 In the '70s, David Bromberg was listed by Hall of Fame songwriters like Bob Dylan and Jerry Garcia as one of their favorite artists. Bromberg has always been a musician's musician, and he's always flying under the radar. David's live shows are "anything can happen" affairs, with on-the-fly setlist changes and sit-ins from any musician he may meet before he reaches the stage. Describing Bromberg's music is damn near impossible. He may start off playing a Cajun number on an acoustic before grabbing his mando to lay down a little bluegrass. Expect the unexpected when it comes to David Bromberg. David disappeared from the scene for a while, preferring to spend time with his family to life on the road. These days Bromberg gigs are few and far between, so make sure to see David and his Angel band this weekend. –SB
So now you tell us…who's flying under the radar that deserves a mention?