Booker T's brought a fantastic backing band with him to the show last night. The legendary Donald "Duck" Dunn held down the bass, which was fantastically turned up in the mix louder than just about any bassist I've heard. Steve Cropper, a member of the Songwriter's Hall of Fame and possible stunt double for James Gandolfini in Get Shorty, stood out front on guitar, and David Letterman drummer Anton Fig sat at the kit for the new MGs.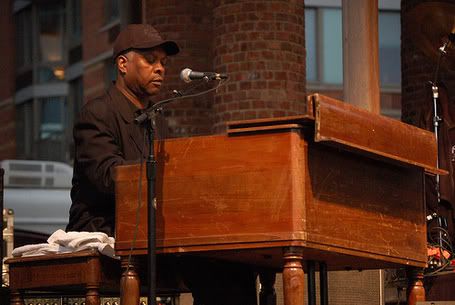 But as talented as the individual members of this band are, and as great as the songbook is, something was missing last night. If some of the more pessimistic members of the message board culture were in attendance last night, I fear they'd call the instrumentals trotted out last night the work of a "third-tier jamband noodling for hours." And, you know what, I really wouldn't disagree. The show definitely picked up as it went on, but the first 45 minutes were semi-wasted on me with idling play. I felt like I was watching a band go through the motions.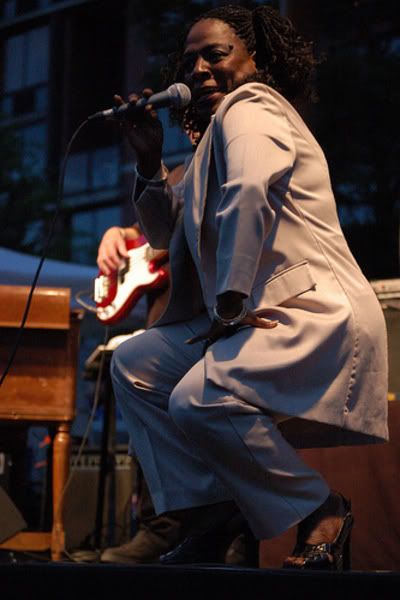 That's not to say I didn't enjoy myself. And any night that I get to spend some time with the Female James Brown, you can't write it off altogether. I prefer my Sharon Jones with the pure funk behind her, the Dap-Kings band that provides the best possible context for Jones' show within a show. But since the Dap-Kings are off in an Amy Winehouse world for now — I wonder how the fight foor them between Jones and Winehouse goes — Sharon is forced to come out and sing a few covers with Booker T and his boys.
Photo by Ace Cowboy
Jones brought some much-needed energy to the proceedings, and the last half-hour certainly sparkled with her vibrancy and urgency. She recalled seeing Otis Redding in 1967, she cranked out Dock of the Bay, she told us she was about to Knock on Wood, and she did. But I don't pay to see her play covers, I love her funk and her soul and her moves. It's a good thing I didn't pay last night — most of that was missing. Crazy as she was, she seemed so restrained and out of place.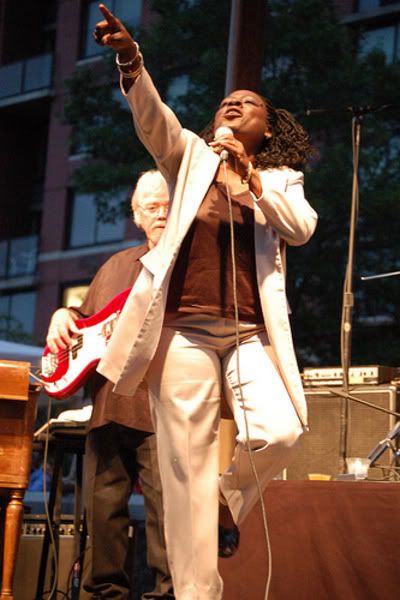 But it was a great night at Rockefeller Park in Battery Park City, a free 90 minutes of music on the water with the gray skies holding back the downpour it threatened. And, as I said up top, I'm for nostalgia acts — throw one in the mix on a random Wednesday night with a hint of my favorite female performer in the world right now, and you'll get a nice slow clap from me on the way out. I may say some shitty things on this here blog the next day, but how can you not nod and smile and bob your head to that? Impossible.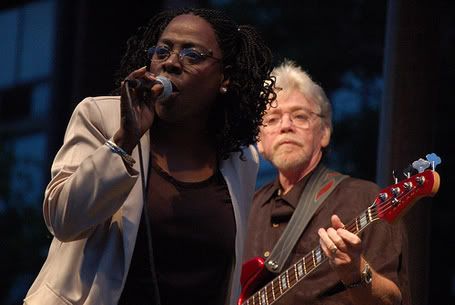 Before I point you to the rest of Danfun's shots, let's take a look at the scene: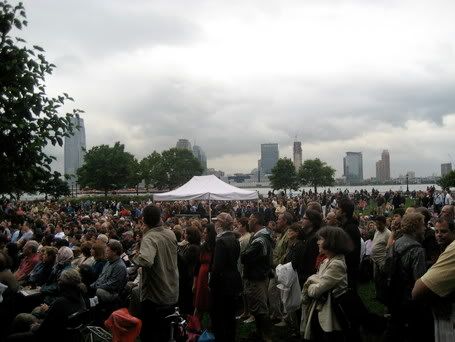 Photo by Ace Cowboy
Talk about a great venue for a show…this must be the place: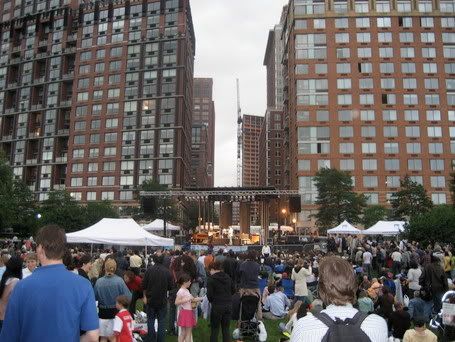 Photo by Ace Cowboy