Just yesterday we posted a torrent of Pearl Jam's appreance at Festimad Sur in Madrid last week, saying the band sounded "tight as fuck." We then lamented our only chance to see them in these United States would come at Lollapalooza, which neither of us can attend. So, basically, we're shit out of live Pearl Jam luck.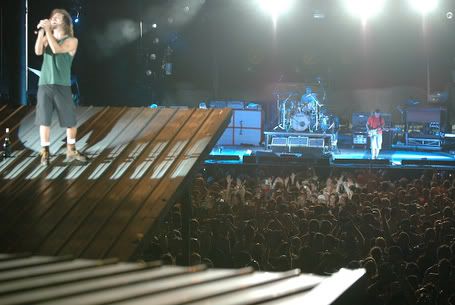 Luckily for us, though, not all hope is lost on the live front. The band will be releasing Pearl Jam Live at the Gorge on June 26th, a seven-disc set from Pearl Jam's three sold-out shows at the Washington state venue. Good times:
Pearl Jam announces the release of Pearl Jam Live at the Gorge 05/06, a 7 disc box set of the band's three scorching sold-out George, Washington shows that kicked off and concluded the band's extensive world tour. Live at the Gorge is comprised of seventy-six individual songs that aptly capture the energy of the band and 75,000 hometown fans over the course of three memorable nights. The setlists span Pearl Jam's 17-year career, including the band's classics, their rarely-played but oft-requested rarities, and their most-loved cover songs.
And now, as part of our Everybody Wins When I Plug Something And In Return They Offer Me Free Shit To Give Away contest, we'll send you a one-CD promo copy of this set if you chime in below and answer this query: Which band is the best musical act to come out of the Pacific Northwest, and in 25 words or less, tell us why…comment away, and be sure to leave your e-mail address.