Best Band I've Never Heard Of: While I was jostling for a good spot for the Tea Leaf Green shows, the rest of Team TJ caught Mute Math and gave glowing reviews. Several members of our party named it Thursday night's best show.
The Sound of Silent: The feel-good story of Centeroo this year has resoundingly been the Silent Disco. In a concept surely developed by voyeurs on psychedelics, entrants into the Silent Disco are given a set of headphones and encouraged to dance like nobody is watching and love like they've never been hurt. But people are watching, and it makes for good theater. A tent full of people dancing vigorously in silence can suddenly break out into the chorus of Highway to Hell or My Sharona. Good times, good times.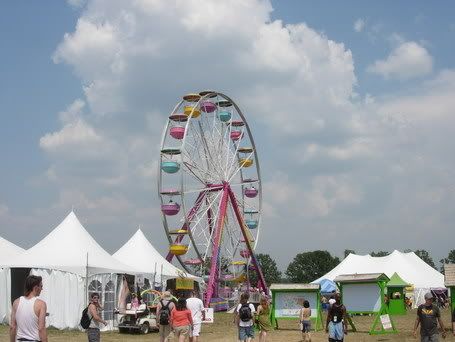 Party Over Here: In the Credit Where Credit is Due department, big ups to Bonnaroo for making all of the Centeroo destinations a party last night. The Discotheque Arcade was bumpin' with a packed house, the cinema had steady traffic, the Silent Disco was always surrounded with onlookers, and every performance stage seemed filled to capacity. There was something going on for everyone in Centeroo last night, and the patrons definitely took advantage.
The Minuses
Crowded House: With no entertainment on the main stages last night, the more intimate venues were besieged by fans hoping for some up-close entertainment. I waited in line for 45 minutes to see the Stanton Moore Trio show in Somethin' Else Tent, only to be turned away along with several hundred other folks that waited even longer than I did. The line for the Comedy Tent was considerably worse. I'm hoping that this problem will lessen when more options are available later in the weekend.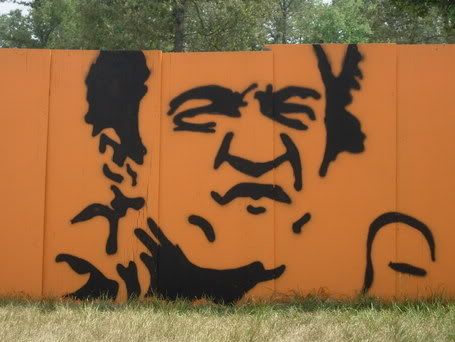 The Man in Orange Fence
Why-Fi?: Connecting via wireless in Centeroo is next to impossible, and Bonnaroo remains a difficult place to send and receive texts and phone calls.
Anti-gyro: Thumbs down to the food selections in Centeroo last night. I got a gyro that featured wet meat, a stale pita and ranch instead of tzatziki (sp?) sauce.
Overall, two enthusiastic thumbs up to Day One of Bonnaroo. When two of your minuses are about wi-fi and Greek food, you know the show is on the right track. The festival has a diverse range of offerings this year and the attendees seem to have responded in kind. Tea Leaf Green put on a fantastic show last night, and Team TJers that hit Rodrigo y Gabriella had similar results.
Note from Ace: Some Dude from Hits from the Blog texted me this morning to say Tea Leaf Green were "ripping the shit up." He continued, "Definitely their coming out party, people will be talking about that set. Ended with Sex in the 70s — no encore, and when the PA guy said 'that's it for tonight,' people booed."
Stay tuned for much more coverage all weekend long here at Hidden Track…