While leading his four-piece through both old and new material, Thompson exuded a confidence and road-tested credibility that is only earned through 40 years of carefully honing one's craft. Of course his guitar work was impressive, but I found myself more moved by his soulful vocals and meaningful lyrics. Thompson doesn't pull any punches, and it was really evident on the anti-war anthem Dad's Gonna Kill Me from his new release Sweet Warrior.
At some point in the show it struck me: Thompson is the guy in the pub at the end of the bar that's not afraid to tell you that you've had too much to drink and you're making an ass of yourself. A lot of musicians in rock 'n roll would humor you and ask you to buy a round for the bar. Not Thompson, though; he calls it like he sees it and the man's insight is solid.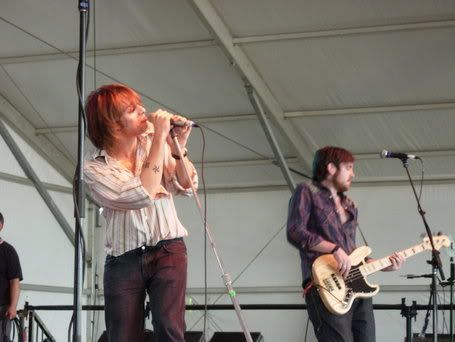 While meandering from Thompson at The Other Stage, I wandered over to That Tent and watched Paolo Nutini's band warming up. They seemed pretty hip, and the bass player kept soundchecking lines from Zeppelin tunes (a harbinger of things to come later), so I thought I'd wait around for Paolo himself to come out. When he finally emerged, the youngsters screamed for him like he was Davey Jones. I left before their radio-friendly pop caught a head of steam, but they seemed to be having fun and their fans did, too.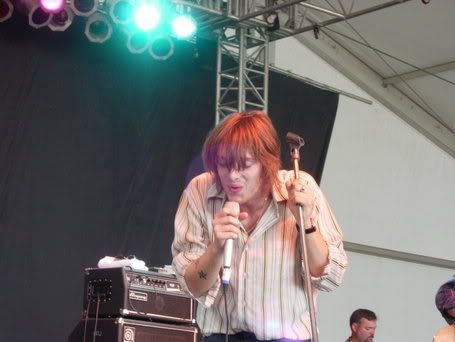 I made it back to The Other Stage for what I thought afterwards was going to be the best thing I saw all day: Gillian Welch and David Rawlings. These two compliment each other so well that they really are a treat to watch. Welch sings with a forlorn emotion stripped of any posturing, and David Rawlings may simply be one of the best acoustic guitar players in the world right now. Welch and Rawlings have mastered what I consider to be a very difficult trick –- they're able to keep me captivated with ballads and slower songs. And this is coming from the guy that stands in the back of the room at shows and yells "No more slow songs!" at the first hint of ballad.
The crowd really got turned on its head, though, when Welch introduced a man that many know as a God of Rock, but that she and Rawlings simply know as a big fan of bluegrass music: John Paul Jones. Putting objectivity aside, I got a little giddy being that close to JPJ. Anyone that's ever carefully drawn the symbols from Zeppelin IV on a middle-school bookcover understands. But Welch wasn't lying. This wasn't rock JPJ, this was bluegrass Jones, complete with mandolin. He played two numbers and left to wild applause.
Here's a glimpse of David Cross, seen here possibly defending his anti-String Cheese Incident rant to a girl with a hula hoop.
So how do you follow that up, right? Well, you can't really. I stopped in at Michael Franti (got three How You Feelin's while I was there) before heading over to The Roots, who were a lot of fun as usual. ?uestlove is such a badass. I caught most of a hip hop/rap medley before they broke it down with the horns for a while. What is a band without Souzaphones?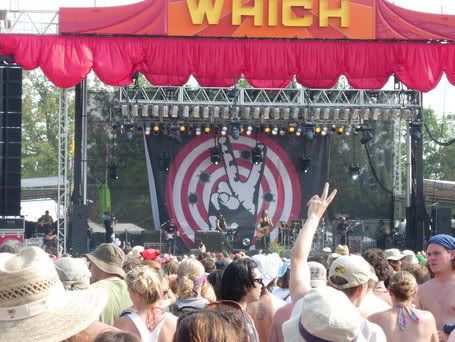 Another shot of Franti on the Which Stage:
The Roots then gave us what I feel was one of the more poignant moments of the festival so far, with a reworked take on the Luscious Bobby Dylan's Masters of War. This isn't the '60s, Lord knows, but a number of sets included subtle and not-so-subtle takes on the current state of affairs we seem to have gotten ourselves into with the rest of the world. People come to Bonnaroo to escape the anxiety we face as Americans in these deranged times, but it was good to know that even though the crowd is there to party, the artists themselves are staying on point. After leaving The Roots I tried (I really did) to get into Manu Chao, but I was tired and the percussion was giving me palpitations. I will definitely check them out again, though; the ease with which they change speeds is pretty impressive.
They say Bonnaroo has gone from hippie to hipster. Tell that to Naked Guy, seen here posing for an interview. Yes, Naked Guy is being interviewed.
Upon assembling back at the campsite, I learned from Team TJ that I had missed a particularly compelling performance by The Black Keys. One member of our party spoke in a fevered hyperbole that included a comparison of The Keys' drummer to a mix between a whirling dervish and Meg White without tits. Interesting visual.
I rested and showered before heading back up to catch a little Tool. These guys are very good at what they do. That being said, it's just not for me. I did get the head a-rockin' a few times and may have thrown up an awkward set of devils horns a time or two, admittedly. Their light and stage show was wicked, and the music itself was the perfect soundtrack to the most terrifying nightmare you'll ever have.
In other news, I found something better than the wet-meat gyros we discussed yesterday…this is the goods:
After Tool, I – along with everyone else at the festival, it seemed – headed over to The Other Tent (which now officially owns my face) for the SuperJam. Wow. As good as frickin' advertised. I don't think I've danced that hard since Phish broke up. The setlist was a dream come true, as they covered some LZ heavyweights including the Levee Breaks opener (with both JPJ and Ben Harper on lap-style slide guitars), Good Times Bad Times and a Dazed and Confused sandwich that went to Mars and back. Along the way they teased or outright jammed songs as varying as Ramble On and The Meters' Cissy Strut. Incredible.
For the encore, they brought Roots guitarist Kirk Douglas out for a run through some classic soul and funk: Superstitious, Changes (Buddy Miles), I Wanna Take you Higher and others. The crowd was huge and intense, and it seemed like there were as many artists craning their necks to get a good look as there were fans.
I stumbled away from the Super Jam pretty much spent, but I thought I'd try to squeeze out a couple more drops of adrenaline and watch Medeski and Martin sans Wood jam with Mago in the jazz tent. Alas, TJ was once again denied by the long line, so I stepped over to SCI just in time to watch Keller run through Stayin' Alive with them. I felt this was a fitting end to my day and began the trek back to camp. We're halfway home at this point, and I've already seen enough music to keep me sated for the next six months.
TJ will return with more Bonnaroo coverage shortly. In the meantime click here to read the rest of our reports from the field…