Before we proceed with the rest of TJ's Day Three review, allow me to just make a quick observation: Ladies and gentleman, a Bob Weir sighting…I mean, has that beard just eaten the rest of his face yet? Good lord, Cowboy, you know it's a poor choice in facial hair when the person you start to resemble most is cotton candy.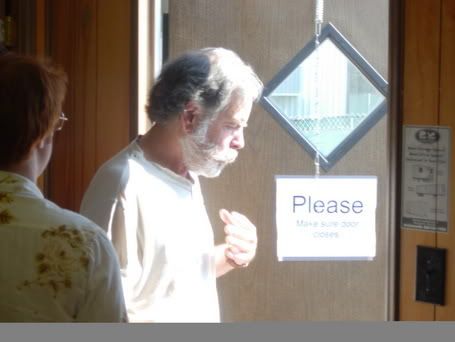 TJ continues: Next stop was Which Stage for Old Crow Medicine Show. I was a little surprised before the festival when I saw they were playing that stage, but they definitely carried it. They had a ton of fans out that seemed to really know the material. They didn't get nasty like they might've if they were playing late night instead of midday, but they played a fun set. I always think bluegrass is best at a festival in either the afternoon or the middle of the night.
Hot Tuna really stood out yesterday as a band I enjoyed immensely. I'm a big fan of Jorma, and I hold him in the same regard that I hold somebody like Richard Thompson. Hot Tuna plays music in a certain way that not a lot of rock bands do. It's difficult to articulate, but I guess I would say it's very studied.
There are subtleties in how they approach their playing that make them pretty unique in a lot of ways. They covered a spectrum of styles yesterday, going from gritty blues to honky tonk to almost funk. Jorma's one of those guys that gives me the feeling that he can do anything he wants with a guitar – we're hearing precisely what he wants us to hear. It was an easy show to get sucked into.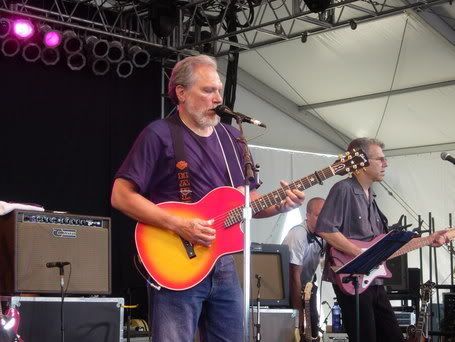 The evening session was cancelled for TeamTJ. A situation with the RV's shower drainage demanded immediate resolution and swift action. I heard good things about both Ween and Ben Harper (who apparently teamed with John Paul Jones again). Here's a great clip of Dazed & Confused from that set:
[youtube]0S5Q_tDVd_U[/youtube]
Something has happened that I never would've imagined. The Police have almost become irrelevant at the festival they're headlining.
In the months leading up to the festival, with all of the fanfare of the reunion and tour, The Police and Bonnaroo were one and the same. Every time you talked about Bonnaroo, the first band you mentioned was The Police. At first, anyway. As their tour started, the newness wore off a little and you started to see all of the other great acts on the line-up. We saw so much great music on Thursday and Friday, that by the time Saturday came around suddenly The Police had an awful lot to stand up to.
From what I saw, I think they did that. I couldn't get especially close, but they sounded and looked good. It was a good show. I wondered a little afterwards if maybe The Police were ultimately the wrong choice for something like Bonnaroo. Maybe we all fell in love with the idea of The Police more than we were ever really in love the actual band. But I decided that's not really fair. The fact is, The Police meant something.
It's arguable what they really mean now, but there's no question that they deserve the accolades and attention they're getting. And it's great and only fitting that they headline something like Bonnaroo, because the festival has achieved that kind of status as well. It's like a lot of things in life — I won't be telling my daughter about the Police show that I saw at Bonnaroo, but I'll definitely be telling her that I was there for it.
The opening Message in a Bottle is already up on YouTube:
[youtube]ZwK9NAThwg0[/youtube]
Late night Saturday was really win-win-win for music fans. Once again, I listened to my editors and gave The Flaming Lips a shot. I saw part of their show at the second Bonnaroo but wasn't there long, so this was my first shot at them from the start. They got immediate brownie points when they rewarded the thousands that had stuffed themselves in front of Which Stage an hour early by running through an unofficial soundcheck of War Pigs. Pretty cool.
Visually, The Lips are really something to behold. I'm probably preaching to the choir with this crowd, but it's easily the most emotive stage design I've ever experienced. The giant ballons made you feel like you were on the inside of a lava lamp looking up. They threw out literally thousands of laser pointers before the show and used them to incorporate the audience into the show. And when they played, it was great. A little too often, however, Wayne Coyne would get chatty, and after a while we decided it was time to hit Galactic. One of my team is a big Lips fan, and he said the politicking was a little much even for him.
We got to Galactic after the party had started but joined in quickly. Galactic was all business, laying the party-time on thick. For their Bonnaroo show, they invited a number of hip hop stars that have apparently worked with them on their forthcoming album, and it's a lot of fun to catch live. If you can't bring Bonnaroo to New Orleans, bring New Orleans to Bonnaroo. For those that took the third route and went to Mule, I heard on good authority that Warren was great as usual, and Luther Dinkinson sat in.
Allright, TJ will be back tomorrow with Sunday's theatrics, so stay tuned for more. As always scroll down over the next few posts or click here for our full coverage of Bonnaroo.