Mavis gets a gold star for knowing her audience. When you bring The Weight early, and mention each member of The Band by name (and save Richard Manuel for last and call him "dear," no less), you're speaking directly to TJ. Mavis still sounds great, but like any aging performer she doesn't have the range she did 30 years ago. To her credit, she seems to have refined her style and sings now with a wisdom that befits her position in gospel and soul. And her band could flat-out play. Mavis and the back-up singers were more than willing to let them open it up and go for the solo on a few occasions. Highlights included Will the Circle Be Unbroken, I'll Take You There (with audience sing along) and a This Little Light of Mine that sounded more Gnarls Barkley than Roebuck Staples.
[youtube]RvCX9k-uU4k[/youtube]
With Mavis in the books, I headed up toward the big stages for the rest of the day. Coming into Bonnaroo, this is what I knew about Wolfmother: power trio; one guy has a great afro; coolest name for a rock band I've heard in probably 10 years. There's been a lot of hype surrounding these guys, and I'm happy to report that they deserve it all. If there was a market for it, these cats could easily do the Dark Star Orchestra thing for Black Sabbath. The lead singer (though he kind of resembles an early '70s Lindsey Buckingham with that 'fro) channels some serious old-school Ozzy in his vocals, and they have the chops to play it as edgy as Sabbath did back in the day.
But while some of their tunes and style are clearly derivative of Sabbath, they also threw down some punkish numbers that showed they're no one-trick pony. And maybe best of all, they never took themselves too seriously. They seemed to be having a great time and were clearly in on the joke. Two thumbs up, on my short-list for favorite shows of the weekend.
[youtube]OLGde-7mIyA[/youtube]
In the middle of Wolfmother, I ran over to catch the first part of RatDog's set. I was a little torn by this and eventually came to accept the following: All of the bands at Bonnaroo are really good bands, but some are good and fun and others are good and important. That's not to say that a good and fun band can't have some important things going on in their set, or that a good and important band can't be fun as hell, but I think you can generally put them into those categories.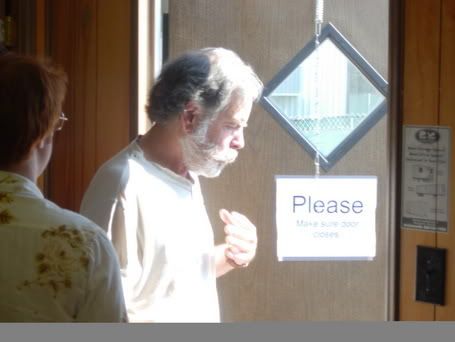 I love the Dead, and Bob Weir particularly, and I really enjoy seeing RatDog, but as the clock was ticking toward RatDog's start time, I didn't want to leave Wolfmother. Because as good as RatDog is (stop it, forget the short shorts and give the man his due), as great as they make me feel…Wolfmother is the more important band right now. But I had to go catch the start of their set at least. I was wearing my Steal Your Face batik for chrissakes.
And I was glad I did. As they usually do, RatDog opened with a jam that bled nicely into Help on the Way. I was trying to think if I'd ever seen RatDog do Help before, and I'm still not sure. I know everybody on the planet wants to fluff Phil & Friends, usually at the expense of Bob Weir, but I am here today to tell you that there is room at the table for everybody. They laid out a really nice transition into Slipknot(!) before giving me what I really came for: Minglewood Blues, the song that just epitomizes Bobby's cowboy persona. And Weir was feeling a little frisky singing to the little girls, no doubt. So you haters can keep on hatin'. RatDog is a good band, they play traditional jam music as well as anyone in the genre, Bob Weir's number one occupation is still stealin' women from their men, and he most certainly will do it, do it again. I won't hear otherwise.
[youtube]_dhBrpV78BE[/youtube]
Going into the weekend, I perhaps not-so-boldly predicted that Wilco would be a stand-out performance from the festival. By Sunday, however, I was most-excited to see The White Stripes, so there you go. Wilco had a couple of things going against them when they came out on Sunday. First off, the viewing areas at the main stages and the surface of the sun were nearing the end of their day-long competition for the Hottest Single Place in the Galaxy Title (we later heard from Big Hassle that the viewing areas beat the sun by one-third of a degree).
Second of all, at some point during the festival I think The Stripes became the most anticipated act. But to Wilco's credit, they came out relaxed and having fun, aware that the people watching them and been slowly cooking from the inside in the sun all day. We left Wilco early to get positioning for the Stripes, but they sounded great in playing a mix of stuff from the last three albums. The songs from Sky Blue Sky sounded particularly good live.
The White Stripes were as good as everyone hoped they'd be. They're so interesting to watch that sometimes you under-appreciate the rawness of what they're throwing at you musically. They played a great mix of new and old and did a cool cover of Dolly's Jolene for good measure. Another highlight for me included Ball and a Biscuit, which had been playing on continuous loop at our RV all weekend. Seeing the White Stripes took me back to my fun/important thoughts from earlier in the day. Bonnaroo has done a commendable job of not only bringing out bands that festival crowds want to hear and sharing some lesser-known acts with us, they've been remarkable at identifying bands that are important musically and including them in the festival as well.
I was a little curious as the night neared completion how Le Panique would stand up to closing what had been just an amazing weekend of music. I'm not a guy that knows all of their songs and that can keep a setlist, but I always see Panic when they come to town, and I always enjoy their shows. When I saw them last, Jimmy Herring had just joined the band and they had Randall Bramlett sitting in a lot, and I felt like Jimmy wasn't entirely comfortable and that they stepped on each other a little bit.
[youtube]HRgI7mBaUmU[/youtube]
Last night, however, Jimmy Herring acted like Panic was his band. Gone was the hesitation he seemed to have played with before. They kept showing a close-up of his fingerwork on the screens and it amazed me how fast he was playing. I don't know how the Panic faithful felt about the show, but I was pretty excited about it and am looking forward to seeing them again soon.
I'll share more about the festival in general once I get four days of dust power-washed off of my body, but this was probably the greatest festival experience –- from top to bottom –- that I've ever had. Bonnaroo can be pretty easy to criticize from afar. From the inside this year, I give it nothing but top marks.