Bustle In Your Hedgerow 08/06/2006 AUDIENCE SHOT (DVD):
My biggest regret about missing Lollapalooza last year was not getting to see Bustle In Your Hedgerow with Brendan Bayliss subbing for Scott Metzger. In case you haven't heard of Bustle, they're a Led Zeppelin cover band featuring Marco Benevento, Joe Russo, Dave Dreiwitz and the aforementioned Metzger. These boys don't just re-interpret Zeppelin's songs, they tear each of them a new asshole. Video recently surfaced of the band's Lollapalooza late-night gig, and the audience shot footage is pretty damn good. For now only the first set has been uploaded, but hopefully the second set was taped as well.
It's really nice to see Brendan channeling Jimmy Page. Bayliss wasn't the only special guest that evening. Mike Keneally of Zappa band fame sat-in on a raging Immigrant Song, and School of Rock alum Sarah Zimmerman showed off her massive talents during Traveling Riverside Blues. I had never seen or heard Zimmerman play before, but the youngster absolutely ripped up the solo at the end of the song. For all of the guitar theatrics, the stars of the show were the core members of the band. Dave, Joe and Marco know each other's style like the back of their hand, communicating effortlessly throughout the set. Check these guys out with Metzger in Cleveland tomorrow, or in Asbury Park on Saturday (Ace will be there). Bustle In Your Hedgerow could just be the best tribute band ever.
Paul McCartney 06/14/2007 DAUD (FLAC):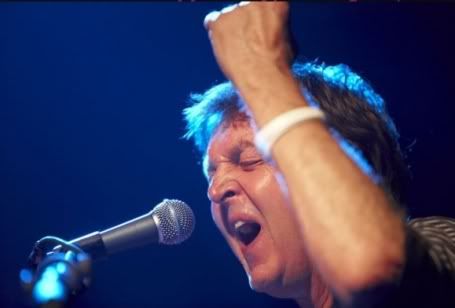 A week ago, Paul McCartney played a set of material spanning his entire career for 700 lucky fans at the Highline Ballroom in NYC. The Highline gig was in the middle of a string of "secret" club gigs promoting his latest album, Memory Almost Full. I would have expected a setlist chock full of new songs, but luckily Paul only played four songs from the new title. The "golden ticket" holders were screaming and hollering throughout the show, and even sang an early Happy Birthday to McCartney.
A crisp audience recording has hit the web, and it's clear McCartney's voice and skills are still going strong. McCartney's bass is booming during a high-energy take of Drive My Car. Abe Laboriel Jr.'s lively drumming propels the band throughout the evening, with guitarists Rusty Anderson and Brian Ray nailing all of the legendary licks. The standout tracks are rambunctious romps through I Saw Her Standing There, Lady Madonna and Back In The USSR. House of Wax is by far the best of the new tracks played, although I can't believe he didn't play his current single My Ever Present Past. Word on the streets is that McCartney is taking this band on the road in 2008. I will see you there!
Elvis Costello and the Attractions 06/08/1994 SBD (FLAC, MP3 ):
As I was preparing this column I came across an old Elvis Costello and the Attractions concert that blew my mind on a sunny afternoon at the Central Park SummerStage. There is nothing like browsing a list of torrents and stumbling upon an old show you saw back in the day that you have completely forgotten about. Some friends and I headed into the Village to buy some CD bootlegs, Doc Martens, flight jackets and aquapipes when we heard that Elvis was playing in Central Park. We headed up there and made it to the venue just in time for the start of the show. Sadly it was sold out, but one of the beautiful things about SummerStage is that you can hear the music really well outside.
I was unfamiliar with most of Costello's new stuff, but I loved all of the classics. Thirteen years later some of the contemporary stuff has aged really well. Kinder Murder and All The Rage both have that classic Costello attitude and verve. Elvis' voice was strong throughout the evening, allowing him to hit all the nuisances in softer songs like Allison towards the end of the show. The quality of this soundboard recording is pristine, making this show a must have.
What have you been listening to/watching this past week? We encourage sharing at Hidden Track, so do your part and leave us a message below…