Somebody booked their mid-September flight to Austin, Tejas today, and that somebody is…Estelle Getty. Okay, it's not that golden girl, it's this one…it's me.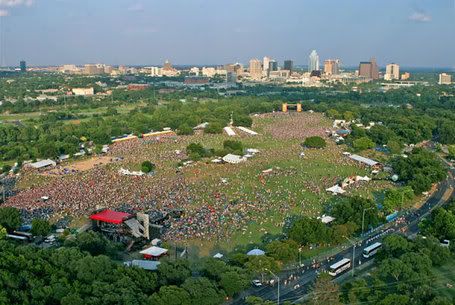 I'm an excitable boy, and my emotional arousal grows daily at the prospect of popping my cherry at the Austin City Limits festival this year — needless to say, we'll have full coverage from deep in the heart when the time comes for boogie.
Organizers did a seriously solid job in booking the three-day, 130-band event, and with the release of the grid today, it's clear they've done remarkable work in placing the round pegs in the round holes. But two major conflicts on the second and third days promise to split families and friends on a level not seen since the Civil War. That's right, these conflicts are so nasty I'm comparing them to the country's greatest internal strife that led to the loss of 600,000 lives.
What the hell do we do on Saturday night when the White Stripes take the stage at the same time as Arcade Fire? What the hell do we do the next night when Wilco and My Morning Jacket square off against each other? I want answers.