Breaking out the oft-employed Cleveland Rocks Clause, allow us to produce some fantastic Forest City shots from our friends at Christian James Photos. A handful of quality shows have rolled through the House of Blues in C-Town (don't ever call it that) lately, and our Midwest shutterbug Chris has been front and center waiting for close-ups of open pores and sweat drips.
Newly appointed guitar wizard Ben Harper's been just about everywhere lately: the Bonnaroo SuperJam, the National Anthem during the Game 3 of the NBA Finals, my most vividly erotic dreams. The night he played the Anthem at the Cavs-Spurs game he also showed up for a gig at the House of Blues, where the Cleveland Scene blog filed a full report (with no real conclusion either way).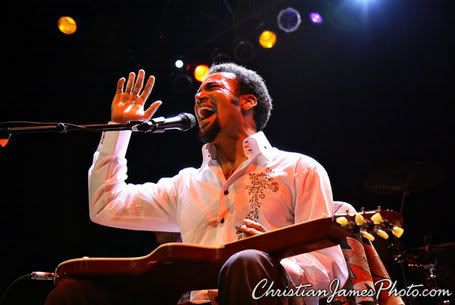 Little Feat played the same venue a week earlier, and while the post-Lowell George era of this band is not everything it once was, they've made a nice career out of making peopel question whether they play funk-rock, funk-rock or funkrock.
So let's take a look at a couple of sweet photo galleries from Chris of Ben Harper and the Innocent Criminals and Little Feat in Cleveland, which I hear rocks.