With Eddie Van Halen reportedly embracing sobriety, the Van Halen reunion rumors are once again bubbling up to the surface. If that happens, the Van Halen brood may be going up against two former members of the ol' band who are staging a reunion of their own. Sammy Hagar and ousted bassist Michael Anthony are kicking off a huge 60-city, cross-country tour in October.
The show will begin with Micheal Anthony's Mad Anthony Express playing a set of early Van Halen rockers. Hagar's Los Tres Gusanos will follow by performing I Can't Drive 55 and other gems from his solo days. Finally, Anthony and Hagar will team up to lead The Other Half through all of the Van Halen hits that Sammy sang. The only date that has been announced so far is the July 12th, 2008 tour closer at Busch Stadium in St. Louis. Live Daily is reporting that all of the tour dates will be posted on Hagar's website shortly. We anxiously await…
I can't wait to hear what Eddie and Alex have to say about The Other Half. Eddie has always taken all of the credit for Van Halen's success, and he can't be happy that someone else is trying to profit off of the VH experience. Hopefully this news will light a fire under his ass and lead to the David Lee Roth/Van Halen reunion/shitshow that we've all been waiting for. Eddie's son/bass player Wolfie just turned 16, so he can drop out of school on a whim. Let's do this!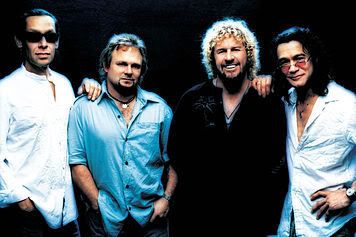 Leave us a comment below to let us know if you have any interest in either of these tours…we're envisioning reluctant interest.