Bustle In Your Hedgerow 07/29/2007 DAUD/FOB (FLAC):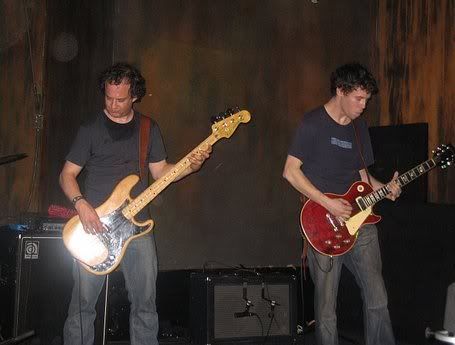 Photo by The Lovely Miss Rachel
Bustle In Your Hedgerow got a little help from their friends on Sunday night after bass player Dave Dreiwitz was late to the gig due to travel issues. Umphrey's McGee guitarist Brendan Bayliss filled in on bass for a few tunes, as did the Hamilton brothers. Taper John Dewey did a fine job of capturing and uploading the show from the World's Finest Led Zeppelin Cover Band, so we can all hear how the replacements did.
Bayliss gets points for filling in on an instrument that he doesn't normally play, but the show doesn't really take off until Dreiwitz enters for the second half of the show. The Song Remains The Same is played at a blistering pace with Marco doing an excellent job of playing the melody. Guitar player Scott Metzger absolutely nails all of Jimmy Page's parts with ease. The band seemed to get tighter with each passing song, and I'm surprised the roof didn't fly off of the Double Door during the Heartbreaker closer.
Marc Ford 07/26/2007 DAUD (FLAC, MP3):
Our friend Joel Berk caught Marc Ford's recent show in Chicago. He couldn't stop raving about Ford's performance, so I had to download the show when a copy appeared on etree. Joel, who is making his debut as an HT contributor, was kind enough to share his thoughts about the show with us:
July 27th brought Marc Ford to Chicago for his first-ever solo show in the Second City. Local power trio The Steepwater Band captured the crowd early with their unique brand of raucous, melodic rock. Steepwater could not have been a more perfect choice to support, and the crowd hung on every note. At long last, it was time for Ford and his band to take the stage.
The tone was set with four rockers from Marc's newest release, Weary and Wired, to lead off — it quickly became apparent this was all business. Ford's rhythm section was rock solid (Muddy Dutton on bass, Dennis Morehouse on drums) along with his son Elijah on guitar and vocals to round out the quartet. The chemistry was obvious.
Predictably, the setlist leaned heavily on new material with tunes reminiscent of Sticky Fingers-era Stones, all while maintaining huge Neil Young overtones. Ford has always been a finesse player, focusing more on note choice and soulful phrasing rather than fretboard gymnastics.
The set built up steam as the night wore on, climaxing in a spine-chilling rendition of Just Let Go off Ford's first solo record, It's About Time. The studio track featured the original Gov't Mule trio, and Marc's band handled their brooding heaviness perfectly. Most impressive was Elijah's handling of Warren Haynes rhythm guitar and background vocal parts. Funky new instrumental Greazy Chicken led off the encore, but the sparks really flew during Smoke Signals. Sounding like an outtake from Tonight's the Night, Elijah and the rhythm section laid down a solid foundation for Ford's searing soulful licks to soar above. Bringing out Jeff Massey and Tod Bowers from Steepwater next was the perfect way to end the evening.
Blues Traveler 07/29/2007 DAUD (FLAC, MP3, STREAM):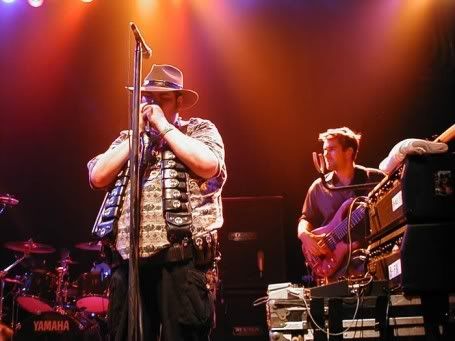 The music of Blues Traveler served as my introduction to the world of jambands in the early '90s. Every once in a while I like to download one of their recent shows to see what the BT crew has been playing. On Sunday night the band played a set at Hartwood Acres near Pittsburgh that was filled with some of their greatest hits. Not only was the setlist perfect, but the band sounded tight and aggressive.
All of Traveler's major hits can be found in this set including Hook, Run-Around, But Anyway, and The Mountains Win Again. Run-Around actually featured a tasty jam that led into a short but sweet drum solo from Brendan Hill. Traveler loves to play covers, on Sunday they dropped No Woman, No Cry and The Devil Went Down to Georgia to much success. I'm glad to report that not only is Blues Traveler still playing, but they are actually putting together great shows.
What shows are making your playlists these days? Fill us in…