Umphrey's slowed things down by playing Morning Song in honor of their friend Heidi's birthday before dropping another clever sandwich featuring the anthemic Glory smack dab in the middle of Uncommon. Uncommon, one of my favorite UM tunes, combines deep lyrical content with a spastic chord structure that is uniquely Umphrey's. Next up was Wizard Burial Ground, a new instrumental tune that is heavy on guitar theatrics and stop-on-a-dime proggy changes.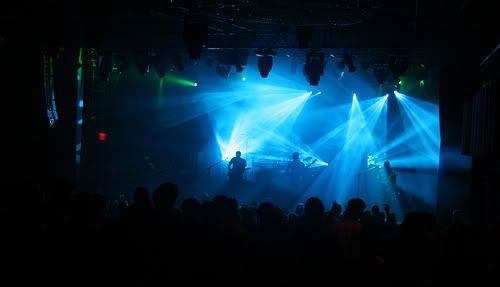 Photo by Adam Kaufman
My favorite jam of the night occurred in the middle of Mulche's Odyssey when the band veered off on an extremely heavy tangent in the middle of the song. This "Jimmy Stewart" structured jam almost sounded like it could have been lifted from a '80s horror movie. Cinninger lays down some beautifully melodic runs before leading the band back into the end of Mulche's. It's crazy how these guys have gotten tighter while playing less shows this year. Maybe less *is* more.
Towards the middle of the second set Umphrey's invited two all-stars up to the stage for two completely different sit-ins. First up was Scott Metzger, who stole the show with his blistering solo during a cover of Led Zeppelin's Immigrant Song. Metzger displayed the perfect mix of rapid-fire licks with soulful emotion that makes me wonder why he wasn't on the cover of Rolling Stone's recent guitar gods issue.
After Metzger left the stage, Umphrey's treated the crowd to the lyrically intense Roulette. Hasidic Homeboy Matisyahu joined the band towards the end of the song for an unexpected cover of his Close Your Eyes that made the crowd go crazy. Matis's sit-in was fun, if utterly unimpressive musically. I've never been a big fan of his shtick.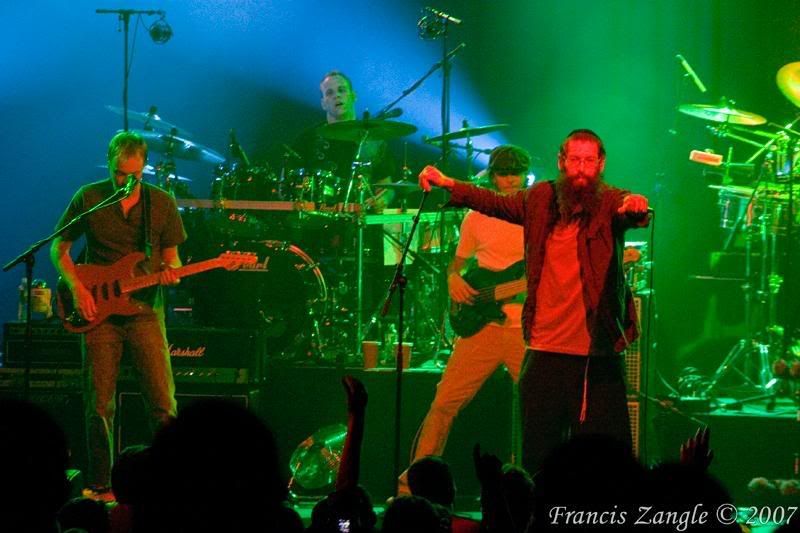 Photo by Francis Zangle
It's always special when band's change things up and bring out special guests, but after Matis left the stage I was ready for some straight up Umph's. The band was glad to oblige, playing a string of five wonderful originals that showed off completely different aspects of their sound. Hajimemashite featured Brendan Bayliss nailing high notes both vocally and with his guitar during an intense duel with Jake Cinninger. The Triple Wide followed getting everyone in the close to capacity crowd on their feet thanks its slick beat. While most songs were ten minutes or more Umphrey's also showed that they know how to play an energetic three-minute pop song by dropping Got Your Milk Right Here.
Umphrey's had one more impressive improvisation left in them as they came out for the encore. Al and Rob from moe. looked on from the side of the stage as Umphrey's emptied the tank during a tight 12-minute version of Ocean Billy. Kris Myers propelled the last jam of the night to dizzying heights sending the crowd out onto the streets of New York City exhausted but happy.
Umphrey's McGee

October 20th, 2007

Nokia Theater

New York, NY

Set 1: Andy's Last Beer, Bridgeless > Power to Love -> Bridgeless, Morning Song, Uncommon -> Glory -> Uncommon, Wizard Burial Ground

Set 2: Mulche's Odyssey > "Jimmy Stewart"* > Mulche's Odyssey > Immigrant Song^, Roulette** > Close Your Eyes^^ > Hajimemashite > The Triple Wide, Got Your Milk (Right Here), Plunger
Encore: Ocean Billy

Notes Tragedy opened
* similar to 10.04.07 Jazz Odyssey
^ with Scott Metzger replacing Brendan for a jam and Jake Szufnarowski (Tragedy) on cowbell
** unfinished
^^ first time played, Matisyahu; with Matisyahu on vocals