Warning: the following post contains more Phish geekery than journalistic integrity…but, really, who cares what you think?
Ten years ago today the popular rock band Phish set off for a 21-date fall tour that is arguably the best run they ever played. Fall '97 saw the band finally embracing their success and adding elements of whitebred funk throughout many of the strong jams that seemed to come out of nowhere each night. Nasty doesn't even begin to do it justice.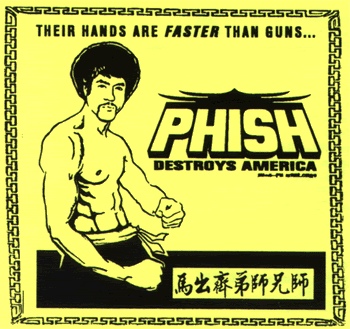 Phish wasn't into giving their tours names, but Fall '97 quickly was given the "Phish Destroys America" moniker by fans, thanks to a controversial Ames Design tour poster used to advertise the tour opener. The title fits the tour perfectly, as fans were treated to many nights of Treynal Destruction.
The first show of that epic tour was the band's first ever performance at the Thomas and Mack Center in Las Vegas. Phish debuted Black-Eyed Katy early in the first set, showing that their new found knack for the cow funk wasn't just limited to the jams. You can list numerous highlights from every show Phish played that run as they dropped crazy setlists peppered with unbelievable segues at each stop.
You can try to pick your favorite show of the run, but there are so many contenders that it's tough to just name one. Phish's stops in Denver, Hampton, Dayton and Winston-Salem all would contend for the crown if I had to pick my favorite. But I settled on the second night of Hampton (I know Ace is partial to 11/19 in Champaign). So what say you, Phish fans? What is your favorite Fall '97 show? Help settle the debate by leaving a comment below…