The first set was a thing of beauty, an extended improvisational session that was nearly note-for-note perfection…I exaggerate only slightly. Things got rolling in sort of free jazz mode and it wasn't clear that all those who had showed up for a Duo show were going to get what they came for (note: it was about 10x more crowded than the 1st week).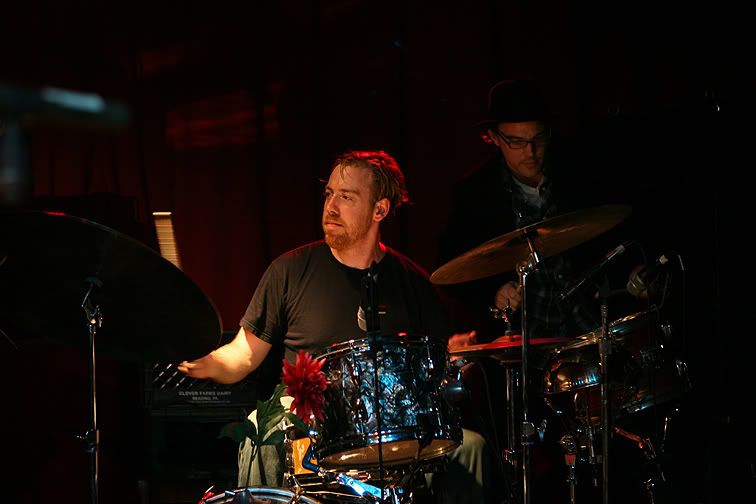 Barr was very quick to the "toy box," using this and that to levitate his guitar playing into some zippy freakouts and, of course, Marco was easily tempted into noisy excursions. But that was still sweet and melodic, and it quickly swerved into some delicious jam that gave heavy whiffs of a Franklin's Tower-type groove combined with Funkadelic's Can You Get To That. Very, very sweet.
The whole set was something of an epic opus with different movements and sections woven together expertly. I don't know how long they played or whether they stopped at all, but it didn't really matter. These guys were playing with so many styles and riffs that it was quite fun to watch. It was really jam music at its finest and I was struck at times like I was listening to quintessential Dead or Phish or Aquarium Rescue Unit — not like they were mimicking these guys, more likely the opposite, but in the way they moved around the music, they were tracing the outlines, inverting and thus evoking.
Marco Benevento, Mike Gordon and Brad Barr — Live at Tonic

If those 1st generation jambands were lensing the basic ingredients of western music — blues, rock, jazz, country — then the Benevento/Barr/Russo combination was focusing and blending the blenders. Most of all, the music was great. It was a joy to watch it move from one section to the next — the playing was high level, but the result was none-too-complicated, it was easy to see when one direction was settled on to where it would lead. The audience was thus along for the ride from the get go and the result was most often a terrific climax where all three guys did Vulcan Mind Meld and just exploded.
There was one particular section in the early movements of the 1st set that probably rose above the rest. There are three possibilities: 1) It was some Marco-composed piece of music; 2) It was a riff or tease on a song I didn't recognize or 3) It was made up on the spot. For each option, my response would be: 1) That's one of the greatest songs anyone's written; 2) What song is that? Get me a copy; 3) HOLY SHIT!

I tend to think it's #3, in which case…holy shit! Barr got things rolling here on slide guitar with a quiet, brooding vamp, a soul-piercing melody that brought east and west together. Slowly Joe and Marco joined in and together they just built brick upon brick of beautiful, moving Pink Floyd-flavored music that slowed down time and pointed to what is right in the universe. Yes, it was that good; people walking by outside on Sullivan St. probably felt some of the aura of this music and wondered what it was that was shining a warm light on their soul. It went on — seconds? minutes? days? — and went where it was always going to go, a brilliant release of energy and then it was gone. Whoosh! Oof!
That's the funny thing about these Marco shows. The bill says "Benevento" but it's always the friends that seem like they're in control. Here Marco inverts the entire notion of band leader: He's just as happy, if not happier, ceding the control of the music to his players and letting them dictate everything. And by filling the canvas with everything except a Grade-A band leader, in turn creates just that. It's amazing, but almost every time I see Marco I think about how that grouping, the one I'm watching in the moment, is better than most other full-time acts out there. "This could be its own band," I'm constantly remarking to myself, as he seems to have chemistry with everyone else. And not just chemistry, but explosive, pyrophoric, dangerous stuff. I've said these things over and over, but I keep coming back to them. And if his reaction with other musicians is chemistry, his interaction with Joe Russo is more fundamental — it's physics: protons and neutrons binding together in the nuclei of all that is interesting. What a joy it is to watch the two of them pull Barr into their electromagnetic field.

I'm always been a fan of The Slip's Brad Barr, and he was a perfect fit on Thursday night. He's got a rare combination of sensibilities — whacked-out jazzy jam with concise pop — that guided everything. There was no fear whatsoever and more than a willingness to get silly with adventurous licks, not to mention some go-go-gadgetry, but he always had an ear for the melody and the dancing feet of those in the crowd. There was a gravity-like effect on the music, no matter where they tried to bring the jamming, how far into the atmosphere they tried to eject themselves, things always tended back downhill into a highly listenable, undeniably enjoyable fist-pumping, head-bobbing groove.
The meat of the rest of the 1st set was, if you'll forgive me, very Phish-like (think of the middle of one of those 45 minute Tweezers) although without an ounce of ego or preconception or even a lead musician. The section that pops out from the rest began with a bit of that extragalactic zip and then seemed to coalesce around a theme, that theme being the entirety of Western music. I wouldn't know how to label it, other than "!"
There was a classic rock vibe flopping around on the deck of the stage like an oxygen-starved fish when Benevento laced in with a looping take on Fur Elise — yes, Beethoven reared his head at Sullivan Hall — but somehow this was just the start. Soon, the melody flipped and made way for a good old fashioned medley that included Zep's Whole Lotta Love and Traffic's Glad, and then later Walk This Way and then Moby Dick, and a few others I'm missing maybe. It was hard to keep track, but these all overlapped and twisted and weaved within each other back and forth, over, under and around with the Fur Elise coming back in and out of it.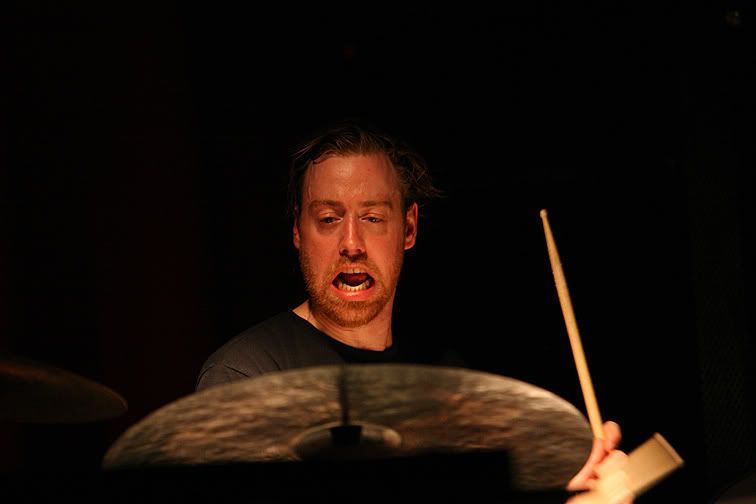 It was all done so smoothly and with all three participating at the same level it seemed to approach some amazing musical magic trick — the equivalent of making the Statue of Liberty disappear or riding over Niagara Falls in a barrel in a straight jacket and arriving quite safe and sound at the bottom. How did they do that!?!?! Then it all segued into a fractured Saw Her Standing There, which has been a staple of the Marco shows for a while, but not like this. My brain still hurts thinking about the combination of strength, agility and talent.
Again, it almost was if they were playing around all of this music, swabbing the canvas around the spectre of Led Zeppelin and thus making them pop out of the woodwork. It was irreverent and brilliant (have I used that word yet?) and pulled off with such "Eh, that's nothing!" nonchalance like these guys had been practicing such bravado for years together. By the end of the set, nothing was safe nor sacred, not even the Duo's own music. Yes, there was at least one song played, the tune formerly known as Sunny's Song, if I'm remembering correctly. All that and a whole bunch more…
The second set brought John Ellis to the stage with his saxophone. Personally, I am not a huge fan of the saxophone sit-in, for whatever reason, so I wasn't 100 percent thrilled that he stuck around the whole time. That's a personal preference, although I will admit that my fears were unfounded and he was pretty damn good and very non-obtrusive. All in all, it was a nice addition, but in the process it kind of broke the magic between the three guys. Thankfully, there were enough moments in the first set — I've only mentioned a handful — to last the entire residency, so the change-up was perfectly reasonable. Really, the show didn't let up, just went into slightly different directions, with Ellis providing another axis on which to stretch the improvisational canvas.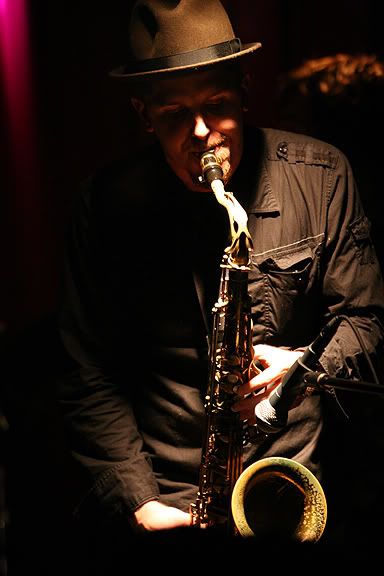 The end result, was things were a wee bit more weird and free in the second set. In reality, if the show had just been the second set, it still would have been in the "Wow, that was sick!" category…relativity is a bitch. Ellis was low and slow on his horn for the most part and beautifully exotic. He fit in quite well and chose his spots nicely. It was his presence alone that seemed to open things up a bit. Of course, things didn't get too unmanageable, and still tended to roll downhill. There was also an extended romp that could be described as nothing but straight funk with Joe laying in a NewOrleansesque drum roll for the rest of the guys to parade across. Unlike the 1st set, though, it was the glue in between the sections that got most interesting, the way they moved from one direction to the other. Always, though, it was listenable and groove-for-groove, the set was probably more danceable.
Midway through, Marco hinted at those unmistakable opening chords to Mephisto. If ever there was a Duo "anthem" — the "Soulshine" of the Benevento/Russo Duo — that song is probably it. Joe & Marco have been playing it since practically the beginning in different forms and styles with a whole range of different guests. Thursday's version was about as discombobulated as I've ever heard; I'm not even sure it reached "song-played" status. The opening chords were barely a whisper in the heavy, muddy jamming the band was involved in at the time and did little to coax anyone into following suit. Still, Marco persisted and sort of molded the clay not quite into the song, but, again, the space around the song. The result was tripped out and fantastic, like a negative tone of Mephisto that explored all the space outside the song itself. Or maybe I was just high on exhaustion by that point.
Man, it's tough, I'm sure there's so much I'm forgetting. Usually that's OK, you can't capture it all, but Thursday's show was so good that I want to download my memories of it byte by precious byte so I can always go back. Recordings will surface — soon, I hope — and they will do most of the job, but nothing will capture it all. Nothing can recreate that feeling of entering Joe Russo's force field — when Joe is on stage and I am in the room, he is the molten core of my world and I am drawn into his gravitational field until there is nothing between my ears and eyes and his drumming. The word that popped into my head Thursday night was "Mancrush" and I do apologize for that, but it's the love for his playing that I can't quit…although he's a pretty good guy taboot.
Late into the set, Brother Barr (drummer version, Andrew) appeared near the stage and hopped up at Marco's urging, as well as Sonya Kitchell on the vocals. I sensed some interesting music in the making as they started up in a completely new direction and Kitchell started wailing away with Andrew on percussion behind Joe. Alas, it was still a school night and the calculus of the LIRR beckoned — make the 1:40 train or say goodbye to your Friday. It was a tough call to leave at 1:15 with the fires still blazing and the unbelievable high of the music already consumed, but leave I did. Word has it that the free-jazz stuff I left eventually made its way into a heady Can't Find My Way Home cover and a stop time close to 2. Hurts to have missed it, but would have hurt more not to.

Birthdays come but once a year. Anniversaries, Christmas, Flag Day…somethings work out well on a yearly basis. I think we need to consider an annual Marco Benvento NYC residency to make things right with the universe… or at least the calendar. If I could spend every birthday the way I spent this one — getting my mind flushed with some of the best music I've heard in a while — I'd be content with whatever happened on the other 364. Of course, getting asked to buy a beer by some kid on your 30-something-th birthday is a little disconcerting! To that kid: sorry for blowing you off, but I got caught in the force field.
Before I close — a quick word about the openers; caught about the last 4 or 5 songs from Lewis & Clark. The lineup was guy sitting with guitar/singing, woman on cello, guy who played drums and bass (not at the same time) and a guy who played harp and maybe something else. First off — prediction for 2008: the harp is back. Second, not not good. Which is to say, not bad. Unfortunately, the music was a bit inappropriate for the night, slow, mellow, entrancing, singer-songwriter stuff in the moody Jeff Tweedy/Damien Rice/Sam Beam mold. So a very crowded Sullivan Hall preceding a tripped-out Bevenento/Russo/Barr event mightn't have been the best call. But they did good, held a good portion of the crowd at attention and had some pretty good songs taboot. I'd give 'em another shot before passing judgement — they could very well be much better or much worse than I've gathered, but definitely worth a check out if they're coming your way.
Is that the longest review of all-time? It just might be. Congrats, Birthday Boy.