The Clash 8/17/1982 SBD [FLAC, MP3]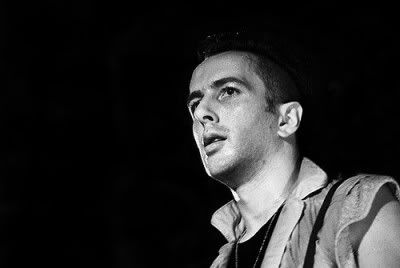 Photo by Rod Monkey
The Clash rolled into Akron, Ohio in 1982 high on the success of their brilliant Combat Rock album. Joe Strummer and his mates put on a high-energy show chock full of their best songs. Recently an incredible soundboard recording of this show has surfaced, allowing us to almost be able to make out what Strummer is talking about in between songs. As much as Joe Strummer is a legend, the other members of the band made their presence felt in a big way on this night. Mick Jones got the biggest applause of the night when he delivered his spastic vocals during Police On My Back. Bassist Paul Simonon kept the music together with his driving rhythms.
If there was ever an opener that drove a crowd in a frenzy, it's probably London Calling. From the moment Strummer started the staccato chords of that tune through the Janie Jones > Garageland encore the audience made their presence felt. Even on this terrific soundboard recording you can hear the hoots and hollers from the crowd. Some of the highlights from this show include Straight to Hell, Radio Clash and Guns of Brixton. The Clash broke up in 1986, but by 1983 their live shows were suffering from the disintegration of the band. Yet The Clash were one of the best bands in the world in 1982, as you can tell by listening to this show.
moe. 2/01/2008 DAUD [FLAC, MP3, STREAM]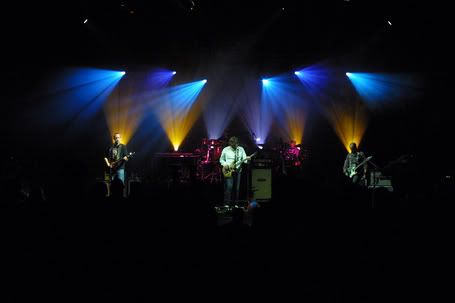 Photo by Nate Ingraham
These are good days to be a moe. fan. The band just released Sticks and Stones, an album filled with well-written songs that have room to grow live. Last weekend moe. hit two of their biggest markets (Boston and Philadelphia), where they played two strong shows filled with oldies and many of the new tunes. Philadelphia stands apart from the rest of the shows they've played so far thanks to the killer setlist and more jamming than you'd find on a train in India. Thanks to taper T.J. Samulis, we can check it out only a few days after moe.'s performance.
moe. came out to the sounds of Also Sprach Zarathrustra over the PA, ala Elvis Presley. They opened with a dark and prodding Head before exploring one of my favorite tunes from Sticks and Stones, Darkness. Along the way moe. played stellar versions of fan favorites St. Augustine, Timmy Tucker and Buster. For good measure they ended with a fun version of The Faker that segued into the end of Timmy Tucker. moe. gets back on the road at the end of the month for another leg of the Sticks and Stones tour. Let's hope they can keep the momentum goin'.
Here are five other shows to check out this week:
What are you listening to this week? Let us know by leaving a comment below…