The show began, as the record does, with Goodbye Daughters of The Revolution, a nice little ditty whose chorus will not leave your head (even when you want it to). This is the weakest song of the bunch, but it's got a nice hook and gives way to much meatier songs soon enough. Walk Believer Walk is a nice blues showcasing Dickinson's slide and fellow newcomer, Adam MacDougal's tasty B3 fills.
Oh Josephine, probably the strongest overall tune on Warpaint, comes next. I was most excited to hear this of the new songs going into the show, and it was better live than I'd hoped for. This track finds the Crowes at their most "classic" – at their most Music from Big Pink. Luther proved that he really shines in the type of color commentary role that has become a staple of the Crowes' Lead Guitar slot. He was tasteful, expressive and led the band to an explosive peak at the end. This song, along with Another Roadside Tragedy late in the set made me fully confident in the band's ability to carry on.
From Oh Josephine on, the new songs were damn enjoyable. Evergreen is vintage-Crowes with Rich Robinson's background vocals being more confident than ever before. While not breaking new ground for them, it's refreshing to see the band return to its roots with such vigor. We Who See the Deep is more of the same vein with it's "25 or 6 to 4" riff out front of the "No Quarter" turnaround. The Big Rock Chorus is hard not to get into however, and the five-part backing vocals are impressive.
Locust Street finds the band returning to the acoustic-roots thing and Dickinson adds some good mandolin. MacDougal's Ian Stewart-like rollicking piano was the highlight. Movin on Down the Line is again a new take on vintage-Crowes with some more minor "No Quarter" quoting in the Rhodes intro. The middle builds nicely, but is strangely anticlimactic leading into the big chorus/Luther ending (which worked well).Wounded Bird has really great melodies across the board, especially Luther's slide part, but suffers from trite lyrical content. It's a nice sentiment, Chris, but all things we've heard over and over. That aside, the tune itself is great and Steve Gorman is just as strong and solid as ever.
God's Got It is a good little blues romp and Dickinson was again right at home. This one was similar to the bass/fife old Mississippi numbers in which the North Mississippi Allstars got their start. Gorman was entertaining with his bass drum/marching band outfit and Chris' raunchy vocal part kills.
The record, and first set, end pretty mellow but both There's Gold in Them Hills and Whoa Mule are really great songs. On the whole, it was exciting to watch such an old, established band work out a fresh new thing in front of my very eyes. They were operating in unfamiliar yet comfortable territory the whole time, working out the kinks before the big summer tour begins.
Those who know me know my firm belief that the Crowes without Marc Ford aren't really Crowes. Luther's playing all evening made me reconsider, and lead me to believe that he is in fact the only person who could possibly fill that spot other than Ford. He is the John Lee Hooker to Ford's Clapton. It was comforting, as a fan, to see the band is still alive and well, and seemingly pushing forward. They easily could have reverted back to the pedestrian classic rock fluff that has plagued them sans-Ford.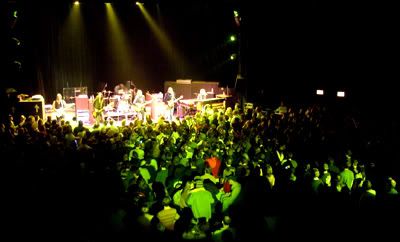 Next is what I was most looking forward to – the set advertised as "songs from the catalog and selected surprises." The second set began with Poor Elijah-Tribute To Johnson a tune that has been getting a lot of play this tour. The tune finally brought about some Rich/Luther interaction and they both seemed to lock on with precision.
Good Friday and Another Roadside Tragedy back to back was easily the highlight of the evening and seemed to connect this current era to the aforementioned Three Snakes period – a correlation I kept going back to over the course of the evening. Roadside was everything I love about the Crowes at their best – dirty, balls-to-the-walls rock and roll – proving they can overcome the (seemingly permanent) loss of Ford in a viable way.
Rocking Chair brought things to a fitting, subtle close before the first riffs of The Band's classic Don't Do It came blaring for the encore. This was flawlessly executed and another high point of the evening.
After the show-ending Hey Grandma, I could not help but be excited to see what this band will do next – something I never thought I'd say without Marc Ford involved. The most important point I took away from the evening is that this current band is no better or worse than the band I grew to love…just different. The new material, while obviously not their best work, is strong enough to keep things moving forward in a respectable manner. I can't wait to see how they sound once the complete back catalog gets worked into the mix.
The Black Crowes
March 7, 2008
Park West
Chicago, IL
Set I: Goodbye Daughters Of The Revolution, Walk Believer Walk, Oh, Josephine, Evergreen, Wee Who See The Deep, Locust Street, Movin' On Down The Line, Wounded Bird, God's Got It, There's Gold In Them Hills, Whoa Mule
Set II: Poor Elijah-Tribute To Johnson, Good Friday, Another Roadside Tragedy, Rockin' Chair
Encore: Don't Do It, Hey Grandma