Now, that's not to say that everything is always 'hunky dory' when I work at a show. Being a volunteer is hard work, and since HeadCount is a non-partisan organization, we aren't allowed to discuss our personal politics. Usually we see a lot of support from people, and they are quick to say, "I'm registered" or "Thank you for doing this." However, volunteers sometimes get heckled by people that are apathetic or, in the case of this Drive-By Truckers show, particularly intoxicated. HeadCount did manage to register approximately 40 people at that show, and for that, I'm happy because it means 40 more people at the polls in November. Here's a picture of the other volunteers I had the distinct pleasure to work with:
Glossary's keyboardist registers to vote: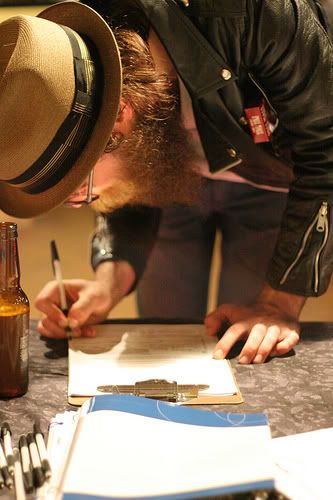 Ironically, one of the people we registered ended up being in Glossary, the opening band for the Drive-By Truckers. Glossary happens to be one of my favorite bands you-may-have-never-heard-of. They are a great alt-country/rock band that has been in the Southeastern scene for years now, and lucky for you, they have their most recent release, The Better Angels Of Our Nature available for download for FREE.
Now, this was my first Drive-By Truckers experience, but it won't be my last. I will admit that I'm not the most well-versed with their catalog, but it was nothing short of powerful straight-ahead Rock 'n Roll. Highlights for me include: Dead, Drunk & Naked, Two Daughters and a Beautiful Wife, Ronnie and Neil as well as the anthem Let There Be Rock!
Drive-By Truckers
March 15, 2008
The Cannery
Nashville, TN
Set: 3 Dimes Down, That Man I Shot, A Ghost To Most, Tornadoes, Where The Devil Don't Stay, Puttin' People On The Moon, Hell No I Ain't Happy, Home Field Advantage, Checkout Time In Vegas, Sinkhole, Self Destructive Zones, Dead, Drunk & Naked, Guitar Man Upstairs, The Company I Keep, I'm Sorry Huston, Marry Me, Two Daughters And A Beautiful Wife, Daddy Needs A Drink, Lisa's Birthday, Zip City, I'm 18, Ronnie & Neal, Shut Up And Get On The Plane, Lookout Mountain
Encore: The Righteous Path, Women Without Whiskey, 18 Wheels Of Love, Let There Be Rock
Buttholeville > State Trooper > Buttholeville *, People Who Died *
* with crew member on Patterson's guitar and crew member on Neff's pedal steel