Sco was definitely the lead in this grouping, and the music was tight and first-rate. The crowd was deeply digging it, but I'll confess a general ennui with the set fueled mostly by my continued inability to enjoy anything coming out of John Scofield's guitar. It's not you, it's me, my problem to deal with, but I am neither a fan of his style nor his tone. There was a bluesy tune in there with extended caterwaulingfrom his guitar that was particularly unbearable. There, I've said it.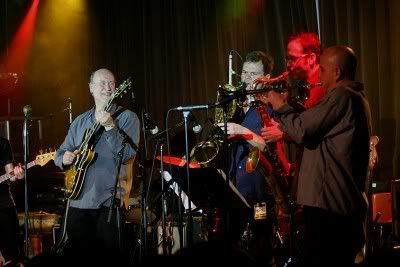 After that set the crowd was revved to go and got dropped like a sack of cornmeal by a silent PA when the musicians left the stage. Somehow there wasn't a DJ or a CD ready to go, and I had this sinking feeling that we were in for a grade-C clusterfuck. Luckily, I couldn't have been more wrong. Sure, the silence was broken by a Blood, Sweat and Tears album, but from there on out the night got better and better and better. And then it got insanely, with-whipped-cream-on-top good.
The next set was helmed by Bill Laswell and Bernie Worrell. What can you say about these guys? Old school. Masters in the truest sense of the word. Gurus of the grooves. They were joined by a trumpet player and a drummer and a bunch more. [n.b. If you're looking for a long list of who's who from Thursday, I'll warn you now that the night was a humbling experience illustrating that no matter how much music you see in this city, there will always be a bushel of all-star talent that you're completely ignorant of.]
For some reason when my mind wanders around questions like "who are the best bassists tilling the low end out there?" Laswell's name never comes up. More ignorance. Nasty, nasty, nasty. For the entire time this little group was on stage, I did little beyond zoning in on his playing. If the spaceship in Close Encounters was a bass guitar, it would be the bass-and-effects combo that he plays. Utterly extraterrestrial, a little bit scary, but actually benevolent to the core. This was a dub-heavy set that was expertly played and free flowing.
Photo by "the other" Scott Bernstein
Surprisingly Worrell stayed low in the mix, so low his presence rarely yielded a blip on the radar. I've never seen him so sedate before, although it's been a while since I've seen him at all. No matter, the drums-and-bass combo was perfection. Jah Wobble mixed in some occasionally appropriate sound effects and sang a bit of a reggae-rap mix that was actually pretty good. The dude on trumpet was a perfect fit as well, his playing was just electrified enough — digital echoing giving off trippy aftershocks of melody — and wrapped around the beats quiet nicely. This was all happening deep in there, shrouded in the dark, murky waters of the low and steady coming from the bass. Great set.
I believe right after that was a more straight up jazz section with a bunch of horns and possibly some whirling from Medeski on the organ amongst others. Throughout the night various horn players would emerge and play for a bit — always in just the right spot — and then disappear.
For a full-bore stage production with a lot of talent, a lot of egos and just flat out a lot of people; the night was admirably smooth and utterly under control. Very impressive. It's the kind of thing you can appreciate only when you've seen similar attempts at the huge made-up-of-mini-sets show go horribly awry. There are just so many things that can go wrong at a show like this and it's a testament to the planning, the people and the cause that this suffered from none of them… at least in front of the stage.
Photo by "the other" Scott Bernstein
The show kept on the up and up, with some sets going long and deep with some momentum to build upon and others breezing by way too quickly. Kevin Kendrick mixed things up in the early middle of the night bringing his A Big Yes and a small no to the stage for their upbeat countried-up alt-pop sound. That band sounds a million times better than the last time I saw them, with Kendrick really shining with confidence and raging fun songs. Of course, having Joe Russo back on drums don't hurt too much. Definitely worth checking out.
After that was Vijay Iyer with his band. I had never seen these guys before but will definitely make it a point to do so. Iyer was on the Fender Rhodes and was super impressive, reminding me heavily of Uri Caine's chops. Long, twisting lines of quick keyboard playing was really good stuff. It's always a good sign at a show like this when you come to hear a certain set of musicians and just hope you can make it through the stuff in between… and then at some point you realize that the "filler" may be better than the big draws are.
Then again, the guys I wanted to see weren't too shabby either. Steven Bernstein was all over the place all night, feeling like the party host all night — "can I fill your drink?" "try these little potato pancakes, they're delicious!" — so it was only appropriate that Sex Mob got a plum spot to bring it. And oh, did they bring it! Like the third down back or the energy guy off the bench, they hit the ground running and made the most of their short time on stage. On this night they had Kenny Wolleson on drums which is just fucking awesome.
Sex Mob is just one of those plug-and-play kind of groups, and with Bernstein and Briggan Krauss up front, things are always smooth, easy, tight and mind-bending. As slide trumpeter/conductor, Steve was in total control and built up two or three really hot jams. There were a bunch of extra horn players up there and John Medeski rounded out the ensemble, pushing it into that "really special" category. I would hope that everyone in attendance was in the know about the Sex Mob, but if they weren't, I've got to imagine they were roundly blown away by the quick hit they got at the Highline.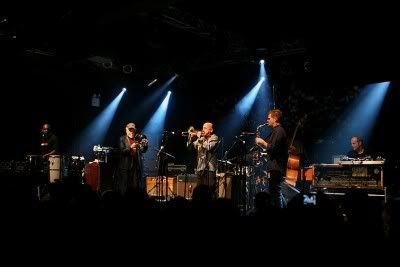 Not sure you can stretch too far in the opposite direction, but the next gap-stop was a wonderful two-songer from Tom Hamilton and Joe Russo, sitting at stools and playing acoustic guitars with Jonathan Goldberger filling in on pedal steel. Cause what the night was sorely lacking was a couple guys getting honest and earnest with sweetly plucked guitars and down home harmonizing. Tom Hamilton continues to be a revelation and Joe Russo, really what can't you do? We're not worthy!
I feel like I'm missing a lot, but who knows? DJ Olive was there making good boogie between sets, I know that. Think man, think, think, think. Didn't something else happen? What am I missing here? Oh wait, that's right, there was some sort of like Soulive + Duo mishmash of some sort, wasn't there? First it was Eric Krasno, Neal Evans and Adam Deitch ripping up some blazing grooves.
I haven't seen the Soulive guys together even close to this in what seems like a long time. But when they hit the stage it was with an air of authority — like everything before had been an opening set and this was the show starting now. Then they left the stage and Marco Benevento (I like him… but I refuse to stalk him), Joe "the Enfeebler" Russo came out to take their place on the mirror image on the other side of the stage. Just so we didn't get confused and call it a duo, Tom Hamilton rounded it out and made sure it, like really fucking rocked. And it did, pretty much. Totally curse-worthy. Then it was like we were all totally wasted and were seeing double because the original trio returned on the left side of the stage giving us a double serving of drums/guitar/keyboards. There was some sort of shots-from-the-bottle of Knob Creek (really, in these trying times, can't we at least use a glass, people?).
So, wait what happened next? Having. Trouble. Remembering. Wait… it's coming back to me. Joe Russo is spinning drum sticks in his hands and he's counting it out like something's coming. Like 1… 2… 3… 4 and BANG! Led Zeppelin's in the house. I honestly can't remember what song it was they bolted into it, but it was a fucking bolt. Two drums, two guitars, a whole lot of black-and-whites, it was loud, raunchy, and quite possibly had smoke coming out of its ears.
It wasn't quite the tight entity that Bustle In Your Hedgerow is — if Bustle is the perfectly formed cheeseburger, this sextet was a sloppy joe, falling wantonly out of the bun and messing up your fingers with all sorts of meaty goo. But oh, to lick the juices off those fingers. They flipped into some saucy jamming, with Krasno operating absolutely electric on the Fender and the Deitch/Russo combination making serious inroads on a third-party presidential slate from behind the skins. It was glorious and extended deep into some we're-all-wigging-out spots before kind of hitting simmer. At that point Marco starts screaming that ridiculous Bonham intro into The Ocean (Wikipedia says it's: "We've done four already but now we're steady, and then they went 1, 2, 3, 4!") and in the split second of recognition before they made the segue I think I crapped my pants… only a little bit, but still.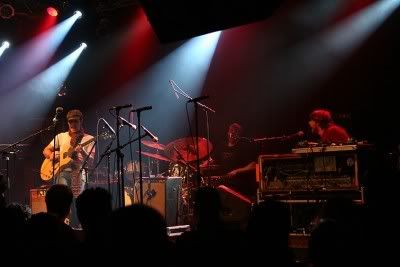 Basically, we wound the tape back and played it all over again except the crowd was crashing the gates of late night sanity and the 6 guys were that much more on the same page. Really brilliant stuff. Everyone of 'em got their shot to slay the dragon, with EKraz splitting wood for winter with his axe and Joe and Adam just raging like high school sweethearts in the backseat. Yo, gentlemen, stop before I mix another metaphor!
For better or worse, that was the end of my night. I'm sure I forgot plenty and missed the entirety of Antibalas. I picked up the wee bits of brain that had squirted out my nose and made my way home. For those keeping score, it was the Drum team of Wolleson/Martin/Deitch/Russo and bench guys falling admirably to the Worrell-coached Keys team of Medeski/Benevento/Evans/Iyer et al. As far as benefits go, I think this one hit all the right spots. Great musicians, hot playing, the show was sold out and raised some good money for someone who needs it. I'm sure it's just one rung on a long ladder-climb back for Scotty Hard, but he can rest well knowing his friends put on one helluva show for him. It's a shame that it takes a raw deal like that to make something like that happen, but that's life. Live it up!
Thanks to Neddy for his review, and thanks to Greg and Scott for their photos