2. U2 09/12/2005 Toronto, ON: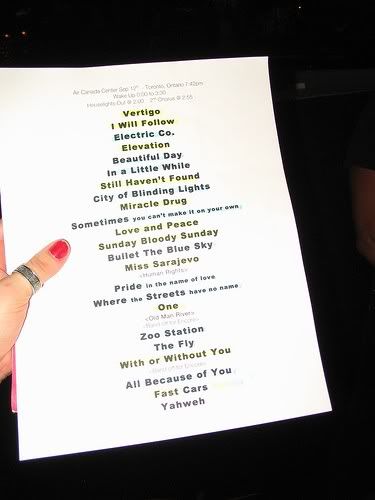 [via Green Tea]
A lucky U2 fan, who goes by the name Green Tea, caught bassist Adam Clayton's setlist when it was thrown from the stage. She posted a photo of the document over at Flickr. We're not exactly sure what the different color highlights mean, but the folks over at Flickr think it has something to do with the pacing of the show.
3 . Tea Leaf Green 06/02/2007 Hunter Mountain, NY:
[via the Mountain Jam Blog]
Last year the Mountain Jam Blog posted stage setlists from nearly every band that played the festival. The Tea Leaf boys went for the handwritten lo-fi crumpled piece of paper version of the stage setlist. Man, that was one hot set!
4. Bruce Springsteen 11/04/1999 Barcelona, Spain: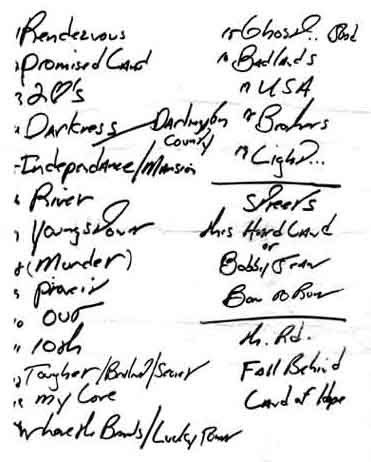 [via Manuel Huerga]
Few stage setlists are as sought after by collectors as those for concerts by Bruce Springsteen and the E Street Band. The Boss hand writes the set before each show, and his tour manager makes a copy for each member of the band. Springsteen doesn't usually stick to what he plans before the show. In fact, on this setlist, he gives himself a couple of choices during certain slots.
5. Cold War Kids 10/26/2007 Camden, UK
[via Jude Adam]
You can tell that a lot of thought went into the Cold War Kids' stage setlist. From the cool font to the band's logo at the top to the spacing between songs, this stage setlist makes a fine souvenir for fans of the band.
6. The Band 04/19/1984 Cleveland, OH
[via theband.hiof.no]
Since Flickr and image searches only took off recently, you can't find that many old stage setlists on the 'net. Or at least I couldn't. One of the cooler old pieces I did come across was a handwritten stage setlist from The Band's reunion tour in 1984. If only Blaze of Glory was Jon Bon Jovi's solo hit from Young Guns II.
7. Arcade Fire 11/08/2007 Berlin, Germany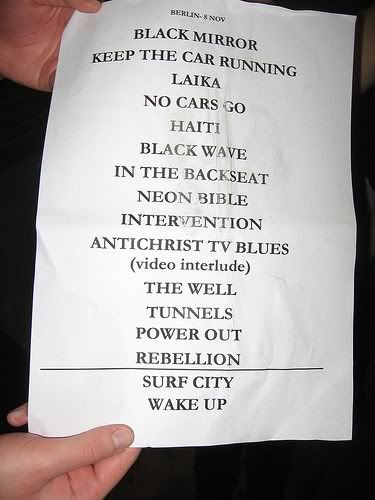 [via seanasdf]
Arcade Fire's stage setlists remind me of their music: intense and direct. There are no frills on this bad boy.
8. Beastie Boys 09/26/2007 Chicago, IL:
[via Mic to Mic]
Believe it or not, the band that you can find the most stage setlists for on Flickr are the Beastie Boys. Above we've got Adam Yauch's list from a show at the Riviera Theatre in Chicago. We particularly dig that MCA plans exactly when he will remove his sunglasses and jacket.
9. Gov't Mule 11/15/2007 Vancouver, BC:
[via Rock Music Daily]
Ross from Rock Music Daily also gives us another cool looking stage setlist from a show in Vancouver. This time it's a Gov't Mule list from the second set of their November gig in town. Thanks to the funky design, outlandish font and the underlying Mule symbol, this is one of our faves.
10. Metallica 11/28/2004 San Jose, CA: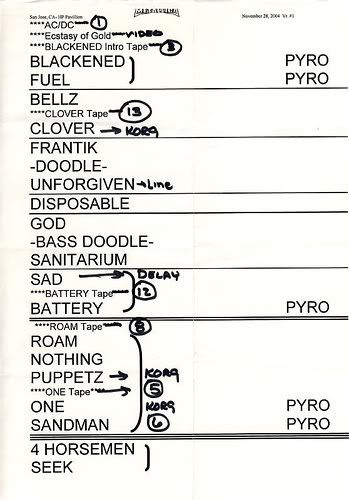 [via Metallica World]
We're not sure what's more important in a Metallica stage setlist. Is it the order of the songs or the cues for the pyro? I guess after James Hetfield was hurt during an on-stage pyro incident in 1992, he wants to know exactly when the flames are coming.
Here are links to ten more cool stage setlists for ya:
That's all we have for this week. But if anyone is interested in seeing another batch next week featuring the likes of Wilco, Trey Anastasio, The Who, Eddie Vedder and more; let us know by leaving a comment below. I'm still convinced I'm the only person who's interested in this shit.