Vivid Video, the home to numerous celebrity sex tapes over the years, is set to release their latest consisting of eleven grainy, black and white minutes of an Afro'd man that may or may not be Jimi Hendrix. Check out TMZ for a clip.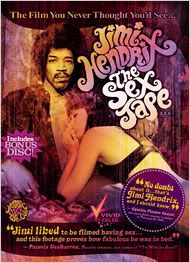 Here's some details from the New York Times:
The film shows a naked man who resembles Hendrix, the guitar legend who died in 1970, wearing a bandanna in his Afro, having sex with two brunettes in a dimly lighted bedroom. His full face appears on screen for only a few seconds, with his eyes closed. In other portions there are flashes of his profile. But his hands, bedecked with rings, roam large on the screen at times. The film has no audio.

Vivid Entertainment said that after an extensive inquiry led by private detective agencies, it stands by the Hendrix film as the real thing.

According to the sex-film distributor Howie Klein, who sold the tape to Vivid, the film surfaced when a collector discovered a tin labeled "Black Man" in a box of rock memorabilia bought at an unidentified auction in London.
The film has circulated for years among Hendrix fans, who have long debated its veracity. So, who's shelling out the 40 bucks to let us know if they think it's real?