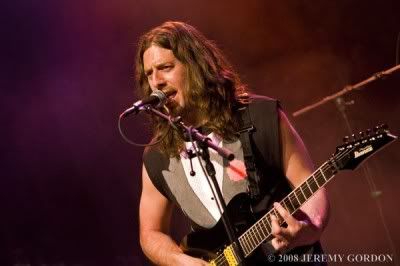 Dressed in suits and ball gowns, the fans were treated to an assortment of tasty cocktails, microbrews and fresh cannolis (sponsored by PDT and Ancora Restaurante) while old friend Marc Scortino ran through an assortment of classic rock tunes on the ivory keys. Ziggy Stardust, Fourth Time Around, and a lovely Tiny Dancer were played to acclaim, but it was the lyrics to the Beatles' In My Life that resonated throughout the set. Next up was the dapper Jay Burwick for a sit down acoustic set, followed by Todd Stoops on the grand piano and then finally an intro to the upbeat up beat pop sound of Miss Fairchild.
With the crowd nicely warmed up, ties finally loosened and the high heels kicked to the side, RAQ put on an energetic two set show among the classic pillars of the Broad Street Ballroom. Starting off with the fast paced Brother From Another Mother and moving through to Hannah>Loose>Hannah and finishing with a sick ending Gabvonie jam, the first set did not disappoint. Marc Scortino joined in with his former bandmates for a short but sweet 2nd set, complete with an epic cover of Steely Dan's Show Biz Kids.
Finally, with the night nearing the end organizers and entertainers joined together on stage for thank you's, hugs, and smiles for an entertaining evening of fund raising for the children of Camp Haze. RAQ will next be seen at Deerfield's Amphitheatre this coming Friday and later this summer at The All Good Music Festival and Camp Bisco 7. For their full summer schedule check out RAQ's website.
Click here for more information on the Scott Hazelcorn Children's Foundation. Special thanks to Ancora Ristorante, Slanted View Productions and Dave Lew Events for helping to put together Saturday evening's event.
The Ten Ton Ball Setlist:
Marc Scortino Solo Baby Grand Piano
Wax, My Old School (Steely Dan), Sucked Up The Chute, Fearless (Pink Floyd), In My Life (The Beatles) w/ Arianna Claire Vogel, Ziggy Stardust (David Bowie) It's All Over Now (The Womacks), Fourth Time Around (Bob Dylan), Tiny Dancer (Elton John)
Jay Burwick Solo Acoustic Guitar
Involved (Jay Burwick original), Angel Song (Robin Moxey), Donkey Show w/Scortino on Baby Grand
Todd Stoops Solo Baby Grand Piano
Goner, Reason, Technovailable (w/Burwick on acoustic guitar)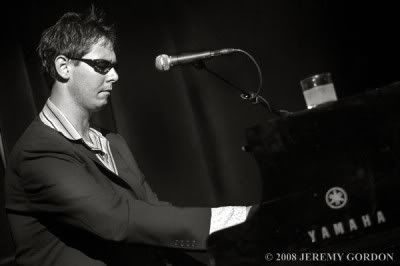 Miss Fairchild
Full set of funk
RAQ
Set 1: Brother From Another Mother, Circumstance, Clamslide, Hannah > Loose > Hannah, Crazy Tonie, Botz, Gabvonie
Set 2: (w/Scortino on Grand Piano), Dirty Sanchez, Showbiz Kids (Steely Dan), Funk 49 (James Gang)