While band members were joking backstage about the often incestuous relationship between the Disco Biscuits, The New Deal, Umphrey's and the Duo, the fans didn't seem to mind a bit. Each of the artist's styles seem to effortless blend together, with Joe Russo's signature drumming holding it all to a tight groove.
Next up was the honored man of the night, Bernie Worrell, accompanied by the Eric McFadden Trio. Bernie, who was given the Bob Moog Award for his groundbreaking use of the synthesizer in the areas of Funk, R&B and Rock and Roll, wasn't about to let any of the youngsters show him up on his night. After presenting the award, Paul Shaffer joined the band on stage for a audience participation filled version of P-Funk's Flashlight that would've made Bob Moog proud.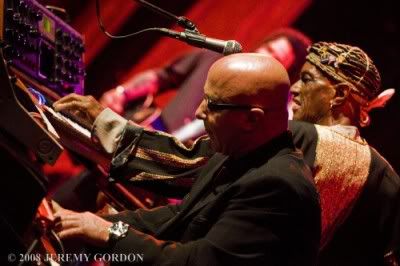 Finally, it was Umphrey's turn to take the stage in the posh Manhattan Ballroom. With his brand new custom Moog guitar firmly in hand, Jake Cinninger showed off the next evolution of the company and possibly rock and roll. The short set served as just a tasty warm up for the band's three night run at the Blender Theatre at Gramercy.
With the disco ball spinning (courtesy of moe. lighing guru Jeff Waful) and Kris Myers' new L.E.D.-tipped drum sticks, UM unleashed a six song set of crowd pleasing jams. While the Chicago-based sextet did end the night without an encore, as they were already over curfew, they did finish with a great cover of Genesis' Abacab that included a sit in by Jamie Shields as he and Joel Cummins battled back and forth on the keys that left the faithful smiling into the night.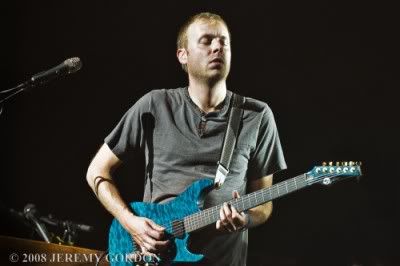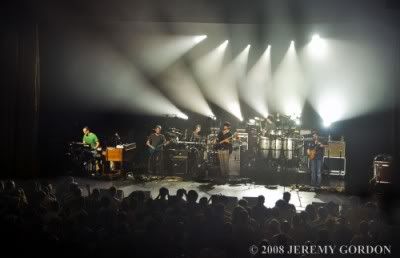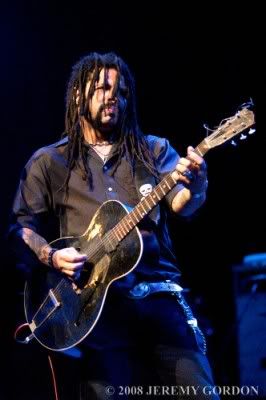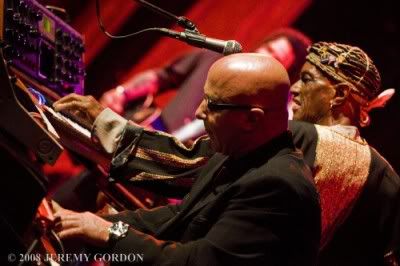 Setlists –
The Machine:
One of These Days tease > Shine On You Crazy Diamond (V – VII) > Set the Controls for the Heart of the Sun

Prison Shank:
Improv, Improv > Improv

Eric McFadden Trio w/ Bernie Worrell:
Flashlight and three other songs

Umphrey's McGee:
Great American, Push the Pig, Hurt Bird Bath, End of the Road > Syncopated Strangers, Abacab^

^ – w/ Jamie Shields