Yesterday moe. announced that they will be taking a break after the 9th annual moe.down this August. Here is what they posted on their website:
This summer, moe. will embark on one of its biggest summer tours to date. The band intends to spend most of June and July on the road. The tour will begin at Summer Camp and wind down in early August. moe. will finish out the summer at moe.down 9 in Turin, NY.After moe.down, moe. will not be playing any more shows for some time. The band is taking a break with the intent of returning again in 2009. Summer tour dates will be announced as they are confirmed.
And then a member of the moe. organization then did some clarifying:
People, please relax. They just need some time off. We realize that you guys enjoy your time off from work going to see moe., but they deserve some time off work as well.

Please do not read into anything or compare moe. to other bands. A few months of no shows does not mean the band is breaking up. last fall they did maybe 5 shows in the same time frame and everyone survived, you will survive again even without those 5 shows!!

they are going to go out with a bang, playing as many shows in as many places as they can squeeze in, then go home to not think about work for a bit. When they are rested, have the new roof up, painted the den, changed a few diapers, gotten a massage, paid some bills, taught a kid how to ride a bike etc. they will return to rock out!!

melissa
moe. marketing chick
So she asked not to compare moe. to other bands…Sorry Melissa, we are going to do EXACTLY that. Read on for some hard core stat geekin'…
When this news hit, I had a phone conversation with a friend of mine and we started talking about the number of shows that bands play in a year, and how that progresses over the span of their careers. As we started talking about it, we realized that we didn't actually know what we were talking about. So I started to dig in and do a little research and I found it interesting enough to share with the likes of you fine people that read this blog.
via phish.net FAQ:
"It's kind of silly when [fans are] are making pie graphs about set list openers. But then, I always liked a good graph."
– Mike Gordon, Detroit Free Press, 12/5/97
You got it Mike, good graphs for all!
Before I get into it, these numbers are probably a little off in the earlier years for each band, but we're working with the best data that we've got. Thanks to Phantasy Tour and The SetList Program.
The Disco Biscuits:
Most Shows Played In a Year: 162 (1998)
Total Documented Shows: 1026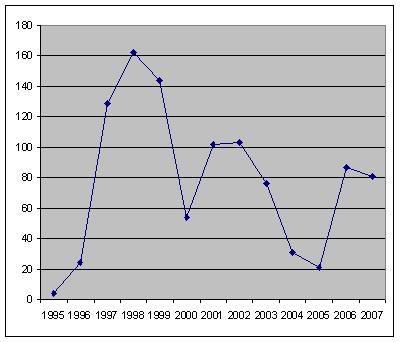 So this may be the funniest looking chart of them all, but I'm not picking on The Disco Biscuits I am simply going in alphabetical order. The Biscuits have certainly seen there up's and downs over the years, when things seem to be going really well, something bad always happens.
On fire in '99, things got a little crazy internally and Brownie departed the band for a brief period of time. Everybody kissed and made up and things were really clicking in '02. The future looked bright with a few big Phish after-shows planned down in Hampton, but there was an incident at The Electric Factory when Barber attempted to defy gravity. After that, they just never really toured hard again with Sammy and then he left the band (and that took a couple of years). They are back on track though, putting in over 80 shows in both '06 and '07 with drummer Allen Aucoin. They however do not tour like they used to, they haven't played over 100 shows in a year since '02 when they played 103.
Grateful Dead:
Most Shows Played in a Year: 150 (1969)
Total Documented Shows: 2355
The peaking early model – in terms of playing lots of shows that is: Over 100 shows in 5 straight years starting in '66. Then after '70 they put in another 1,682 shows averaging 67 shows a year. One of those years ('75) they played only 4 shows. What's really amazing about the post-'70 Grateful Dead touring schedule is how many of those shows were multi-night runs. For Example, in '77 they played just 60 shows and 10 of them were at Winterland Arena in San Francisco (3 separate multi-night runs). Add those shows to the 5-night run they had at The Palladium in NYC and you've got 25% of their shows that year. But they kept it up, as late as '94, they still put in 84 shows a year, an impressive mark for a band that spanned four decades of touring.
moe.
Most Shows Played in a Year: 157 (1997)
Total Documented Shows: 1501
So there's a couple shows there at the beginning, a total of 13 shows from '91–'93, we'll put those aside and say these guys have averaged 104 shows per year from '94 – '07. They've put the brakes on a little over the years, haven't played 100 shows since '03, but were damn close last year with 95. It's been a pretty steady touring model and they were at it a few years ahead of their counterparts if you will. They were playing 100 shows a year before SCI, 2 years before The Biscuits and 5 years before Umphrey's McGee would hit the 100/year mark.
Phish
Most Shows Played in a Year: 123 (1994)
Total Documented Shows: 1183
These stats surprised me. They hit it hard in the early 90's. Phish averaged 118 shows/year from '91 to '94. But this really blew my mind: They never played more than 81 shows in a year after that. To date Phish has played less shows than: moe., Umphrey's McGee, String Cheese Incident and Widespread Panic. Give The Disco Biscuits two more years each and they'll surpass Phish as well (err, maybe). We all know quantity does not equal quality, but it's just crazy to think that SCI played more shows in '97 than Phish did in '97, '98 and '99 combined.
String Cheese Incident
Most Shows Played in a Year: 214 (1997)
Total Documented Shows: 1345
Good Lord! 214 shows in a year? Take out weekends, 2 weeks of vacation, 5 sick days and the federal holidays and you've got just a few more that 214 days. That is pretty damn wild and so is a 149 show/year average over the span of 6 years starting in '96! The ridiculous high peak in '97 and resulting decline of shows afterwards makes this chart sort of have a better to burn out then to fade away vibe to it.
Umphrey's McGee
Most Shows Played in a Year: 160 (2002)
Total Documented Shows: 1237
Umphrey's McGee seems to have a slow and steady wins the race mantra to their touring philosophy. But it's more like fast and steady wins the race. These guys have put in over 100 shows for 7 years running, and they are on pace to do it again this year. Sure, they are playing a few less shows as the years go on, but these guys have kept it pretty darn steady. Brendan Bayliss is quoted recently saying: I don't speak for the band, but I feel like this is it. I'd like to stay out there, keep playing and be Uncle Brendan to everyone's kids one day.
Widespread Panic
Most Shows Played in a Year: 173 (1990)
Total Documented Shows: 2246
Widespread Panic played 100+ shows every year in the 1990's. Then they messed it up and only 96 shows in '00. These guys have kept their touring regiment strong even after the passing of guitarist Michael Houser. With Panic once again hitting their stride with Jimmy Herring, they show no sings of stopping putting in 89 shows last year, their 23rd year as a band.