Hey, look! It's another clever name for a glorified link dump! Those two cats really know how to slip the easy ones past the goalkeeper…shut up, Richard.
It took a couple weeks (who says gotta-publish-now blogs are the only game in town?), but the good people at JamBase have finally put up a super-comprehensive look at the various New Year's concerts from around the country. It's basically perfect, with great pics and text taboot, only someone's missing: Where's Big Red?
This week's Tapers Section contains many heady kickdowns from This Week in the History of the Grateful Dead, so check that out. And on the topic of free Dead music — get your entries in now for Hidden Track's Live At The Cow Palace contest
Tapes 'n Tapes in Paris, check that shit out. Zoot Alors!
Umphrey's McGee just released the 37th edition of their podcast series
The chances look good for a Police reunion — Andy Summers, Stewart Copeland, and Sting got together on Monday
Many epic rock concerts have been held at the New Haven Coliseum, which is being imploded on Saturday
We're trying to pick out just one set of mp3s from Rock Music Daily, but there are too many good ones to make a decision. So go to the site and pick your poison, from the likes of Radiohead, Rose Hill Drive, and Los Lobos
Bruce Hornsby and Ricky Scaggs are releasing a new album on March 20th, and it includes a cover of Rick James' Superfreak
SuperDee previews the Rotary Downs shows in NYC this weekend
Largehearted Boy takes a look at a bunch of interesting shows you can download via BitTorrent
Finally, our boy Neeko takes his shot at captioning this cool photo of Disco Biscuits' guitarist Jon "Barber" Gutwillig from the stage: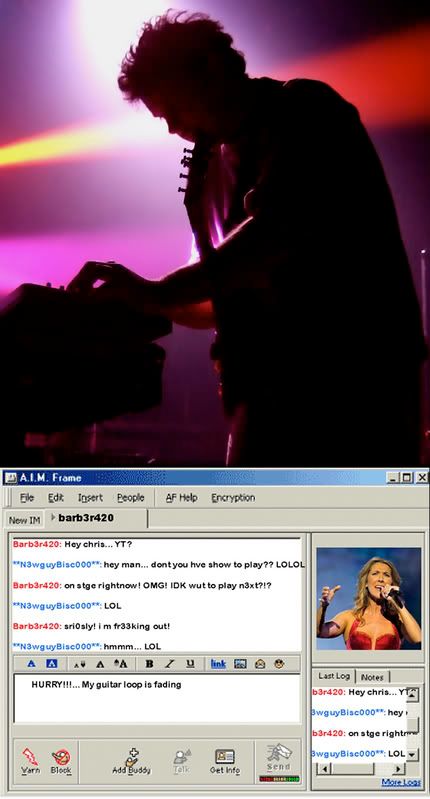 How are you wasting your vaulable time on the Internet today? Anything sweet?