The show opened with a brief set from Chris Harford and the Band of Changes. Dreiwitz worked double duty, as he played on nearly every song during the show. The Band of Changes set was tight, but a little too mellow for my tastes. It was weird to see drummer Joe Russo finish a set without breaking a sweat.
Stallion Pt. IV started the headline set with a bang, with Gener breaking out one of the least played nuggets in Ween's rotation. Pork Roll Egg and Cheese followed, and the crowd did a great job of feeding energy without interrupting the performance. Except, of course, for the one dude in the back row who would alternate between yelling "You Suck" and requesting "Put The Coke On My Dick." That's right, the Gramercy Theater is so small and intimate that Gener was actually audibly heckled by someone in the back row. Gener handled the heckler well and told him this wasn't quite the gig for Put The Coke On My Dick.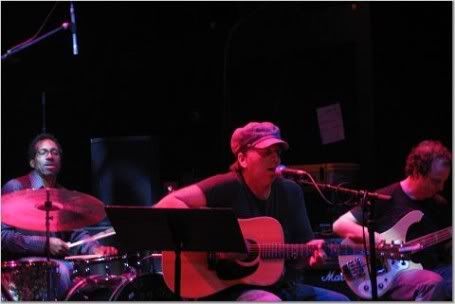 It was good to see everyone except the heckler, in a crowd of 499, understood the terms of this performance and didn't expect Ween to come out and paint the Gramercy brown. This night was about the bare essentials of Freeman's songs. Old songs such as Mononucleosis, What Deaner Was Talking About, and Birthday Boy sounded amazing in this stripped-down setting. It was a return to Gener's roots, as Ween first toured as a duo in the beginning of their career.
One of the highlights for me was when Freeman played A Song For Jerry, a tribute to Jerry Garcia that was sadly left off of 12 Golden Country Greats. The lyrics were beautiful and Gener seemed to get off on paying tribute to Captain Trips. Another highlight was the cover of David Bowie's Space Oddity. The crowd went nuts, and Gener did a fabulous job performing the song unconventionally on his acoustic.
Ween has recently been in the studio, so I was expecting a shit-ton of new material. That didn't quite happen: The only song Freeman acknowledged as being from the new album was Learning to Live, Loving to Learn which seemed like a "Hey I just got out of rehab" ditty.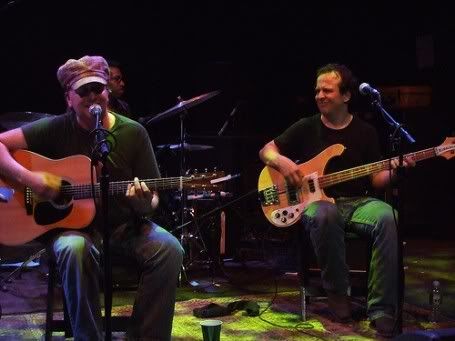 The set ended with the ferocious duo of Pumpin' For The Man (dedicated to Dean Ween) and Mountains and Buffalos. Everyone in the crowd gave Gener quite the ovation as he returned for a double encore. The first tune was the theme song for Greg The Bunny that Ween had been approached to create before having their offering be rejected.
Gener's Gone with its refrain of "Fly Gener Fly" ended the show on a bizarre note, which is just what I would expect from a Ween-related show. Freeman doesn't play solo gigs often, so I'm glad I got to see one of these performances that shows off his incredible songwriting talents. If I enjoyed Friday night's show so much, I can only imagine how incredible Ween diehards must have felt.
Fly Gener Fly indeed.
Thanks to Daniel Bloomfield for some pics and the videos below and Twitchmonster (of the Ween forum) for his photos.
The Stallion Pt. 4
Pork Roll Egg and Cheese
What Deaner Was Talking About
Little Birdy
Ooh Va La
Flutes of Chi
Alone
Spirit Walker
Birthday Boy
Cold Blows The Wind
Best Time at Your Party
Learning to Live, Loving To Learn
Mononucleosis (ween forum request)
Right to the ways and the rules of the world
So Long Jerry (for monica)
She Wanted to Leave
Space Oddity
She's Your Naby
Eye to the Sky
Pumpin' For The Man (for deaner)
Mountains and Buffalo

encore: Greg The Bunny
Gener's Gone
[youtube]B83rWyoegEM[/youtube]
[youtube]ePvVE3YUCDY[/youtube]