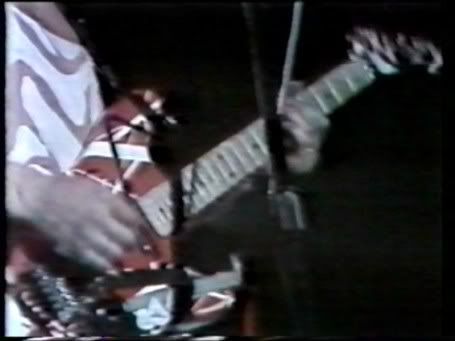 Van Halen was on the road for nearly all of 1982 as they supported their breakthrough album Diver Down. In 1983, the band took a break from the road, save a series of South American gigs at the beginning of the year. The DVD featured here is from a Pay Per View concert the band played in Buenos Aires, Argentina during that tour. Eddie and the boys rip through all of their pre-1984 classics such as Ice Cream Man, Janie's Cryin', and Runnin' With the Devil.
The people of Argentina ate up every single minute of it, as you can tell by watching this amazing pro-shot video. It's too bad David Lee Roth left the band. He really adds such incredible passion and energy to their performance, along with a healthy dose of crazy.
Grateful Dead 10/31/91 Set II DVD:
One of the best sets the good ol' Grateful Dead played in 1991 was the second set of their Halloween concert. Emotions were running high on this evening, as Bill Graham had died a few days earlier. The band opened the set with one of the best Scarlet/Fires of the '90s, but the real highlight is the incredible Dark Star sequence. The crowd went nuts as the band started one of the most popular and sought after tunes in their repertoire. After a couple of tasty jams, Ken Kesey joined the band to rap a eulogy to Uncle Bobo. By the end of the rap, there wasn't a dry eye in the room.
The quality of the video is pretty damn good for being shot from the audience. Sadly, some footage from the end of Not Fade Away and the beginning of Werewolves is missing, but this is still a must download. Get on it…
When Phish went on hiatus in October 2000, I thought Trey Anastasio would take a long break from the road. That was my first lesson: You should never try to predict what Big Red will do. Within four months, Trey embarked on an ambitious tour with a six-piece band of relative unknowns. And, interestingly, the music that band produced is some of my favorite of Trey's solo career.
Recently a DVD set from the band's stop in Cleveland was posted on a video torrent site. The quality of the footage is pretty damn good, and it is amazing to see the sextet in action. Highlights include covers of It Makes No Difference, Signed Sealed Delivered, Come On Baby Let's Go Downtown, and Aqui Como Alla. The originals such as Sand, Push On Till The Day and Windora Bug feature some tasty jams as well. It isn't everyday that footage from this tour is made available, so download it while you can before the torrent dies.
What have you been watching lately? Let us know by leaving a comment…