Much ado was made over the youthful inexperience of the Umphrey's crowd after this picture popped up on message board after message board, culminating with an epic thread over at Phantasy Phish that referred to the kids up front as The Royal Tenenbrahs. And while I disagree with much of the overall tone of the thread's content, even I had to laugh at that.
Recently, I saw a thread on an Umphrey's message board urging me to check out a video of some guy's band playing an Umphrey's song.
I'm always down for checking out the future cover artists of America, so I gave it a spin. Not too bad, and in fact, the guitar players are pretty damn ripping. I decided to check out the band's Myspace page and check out a few pictures: Turns out, they all look 15 or 16 years old.
Then I noticed the kid with the red hair that is playing the more difficult passages and thought, "Hey, that guy kinda looks familiar." I thought maybe I had seen him at a show or something, somewhere. Then it hit me: "Holy shit, that's the teenaged redhead smoker from the Tenenbrahs! (front right corner)
At first I thought it was just a coincidence, but then I looked at another picture of these guys:
Sure enough, it's him. The teenage smoker on the rail's got a pretty good band. And the story of The Royal Tenenbrahs continues. Next thing you know, the 13 year old kid in the Dead tie-dye is gonna be running for Congress.
So many people poke fun at Umphrey's for having a really young fanbase, but screw those shitheads. I wish I could shred like that when I was 15 or 16, or however old these kids are in actuality. I wish I could play a great Miss Tinkles Overture and stand in the front row at killer rock shows when I was that age. Listen haters, the kids are all right!
Today's jambands were fans of bands first, and these guys could be the future one day. So just remember this in a Wyld Stallyns kind of way: We were the ones who told you about Tribute to Whigg way back when. We are your Rufus.
And if you think those fans are young, check out the next generation of Umphrey's fans rockin' out down the pipeline…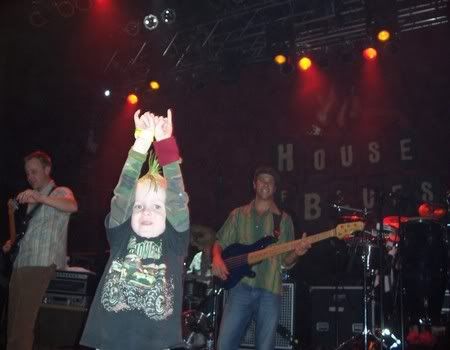 Oh yeah, the kids are all right.